The genre of strategy tries to bring new features whenever it can in an environment very marked by classics that have marked the path that most developers do not want to deviate. An almost unexplored theme in strategy titles is that of the Mafias, although there have been some really good attempts in the past such as Gangsters, The Commission and a few others, this could be seen as almost virgin ground if the we take into account the quantity of titles of this style which refer to the Second World War. Romero games and Paradox Interactive They intend to change this trend a bit with Empire of Sin.
This production will take us to the streets of Chicago in 1920, in the midst of the so-called "ban" that prevented alcohol consumption, at least by legal means. In the city of the wind, then we will embody a bandit at our choice among many others that the game offers us to select, each with its own virtues and faults with the sole aim of taking control of the criminal world of the place, either through diplomatic channels or by using an element almost as well powerful like the word: cold lead.
Hopefully your Thompson is ready to fire as we'll need a lot of ammo to run through these gangster-filled streets. Let's go.
---
Technical section
Just by venturing into the lower world of this distant Chicago, we can hear the incessant sound of jazz music that will accompany us throughout the game, penetrating more and more the atmosphere that the title tries to create. This aspect serves both to tone down a bit the constant repetition in the mechanics that the game offers and contrast a bit with the rest of the sound part. The sounds of gunfire or destroyed buildings do not have a major impact on our games. The same thing happens with character voices and dialogue that gets old quickly due to the limited variety they have.
Graphically the game looks great, you can see and feel the effort of the developers trying to recreate the city of Chicago in the 1920s with costumes, vehicles, weapons, and buildings included. However, I must point out something very similar to what is already marked in the sonic aspect and that is the lack of variety. To be understood, at the beginning we can choose between several gangsters each with its own peculiarities but there is no possibility to modify any aspect of the avatar, and although some characters can be fitted with bulletproof vests, these improvements are not visually reflected. Without too much effort, I think a basic style of character customization could have been incorporated so that the player felt a bit more empathy for their avatar.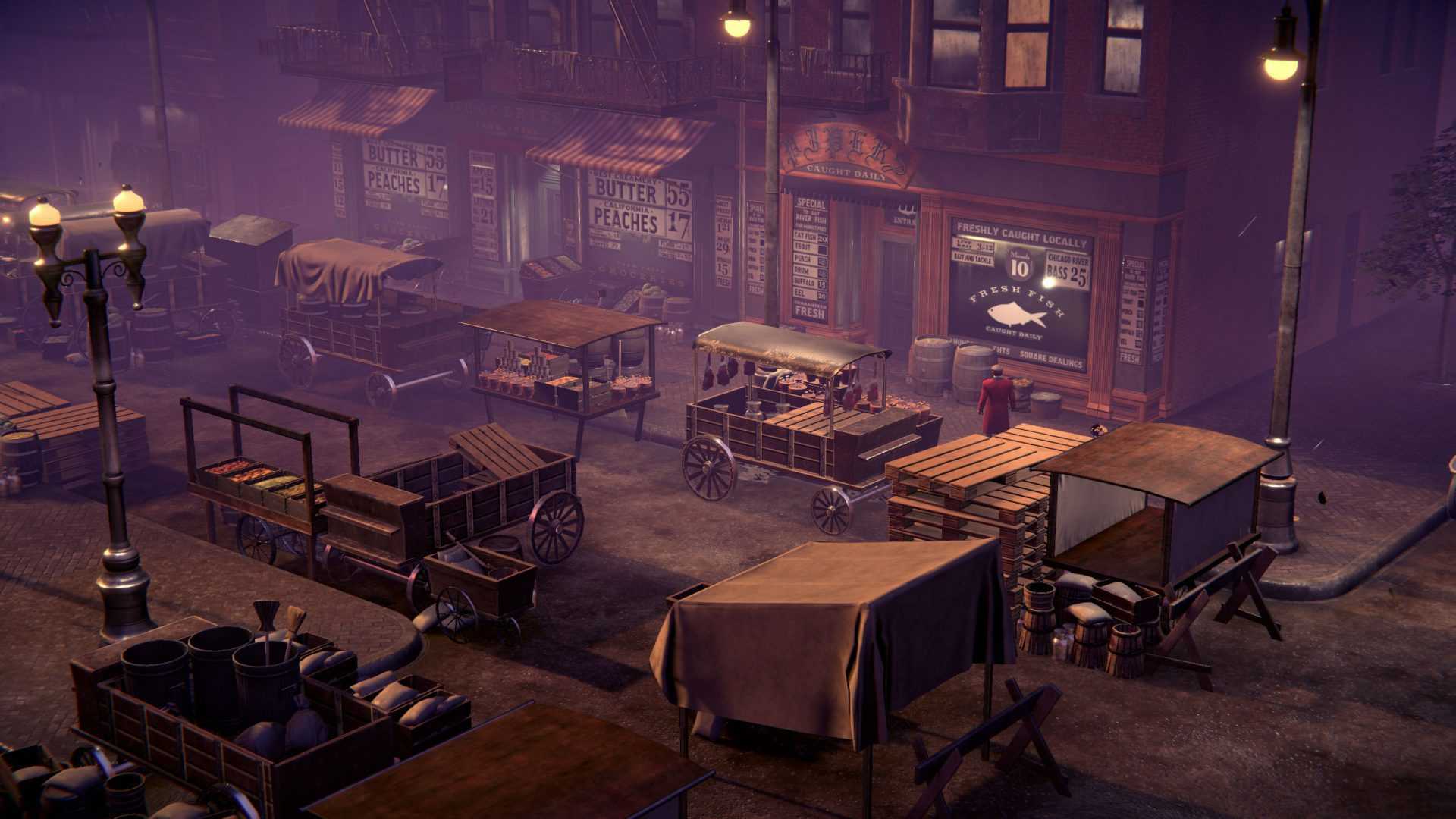 In the same category, I might add that although all the main gangsters look markedly different and are easily distinguished from each other, the gestures that they produce in the different encounters that we will have with all during the game, are still the same and even the setting in which they find themselves does not vary at all, despite the fact that meetings can take place in different places such as bars, shelters or brothels.
The game is fully localized into Spanish and can be understood perfectly, but there are times when it needs to be improved. Several dialogues contain lines of text mixed between English and Spanish which make the sentences unintelligible. It doesn't happen much, but I've seen it, although it can be completely patched up. What is quite annoying is that the names of the gangsters have been found in Spanish in some cases and not in others, which often means you don't know who is attacking you or who you need to defend, for example: in the menu we will see the group Alley cats while on the map we will see the members of this faction identified as "Guardians of the Alley Cats" which with the pace the game can get when we dominate more than one territory can be quite tiring.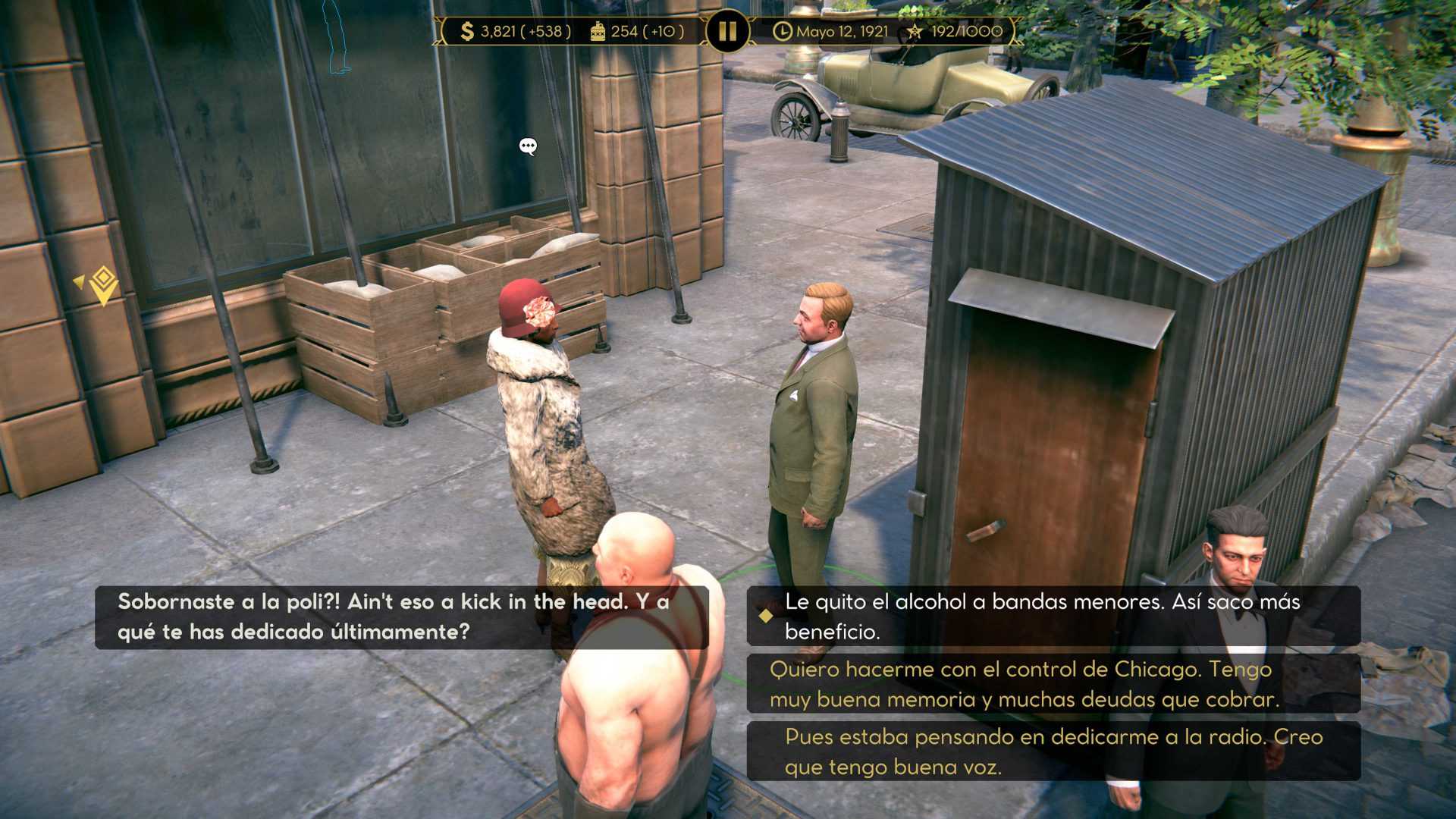 ---
Gameplay
Our goal is clear from the start: to take control of Chicago at all costs. The city will be divided into territories and this is where we will have to play our cards by gradually conquering certain buildings and generating currency with them to become stronger, get more men and surround the other gangs who are pursuing our same goal.
For this we will choose a faction at the start whose representatives have similarities with famous gangsters such as Al Cappone and others whose historical veracity is very questionable, such as the case of the White Circus group led by a circus-like woman. with some characteristics similar to the Joker.
After a tutorial that will explain the intrinsic maneuvers of our empire, we can tour the city at our leisure and get to know our main rivals or partners on this path. The decision will be ours from the start, although these relationships may be a resounding success in the future or end in a river of blood.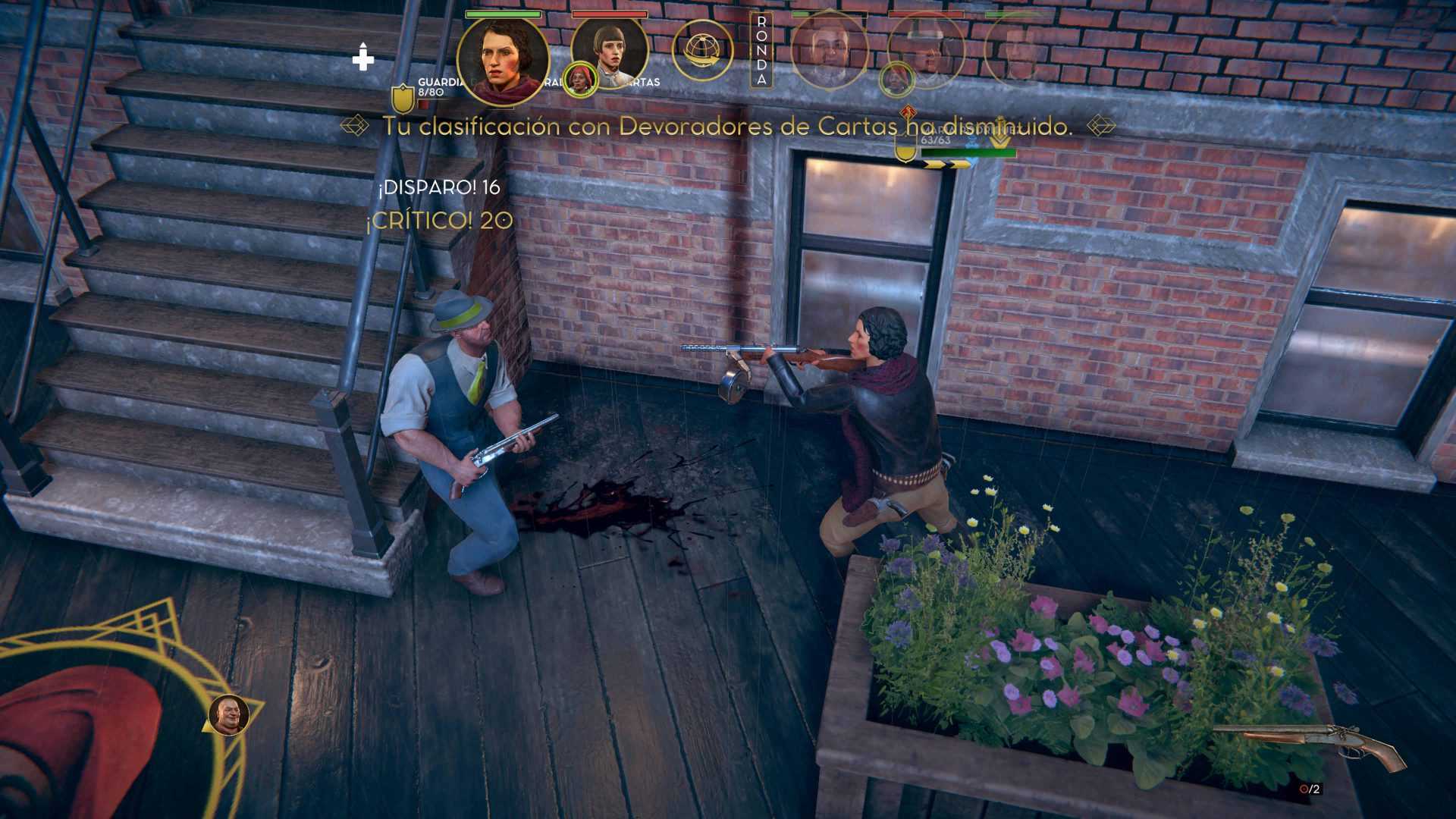 To build our empire without disturbing the factions already installed, we can kick out several thugs without any affiliation who are in various buildings. Once completed, the place will be at our disposal to turn it into a distillery, a brothel, a speakeasy, a casino or a hotel, each with its advantages and disadvantages of course. It should be noted that each building can be improved in a wide variety of aspects such as increasing security, the level of alcohol served and the location in general, carrying out word of mouth advertising campaigns and payment. of a bonus so that the local police do not. visit us very often.
Earning money will also be possible by completing additional missions that the game offers, like killing a certain person, leaving a building or simple things like making a note in a journal. Every mission and fight won, as well as the number of businesses we have opened, will give us a bad reputation, a very necessary statistic that will allow us to hire. gangsters who otherwise would not join our group. These gangsters have their own unique abilities and we can customize their gear and talents as if it were an RPG. Weapons, medical kits, and other essentials for fighting street warfare can be acquired through an in-game black market or by taking them from our enemies after winning a battle.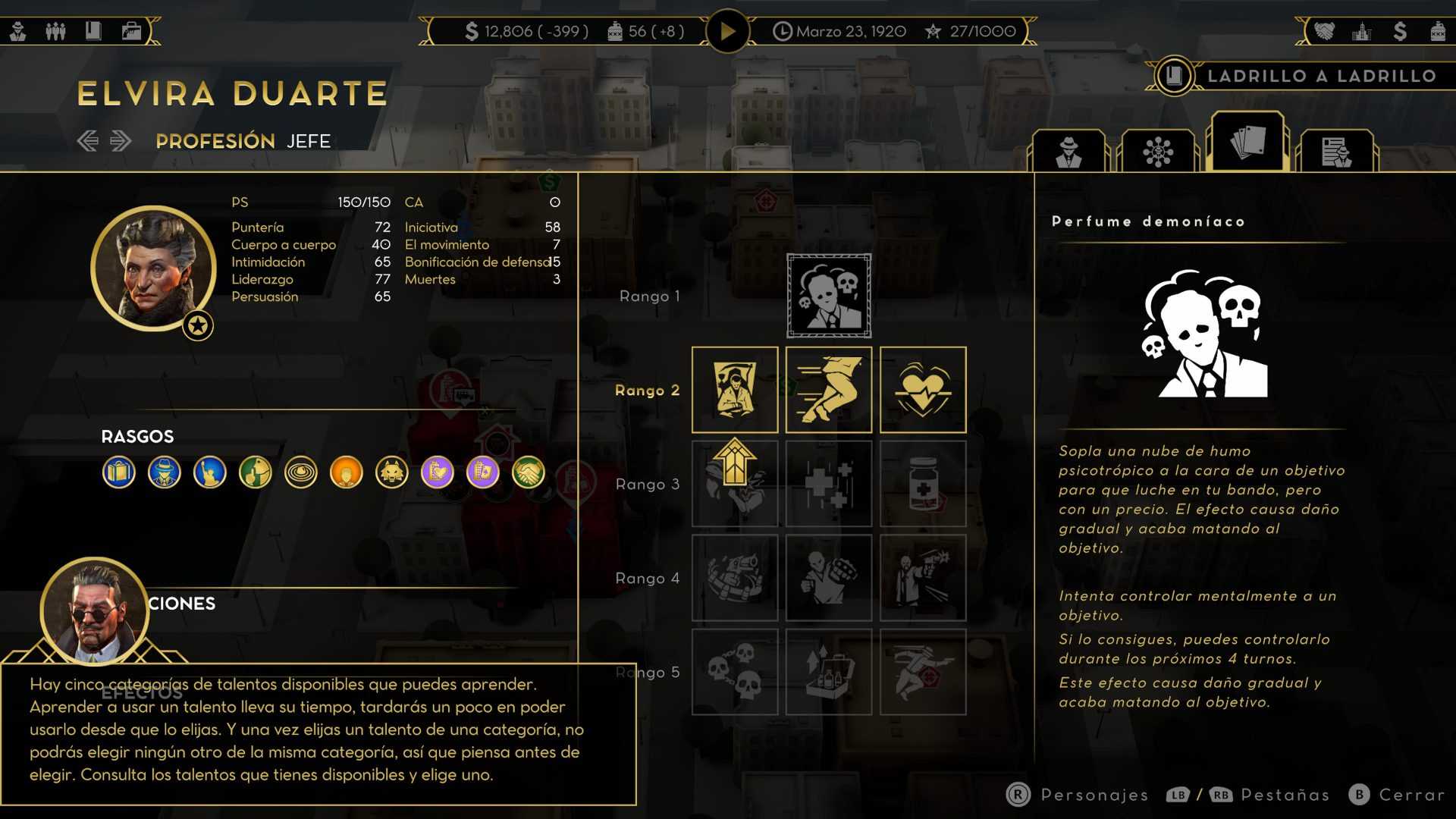 The shootouts will be very interesting at first, especially if you are one of those people who have spent long hours defending Earth from alien invasion in the saga. XCOM
, a game he drinks a lot when he fights. When it comes time to fly the deadly lead we will have a white and yellow grid through which we can move in two turns per character. The stage in which the combat takes place will be our main ally or our deadliest enemy, providing us (or not) with shelters where we can hide and shoot our enemies. Unfortunately, a lot of times we'll be discovered by the automatic way the game places us, or we'll just fire our sawed off shotgun at someone literally in front of us only to see the disappointing exclamation "Fail" and lose our turn. .
With its failures and successes the combat system is interesting and with a few small adjustments it could be totally enjoyable, unfortunately it becomes very repetitive since we will be constantly attacked with which we will never be able to devote much time to the management system that we proposes the title. This worsens the number of additional territories we control because it is about hiring gangsters So expensive, we'll have to settle for small groups of thugs that we'll have to run around town with to protect our properties, which takes a lot of strategy away from a production aimed at this.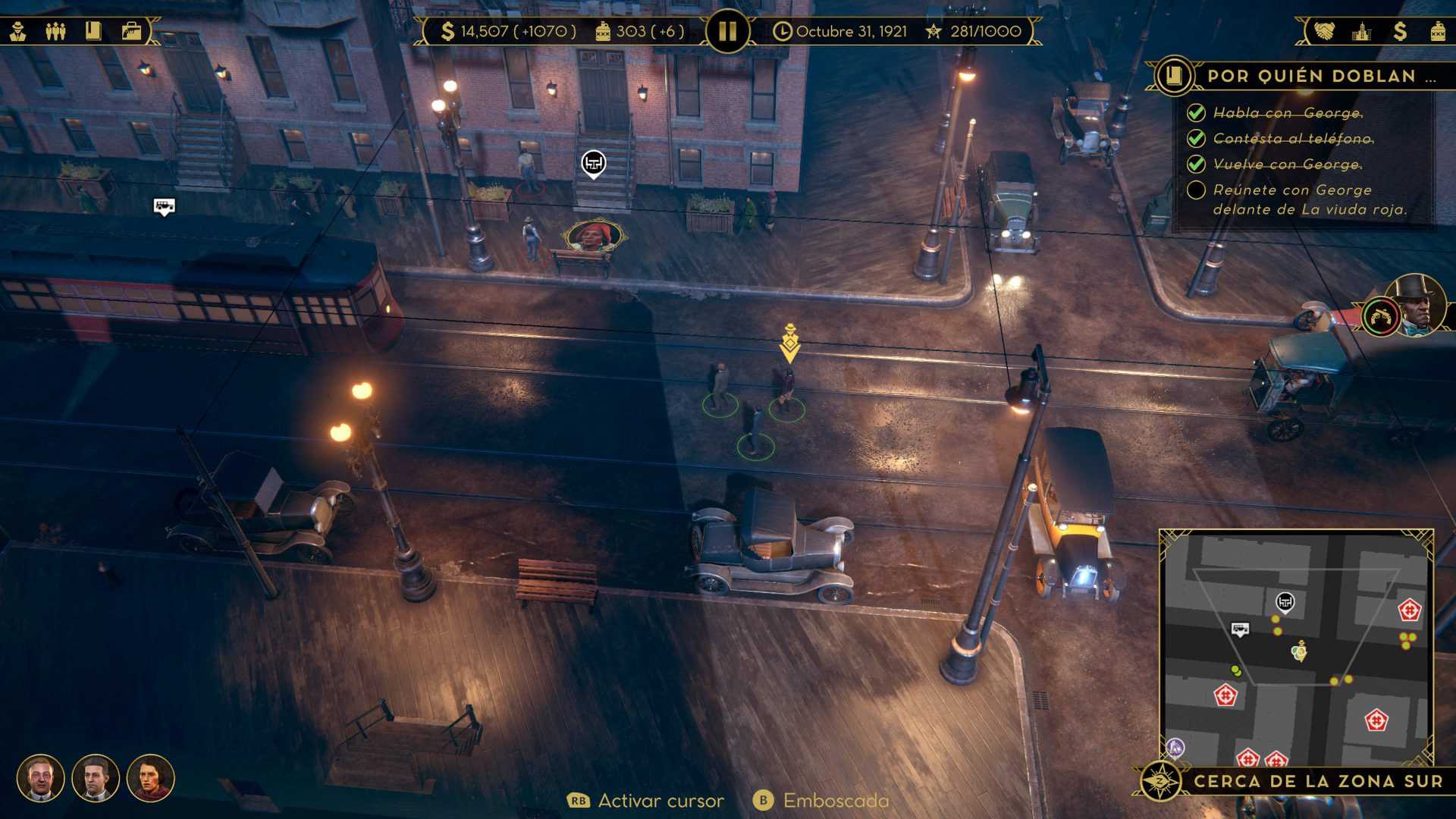 ---
Duration
Like any self-respecting strategy and management game, Empire of Sin is not a short game, you can spend over 45 hours becoming the criminal figure that dominates Chicago, but it will all depend on how you play in terms of your game. aggressiveness that you demonstrate and the alliances you make to make your dream come true.
Since we are no longer faced with a game that seeks to keep your money and offers you 3 levels and 10 in DLC, here you will have a lot of time to spend although it can get tired when you already master the mechanics of the business.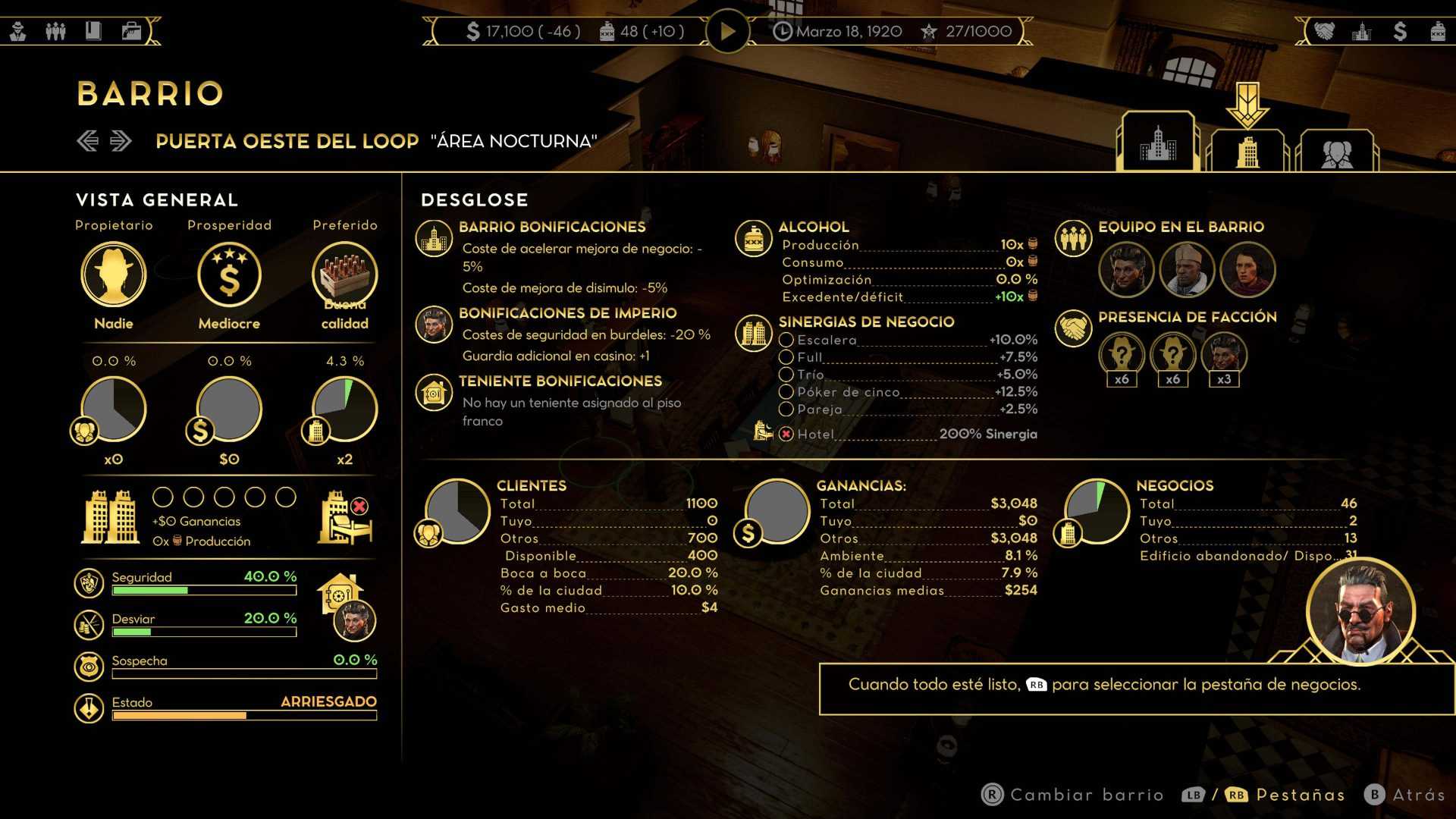 ---
conclusion
A few details here and there would have made the Empire of Sin experience much better, but the truth is I can't say the title is bad either, quite the opposite, it's just a shame that an idea sounds good. on paper lacks a little mechanics and neglect of certain trifles. However, I think this new work from Romero Games can lay the groundwork for a future part two with a lot of upgradeable elements that we call already modified and of the same essence, because Empire of Sin is really a good game, only that he has the potential to be more than just good.