Humble Cone Announces Full Delivery to Help COVID-19
[ad_1]

It would seem strange that a platform solidarity such as the Humble Bundle had not yet launched its machines with the COVID-19 virus. This segment has been offering impressive packs for many years, including digital gaming sales, with the aim of donating all that raised to various causes. Now The Humble Bundle features a comprehensive package to help combat COVID-19.
As they point out on their website, this increase will allow them to invest in users' donations for medical supplies and to provide professionals in the relevant field helps beat COVID-19. All help is minimal, and solitude is the place to place as citizens in a situation that was difficult to take seriously. And while not many, in fact many want to contribute as much as possible to financial aid, with it Humble Bumble gives you value by adding more than 30 games and other content such as digital books and comics, at a low price of € 28. From there, they each choose what they want to include.
Cumbat-Thobekile Combat COVID-19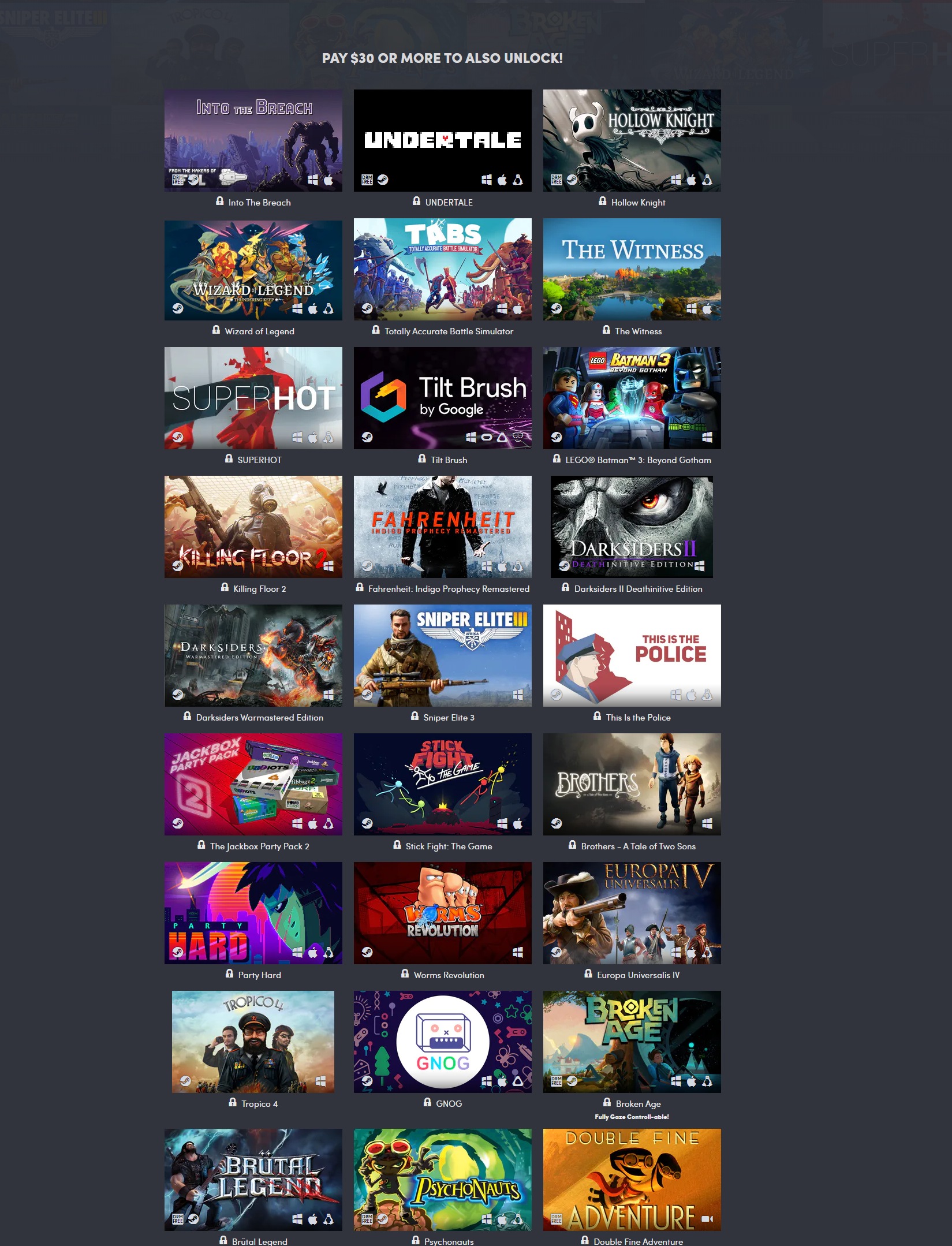 Although in the books and novels of digital painting we certainly run into problems in English, looking at the list of gems he offers in the theater, we see the value of this Bundle Humble. Games of all kinds, where we can see some of the most important games for companies like Best Of Both. Humble Humble offers a comprehensive package of assistance against COVID-19 which includes the following € 28 games
Entering Divorce

UNDERTALE

Hollow knight

Wizard of Legend

Accurate Battlefield

The evidence

SUPERHOT

Sliding Brush

LEGO® Batman ™ 3: Outside Gotham

Killing Down 2

Fahrenheit: Indigo Prophecy Made Again

Darkider Warmastered Edition

Darkider II Deadinitive Edition

Sniper Elite 3

This is the police

Jackbox Party Pack 2

Stick Fight: The game

Brothers – A Pen Of Two Sons

Party hard

Storm of Worms

Broken Years

Brütal Legend

Psychologists

Double Fine Adventure

Europa Universalis IV

Tropic 4

GNOG

2 PAC-MAN ™ CHAMPIONSHIP ASSIGNMENT 2

Picnic

The world of Goo

Super Hexagon

VVVVVVV

Hacknet

The story is a disease

A Good Snow Man Is Hard to Build

Magic

Rebuild 3: Gangs of Deadsville

HIVESWAP: Act 1

Alien Spidy

Mayhem's gems

DUCATI – 90th Anniversary

High speed

Stealth Inc 2: Game of Clones

Lostwinds

Zombotron
With this number of games, within which you can find some of the most interesting titles, it is worth looking at the acquisition of this pack. Whether it could also serve to contribute to the grain of sand is in need today as a result of a coronavirus-related epidemic, or COVID-19, a supplement that can have more or less value, depending on each.
We will continue to wait until one day until Humble Bundle and Microsoft join forces to donate a dedicated package to the Xbox, bearing in mind that the amazing Humble Bundle Just Drive is still in use, full of advanced simulators.
// IE9 capture text jQuery (& # 39; input, textarea & # 39;).
// add content menu items jQuery (jQuery (& # 39; # content-anchor-internal & # 39;). get (& # 39;. content-class-divider & # 39;). get (). get (). (()) var id = jQuery (this) .attr (& # 39; id & # 39;); var label = jQuery (this) .data (& # 39; label & # 39;); jQuery (& # 39; # content-anchor-wrapper & # 39;) .After (& # 39;
& # 39; + label +
& # 39;); });
var fromTop = 119; // attach scrolls jQuery (& # 39; body & # 39;) .crcrpy ({target: & # 39; .contents-menu & # 39 ;, offset: fromTop});
// tasks that need to run after clicking ajax buttons dynamicElements ();
// navigation menu fx menuHovers ();
});
// is used for objects inside ajax panels functionical function () { // portholes mouseovers jQuery (". portholes .porthole-link"). hover ( function () { jQuery (this) .siblings (". color color"). Stop (). animated ({ & # 39; opacity & # 39;: & # 39; 8 & # 39; }, 150); jQuery (this) .siblings (". porthole-layer"). Stop (). animate ({ & # 39; opacity & # 39;: & # 39; 0 & # 39; }, 350); jQuery (this) .siblings (". porthole-info"). get (". rating-wrapper"). Stop (). animate ({ & # 39; opacity & # 39;: & # 39; 9 & # 39; }, 100); jQuery (this) .siblings (". porthole-info"). Stop (). Delay. (0) .queue (function (next) { jQuery (this) .addClass ("active"); next (); }); }, function () { jQuery (this) .siblings (". color color"). Stop (). animated ({ & # 39; opacity & # 39;: & # 39; 0 & # 39; }, 550); jQuery (this) .siblings (". porthole-layer"). Stop (). animate ({ & # 39; opacity & # 39;: & # 39; 9 & # 39; }, 250); jQuery (this) .siblings (". porthole-info"). get (". rating-wrapper"). Stop (). animate ({ & # 39; opacity & # 39;: & # 39; 0 & # 39; }, 550); jQuery (this) .siblings (". porthole-info"). Stop (). Delay. (150) .queue (function (next) { jQuery (this) .removeClass ("active"); next (); }); } ); // active hover jQuery (". add-active"). function () { jQuery (this) .addClass ("active"); }, function () { jQuery (this) .removeClass ("active"); } ); // to move the image jQuery ("active image"). function () { jQuery (this) .find (& # 39; img & # 39;). Stop (). animate ({opacity: .4}, 150); }, function () { jQuery (this) .find (& # 39; img & # 39;). Stop (). animate ({opacity: 1.0}, 500); } ); jQuery (".content"). function () { jQuery (this) .find (& # 39; img & # 39;). Stop (). animate ({opacity: .4}, 150); }, function () { jQuery (this) .find (& # 39; img & # 39;). Stop (). animate ({opacity: 1.0}, 500); } ); // jQuery tools jQuery (& # 39;. info & # 39;) .tiptip (); jQuery (& # 39;. info-top & # 39;) .tiptip (); jQuery (& # 39;. info-low & # 39;) .tiptiptip ((placement: & # 39; low & # 39;}); jQuery (& # 39;. info-left & # 39;) .tiptiptip ((placement: & # 39; left & # 39;}); jQuery (& # 39;. info-right & # 39;) .tiptiptip ((placement: & # 39; right & # 39;}); // popovers jQuery jQuery (& # 39;. popthis & # 39;). popover (); // jQuery crowdfunding jQuery (". alert") alert (); // jQuery fitvids jQuery (& # 39;. video_frame & # 39;). fitVids (); // columns of equal height equHeightColumns (jQuery (". widget-widget"); equHeightColumns (jQuery (". loop.grid .article-panel"); // when items are added firmly to the page load, need to respond with a new range resizeContentsMenu (); resizeStickyMenu (); }
// call the same height columns when the window is rebuilt jQuery (window) .resize (function () { equHeightColumns (jQuery (". widget-widget"); equHeightColumns (jQuery (". loop.grid .article-panel"); resizeContentsMenu (); resizeStickyMenu (); });
// call equal height columns when widgets have been re-expanded jQuery ("# ​​widgets)) increase size (function (e) { equHeightColumns (jQuery (". widget-widget"); });
// call the same height columns when the main menu items are drawn there in the sub menus // is hidden and has no extensions until it appears jQuery (& # 39; body & # 39;) in (& # 39; mouseover & # 39 ;, & # 39; # category-menu-full a.parent-item & # 39 ;, function (e) { equHeightColumns (jQuery ("# ​​category-menu-full ul.term-list, # category-menu-full li.post-list"), true); }); // columns of equal height function equal HeightColumns (group, olimit) { long = 0; width = jQuery (window). width (); group.each (function () { jQuery (this) .removeAttr (& # 39; style & # 39;); thisHeight = jQuery (this). light (); if (thisHeight>) long = loHeight; } }); if (width> 991 "https://www.somosxbox.com/" nolimit) { group.height (too long); } }
var topOffset = 70; var barOffset = 208;
jQuery (window) .scroll (function () { if (jQuery (this) .scrollTop ()> 110) { jQuery (& # 39; # sticky-bar & # 39;). AddClass (& # 39; fixed & # 39;); jQuery (& # 39; # sticky-bar.logo-slide .logo a & # 39;). Stop (). animate ({opacity: 1.0, left: & # 39; 0px & # 39;}, 100); } else { if (! jQuery (& # 39; # sticky-menu & # 39;). ((visible)) &&! jQuery (& # 39; # category-menu-mobile & # 39;). ((: visible))) { jQuery (& # 39; # sticky-bar & # 39;). removeClass (& # 39; modified & # 39;); jQuery (& # 39; # sticky-bar.logo-slide .logo a & # 39;). Stop (). animate ({opacity: 0, left: & # 39; -100px & # 39;}, 500); } } if (jQuery (this) .scrollTop ()> 44) { jQuery (& # 39; # sticky-bar & # 39;). AddClass (& # 39; sticky-mobile & # 39;); } else { jQuery (& # 39; # sticky-bar & # 39;). UninstallClass (& # 39; sticky-mobile & # 39;); }
// move it back to the up arrow if (jQuery (this) .scrollTop () < 150) { jQuery("#back-to-top").fadeOut(); } else { jQuery("#back-to-top").fadeIn(); } resizeContentsMenu(); resizeStickyMenu(); });function resizeStickyMenu() { //see if compact versions of menus should be shown if(jQuery('#section-menu-full').length > 0) { var megaWidth = jQuery (& # 39;. mega-menu & # 39;). width (); if (jQuery (& # 39;. mega-menu & # 39;). == 0) { var megaWidth = jQuery (& # 39; .- non-mega-menu & # 39;) width (); } var standardWidth = jQuery (& # 39; second-full menu & # 39;). width (); var compactWidth = jQuery (& # 39;. secondary-menu-compact & # 39;). wide (); var menusWidth = megaWidth + standardWidth; var compactMenusWidth = megaWidth + compactWidth; var logoWidth = jQuery (& # 39; # stick-bar. log & # 39;) width (); // var logoLeft = jQuery (& # 39; # sticky. .gogo & # 39;). offset (); // logoWidth = logoWidth + logoLeft.left; var newWidth = jQuery (& # 39; # new-articles & # 39;) width (); var stickyWidth = jQuery (& # 39; # sticky-menu-selected & # 39;) width (); var randomWidth = jQuery (& # 39; # random article & # 39;) width (); var controlWidth = jQuery (& # 39; # attachments-control & # 39;) width (); var barWidth = jQuery (& # 39; # sticky-bar> .row> .col-md-12> .container & # 39;). width (); if (barWidth === null) barWidth = jQuery (& # 39; # stick-bar> .row> .col-xs-12> .container & # 39;) width (); var extraWidth = logoWidth + newWidth + stickyWidth + randomWidth + controlsWidth; var limitedWidth = barWidth - extraWidth; // alert (& # 39; megaWidth = & # 39; + megaWidth + & # 39; nstandardWidth = & # 39; + standardWidth + & # 39; nmenusWidth = & # 39; + menusWidth + & # 39; nlogoWidth = & # 39; + logoWidth + & # 39; haswWthth = & # 39; + newWidth + & # 39; nstickyWidth = & # 39; + sticky + & # 39; nrandomWidth = & # 39; + randomWidth + & # 39; ncontrolsWidth = & # 39; + mind control + The mega menu only exceeds the limit if (megaWidth> limitWidth) { jQuery (& # 39; # category-menu-full & # 39;). arrive (); jQuery (& # 39; # category-menu-compact & # 39;). show (); } // standard menu alone exceeds limit if (standardWidth> limitWidth) { jQuery (& # 39;. second-full menu & # 39;). arrive (); jQuery (& # 39;. secondary-menu-compact & # 39;). show (); } // both menus bypass the limit if (menusWidth> limitWidth) { // first minimizes the standard menu jQuery (& # 39;. second-full menu & # 39;). arrive (); jQuery (& # 39;. secondary-menu-compact & # 39;). show (); // Standard computer compiler compilation and compilation limit if (compactMenusWidth> limitWidth) { jQuery (& # 39; # category-menu-full & # 39;). arrive (); jQuery (& # 39; # category-menu-compact & # 39;). show (); } } } }
function sizeContentsMenu () { // bookmark position if (jQuery (& # 39;. content-menu-default & # 39;) length> 0) { var menuOffset = jQuery (& # 39 ;.-menu-boat row & # 39;). offset (). top - topOffset; var newWidth = jQuery (& # 39;. content-menu-boat & # 39;) width () - 2; var btnWidth = jQuery (& # 39;. content-menu-wrap ul.sort-buttons & # 39;). width (); var lblWidth = jQuery (& # 39;. content-menu-wrap .bar-label-wrapper & # 39;). width (); var wrapperWidth = jQuery (& # 39; # great content & # 39;). width () - 2; var barWidth = btnWidth + lblWidth; if (barWidth> wrapperWidth) { jQuery (& # 39;. content-menu-default & # 39;). AddClass (& # 39; vertical & # 39;); } if (! jQuery (& # 39;.-menu-content-victim & # 39;). hasClass (& # 39; vertical & # 39;) && jQuery (this) .scrollTop ()> menuOffset) { jQuery (& # 39;. menu contents & # 39;). AddClass (& # 39; fixed & # 39;) width (newWidth); } else { jQuery (& # 39;. menu contents & # 39;). DeleteClass (& # 39; modified & # 39;). deleteAttr (& # 39; style & # 39;); } // show menu after scroll and hide later (only vertically) if (jQuery (& # 39;. content-menu-full & # 39;). hasClass (& # 39; vertical & # 39;)) { if (! jQuery (& # 39; .- content-menu-storage & # 39;). ((visible))) { jQuery (& # 39;. content-menu-green & # 39;). stop (). fadeIn (100); } } } if (jQuery (& # 39;. content-menu-full & # 39;). hasClass (& # 39; vertical & # 39;)) { var newOffset = 68; jQuery (& # 39; body & # 39;) data.) (& # 39; bs.scrollpy & # 39;). options.offset = newOffset; // Set up new setup jQuery (& # 39; body & # 39;) Data () (& # 39; bs.scrcrpy & # 39;). process (); // Press scrolls to re-measure the property in your test jQuery (& # 39; body & # 39;) .crcrpy (& # 39; refresh & # 39;); // Restart the scroll. } }
// when disqus is working we have been working to fix the link connection from the comment to the disqus thread function disqusContentsMenu () { if (jQuery ("# ​​disqus_thread") length> 0) { jQuery ("# ​​views-anchor-wrapper a"). interesting ("href", "#disqus_thread"); } }
// hide context menu 2 seconds after scrolling has stopped (function () { var timer; jQuery (window) .bind (& # 39; scroll & # 39 ;, function () { clearTimeout (timer); timer = setTimeout (refresh, 1800); }); rip = function () { // only want to do this in vertical style and only if the mouse does not currently fit the menu if (jQuery (& # 39;. content-menu-storage & # 39;). hasClass (& # 39; vertical & # 39;) && jQuery (& # 39 ;. content-menu-screen: hover & # 39;) . = = 0) { jQuery (& # 39;. content-menu-woven & # 39;). fadeOut (1200); } }; }) ();
// hide the context menu after the married user (function () { var timer; jQuery (& # 39; body & # 39;) in (& # 39; mouseenter & # 39 ;, & # 39; .contents-menu-wrapper.vertical & # 39 ;, function (e) { jQuery (& # 39;. content-menu-storage & # 39;). set (true, true) .fadeIn (100); clearTimeout (timer); }); jQuery (& # 39; body & # 39;) in (& # 39; mouseleave & # 39 ;, & # 39; .contents-menu-wrapper.vertical & # 39 ;, function (e) { clearTimeout (timer); timer = setTimeout (refresh, 1800); }); rip = function () { // only want to do this in vertical style and only if the mouse does not currently fit the menu if (jQuery (& # 39;. content-menu-storage & # 39;). hasClass (& # 39; vertical & # 39;) && jQuery (& # 39 ;. content-menu-screen: hover & # 39;) . = = 0) { jQuery (& # 39;. content-menu-woven & # 39;). fadeOut (1200); } }; }) ();
/ ** * See href to find anchor. If available, and in the document, scroll to it. * If the href argument is stopped, it is assumed in context (this) by HTML Element, * which will be if requested by jQuery after the event * / function scroll_if_anchor (href) { href = Typeof (href) == "string"? href: jQuery (this) .attr ("href");
// don't interrupt bootstrap carousels if (jQuery (href) .length> 0 &&! jQuery (this) .hasClass (& # 39; no scroll & # 39;)) { var fromTop = 118;
// remove the context menu height (and tags) if (jQuery (& # 39;. content-menu-full & # 39;). hasClass (& # 39; vertical & # 39;)) { fromTop = fromTop - 51; }
// If our Href points to a valid, empty anchor, and on the same page (e.g. #Foo) // Legacy jQuery and IE7 may have issues: http://stackoverflow.com/q/1593174 if (href.indexOf ("#") == 0) { var $ target = jQuery (href);
// An old browser other than pushState may be overrun here, as it is temporary // jump to the wrong place (IE < 10) if($target.length) { jQuery('html, body').animate({ scrollTop: $target.offset().top - fromTop }); if(history && "pushState" in history) { history.pushState({}, document.title, window.location.pathname + href); return false; } } } } } // When our page loads, check to see if it contains an anchor scroll_if_anchor(window.location.hash); // Intercept all anchor clicks jQuery("body").on("click", "a", scroll_if_anchor); //menu hovers function menuHovers() { jQuery(".menu .post-list a").hover( function() { jQuery(this).children('img').stop().animate({ opacity: .3 }, 150); }, function() { jQuery(this).children('img').stop().animate({ opacity: 1.0 }, 500); } ); } //new articles effects jQuery("#new-articles .selector").hover( function() { jQuery(this).addClass('over'); }, function() { jQuery(this).removeClass('over'); } ); jQuery("#new-articles .selector").click(function() { jQuery('#new-articles .post-container').animate({ height: 'toggle' }, 100, 'linear' ); jQuery(this).toggleClass('active'); }); //show search box jQuery("#menu-search-button").hover( function() { jQuery(this).toggleClass('hover'); } ); jQuery("#menu-search-button").click( function() { jQuery('#menu-search').fadeToggle("fast"); jQuery(this).toggleClass('active'); } ); //hide superfish more drop down on mobile if clicked again jQuery("#secondary-menu-selector").click( function() { if(jQuery('.secondary-menu-compact ul.menu').is(':visible')) { jQuery('.secondary-menu-compact ul.menu').hide(); } } ); //search form submission jQuery("#searchformtop input").keypress(function(event) { if (event.which == 13) { event.preventDefault(); var len = jQuery("#s").val().length; if(len >= 3) { jQuery ("# ​​searchformtop"). submit (); } else { alert ("Search name must be at least 3 characters long"); } } }); // send email to send jQuery ("# ​​feedburner_subscribe button"). click (function () { jQuery ("# ​​feedburner_subscribe"). submit (); }); // show the entry form jQuery ("# ​​sticky-login"). click (function () { jQuery (& # 39; # sticky-login-form & # 39;). animated ({ height: & # 39; Change & # 39; }, 100, & # 39; line & # 39;); jQuery (& # 39; # sticky-register-form & # 39;). arrive (); jQuery (& # 39; # sticky-register & # 39;). removeClass (& # 39; active & # 39;); jQuery (this) .toggleClass (& # 39; active & # 39;); }); // show the registration form jQuery ("# ​​sticky-register"). click (function () { jQuery (& # 39; # sticky-register-form & # 39;). animated ({ height: & # 39; Change & # 39; }, 100, & # 39; line & # 39;); jQuery (& # 39; # sticky-login-form & # 39;). arrive (); jQuery (& # 39; # sticky-login)). RemoveClass (& # 39; active & # 39;); jQuery (this) .toggleClass (& # 39; active & # 39;); }); // to move the hover button results jQuery (". sticky import"). hover (function () { jQuery (this) .toggleClass ("active"); }); // submission of entry form jQuery (". sticky-login #user_pass"). typypress (function (event) { if (event.which == 13) { jQuery ("# ​​sticky-login. upload"). show (); jQuery ("form.sticky-login-form"). animate ({opacity: "0.15"}, 0); event.preventDefault (); jQuery (". sticky-entry-form"). submit (); } }); jQuery ("# ​​sticky-login"). click (function () { jQuery ("# ​​sticky-login. upload"). show (); jQuery ("form.sticky-login-form"). animate ({opacity: "0.15"}, 0); jQuery (". sticky-entry-form"). submit (); }); // register the form submission jQuery (".-register-form #user_email"). typypress (function (event) { if (event.which == 13) { jQuery ("# ​​sticky-register-form. upload"). show (); jQuery ("form.sticky-register-form"). animate ({opacity: "0.15"}, 0); event.preventDefault (); jQuery (".-register-register-form"). submit (); } }); jQuery ("# ​​sticky-registration-submission"). click (function () { jQuery ("# ​​sticky-register-form. upload"). show (); jQuery ("form.sticky-register-form"). animate ({opacity: "0.15"}, 0); jQuery (".-register-register-form"). submit (); }); // hide and check password message jQuery (".expect password"). click (function () { jQuery (this) .animate ({ height: & # 39; Change & # 39; }, 100, & # 39; line & # 39;); }); // scroll all #top items up jQuery ("a (href = & # 39; # top & # 39;)"). click (function () { jQuery ("html, body") animate ({scrollTop: 0}, "slow"); return false; }); // image is black jQuery (& # 39; body & # 39;) in (& # 39; mouseenter & # 39 ;, & # 39; .darken & # 39 ;, function (e) { jQuery (this) .find (& # 39; img & # 39;). Stop (). animate ({opacity: .4}, 150); }) in (& # 39; mouseleave & # 39 ;, & # 39; .darken & # 39 ;, function (e) { jQuery (this) .find (& # 39; img & # 39;). Stop (). animate ({opacity: 1.0}, 500); }); // reaction of mice jQuery (& # 39; body & # 39;) in (& # 39; mouseenter & # 39 ;, & # 39; .reaction.clickable & # 39 ;, function (e) { jQuery (this) .addClass (& # 39; active & # 39;); }) in (& # 39; mouseleave & # 39 ;, & # 39; .reaction & # 39 ;, function (e) { jQuery (this) .removeClass (& # 39; active & # 39;); }); // user rating indicator // user comment comment indicator jQuery (& # 39; body & # 39;) in (& # 39; mouseover & # 39 ;, & # 39; #contact .rating-wrapper.rateable & # 39 ;, function (e) { jQuery (this) .addClass (& # 39; more & # 39;); jQuery (this) .find (& # 39;. form-Selector-wrapper & # 39;). fadeIn (100); }); jQuery (& # 39; body & # 39;) in (& # 39; mouseleave & # 39 ;, & # 39; #contact .rating-wrapper & # 39 ;, function (e) { jQuery (this) .stop (). delay (100) .queue (function (n) { jQuery (this) .removeClass (& # 39; more & # 39;); n (); }); jQuery (this) .find (& # 39;. form-Selector-wrapper & # 39;). Stop (). fadeOut (500); }); // user comment rate jQuery ("#XT .form-Selector") .on ("slidestop", function (event, ui) { var divID = jQuery (this) .parent (). parent (). parent (). fascin ("id"); var rating = jQuery (this) .parent (). siblings (& # 39;. rating-value & # 39;). html (); jQuery (& # 39; # & # 39; + divID + & # 39; .theme-icon-check & # 39;). delay (100) .fadeIn (100); jQuery (& # 39; # & # 39; + divID + & # 39;. -fix-rate-value & # 39;). val (to measure); });
// pinterest if (jQuery (& # 39; # pinterest-social-tab & # 39;) height> 0) { (function (d) { var f = d.getElementsByTagName (& # 39; SCRIPT & # 39;) (0), p = d.createElement (& # 39; SCRIPT & # 39;); p.type = & # 39; text / javascript & # 39 ;; p.async = true; p.src = "https://assets.pinterest.com/js/pinit.js"; f.parentNode.insertBefore (p, f); } (document)); }
// facebook if (jQuery (& # 39; # facebook-social-tab & # 39; length> 0) { (function (d, s, id) { var js, fjs = d.getElementsByTagName (s) (0); if (d.getElementById (id)) return; js = d.createElement (s); js.id = id; js.src = "https://connect.facebook.net/en_US/all.js#xfbml=1&status=0"; fjs.parentNode.insertBefore (js, fjs); } (document, & # 39; script & # 39 ;, & # 39; facebook-jssdk & # 39;); }
//WINDOW.LOAD jQuery (window) .load (function () {
// flickr if (jQuery (& # 39; # flickr-social-tab & # 39; length> 0) { jQuery (& # 39;. flickr & # 39;) .jflickrfeed ({ limit: 9, Symptoms: { id: "https://www.somosxbox.com/" }, itemTemplate: & # 39;
& # 39; + & # 39;& # 39; + & # 39;
& # 39; + & # 39;& # 39; + & # 39;
& # 39; }, function (data) { }); }
// tabs - these should be entered via windows.load so that pinterest will work within the tab jQuery (& # 39;. wrapper-widgets .it-social-tabs & # 39;). tabs ({fx: {opacity: & # 39; toggle & # 39 ;, dude: 150}}); jQuery (& # 39; # footer .it-social-tabs & # 39;). tabs ({active: 2, fx: {opacity: & # 39; toggle & # 39 ;, height: 150}}); jQuery (& # 39;. share-wrapper & # 39;). show (); equHeightColumns (jQuery (". loop.grid .article-panel"); disqusContentsMenu ();
// show ads after the menu is set because it wraps the page with a div // causing google adsense to reload jQuery (& # 39;. it-ad & # 39;). animate ({opacity: & # 39; 1 & # 39;}, 0);
});
jQuery.noConflict ();

[ad_2]