There is only one day left before the start of the most important event related to the Android operating system, Google I / O 2021. As usual, the company is meeting with the developers for present the most important news that will come to the platform, both to the system itself and to its applications. We analyze everything Google can present.
Tuesday, May 18 has been marked by fire in our agendas since the revelation of the event on April 7: Google I / O is back after a forced absence in 2020. The event will take place online, which has its advantages: anyone can attend the discussions; All you need to do is sign up with Google I / O and book support for the ones that interest you. Not to mention tomorrow's keynote, Tuesday, an event in which we will see a stack of news presented by Sundar Pichai and his family.
Android 12 beta will be featured in Google I / O
It's certain: Google will present the beta version of Android 12 during I / O, will be one of the main themes of the keynote. We have already seen three previews developers, tomorrow is the first firm step towards making Android 12 available to all users. First in the Google Pixel, as is evident, although we bet on a greater participation of other manufacturers.
The beta of Android 12, which can be downloaded from tomorrow Tuesday on the compatible Google Pixel (from Pixel 3
), it should be extended to other brands, as it has been doing for a few years. The safest thing is that OnePlus will join the former, along with Samsung and brands like Xiaomi, OPPO, and Nokia. In principle
for certain models of the very recent and premium range
Manufacturers often experiment with their best swords to add value to their customers.
We've already seen some of the new things in Android 12, but that can all change with the beta: will be the first version of the system as such. For example, a noticeable design change was disclosed to the aesthetics of Android 12:
Even more minimalist interface and with a design close to iOS 14.
Very rounded notification corners, flat and pastel colors for backgrounds, complete redesign of widgets.
Automatic personalization: The colors of applications and other elements of the system can be automatically adapted to the user's personalization, in particular the chosen wallpaper.
The Gboard keyboard itself will be able to adapt its theme to the wallpaper.
Google will be making a myriad of changes to the system, most of them at the development level. Surely expand your privacy options, it is not in vain that this will be a key issue for Android during this 2021.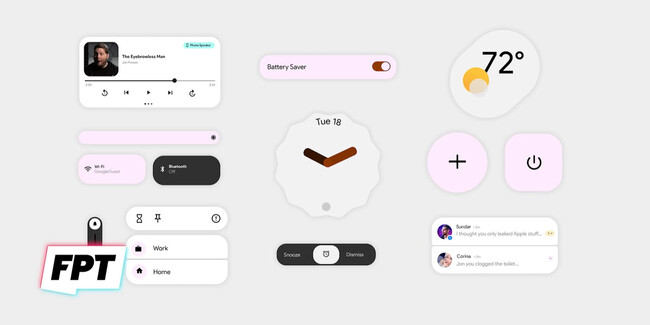 The AI ​​will be even more integrated into the system to improve the autonomy of the device by intelligently limiting consumption. It wouldn't be strange for Google to establish a new energy manager and improved economy modes. Android's dark mode will also give a boost (will it include hourly planning?). And Google Assistant will expand its reach.
Google Assistant, essential for Android and not only on Android
While Android 12 will be concentrating a lot of Google's I / O, with everything developers need to know to prepare your applications for stable launch of the new version of the system (probably late summer), Google Assistant will be one of the stars in terms of application.
Assistant has surprised Google I / O attendees since taking over from Google Now in 2016. Getting smarter, more capable, with more power year after year (even with big surprises, like Google Duplex). Everything to achieve this our mobiles have great capacities even if their material is cut
.
Wear OS, finally an evolution is anticipated
The operating system for clocks has changed little. And it needs a clear push for the system to face WatchOS or Tizen. In this sense, the Google I / O will offer an event with all the novelties that will come to Wear OS.
Google is expected to refine the aesthetics of Wear OS, surely giving the system more possibilities. The assistant expands your options according to your voice and Google is likely to present Samsung as a "partner". Who knows, we might see Google's first smartwatch, although that's unlikely.
Android TV and Google TV, possible news
Launching a Chromecast with Android TV showed that Google will take Android TV much more seriously. This TV operating system is booming, a sign that Google is getting a gradual increase in profits from Android TV.
Google TV interface will reach the rest of devices with Android TV. The store surely offers access and subscription improvements, it's likely that users will have greater customization options outside of the channels and we bet Google Stadia will finally announce its official landing on Android TV. The most logical thing is that it is first about the Chromecast with Google TV.
The main Google apps will feature news
Specifically anticipating what apps will bring again is nearly impossible, but we're predicting a key theme for what's to come: privacy. Most likely Google reinforces this aspect in all its software
, desde Maps on Google Play.
Specifically, the store will focus several full discussions on the next Google I / O. The company must provide developers with the keys to adapt their applications to new privacy reports, information that should be ready by 2022.
While privacy is of the utmost importance, the other element of special attention during Google I / O will be security. Take a look at the event calendar to find out that there are several conferences with safety as a priority. Both in Android and in applications: Google will discover the latest news in this area for most of its software.
Will there be new material? The million dollar question
Google I / O allows you to discover new software and communicate news to developers. Usually there hasn't been any material introduction, but we also can't rule them out entirely. What we will surely not see will be new pixels: neither the Pixel 6, surely postponed to the fall (its usual date) nor a possible Google Pixel 5a (there will most likely be an event of its own).
As we said in the Wear OS section, it would be plausible for Google to present its own smartwatch, the more than rumored Pixel Watch, although there aren't too many options. Maybe even a Samsung Galaxy Watch with OS Wear, it is not in vain that the rumors about this alliance are being heard more and more.
We do not exclude that Google presents a non-priority material element (neither mobile nor watch). Maybe placement tags take advantage of something new in Google Assistant; or augmented reality glasses, Google takes advantage of the I / O framework to present eye-catching physical products.
New hardware rarely shows up on Google I / O, but it can't be ruled out either. Of course, it is highly likely that we will not see the future Google Pixel.
There's not much left to check what Google has in store for its most popular event of the year: Google I / O will start tomorrow, Tuesday, May 18, at 7:00 p.m. in Europe with the opening speech by Sundar Pichai. You can access all the information on the official website, you can also register from there.