In October 2020, we tested Pluto TV, a free channel platform that has become very popular. Pluto TV is available on Android, iOS, Web and Android TV, so we wanted to try it big, on TV, to see what this content platform is capable of in Google's operating system for televisions.
We already expect the experience to be very similar to Android, but we liked the way the elements are integrated at the interface level in Android TV. The test, more precisely, we did it with the new Google TV, but the app has the same user interface on any device with Android TV that we use.
What is Pluto TV
If you don't know what Pluto TV is, we'll explain it to you quickly and easily. It is a completely free free content platform. In fact, it doesn't even require us to create an account for it to work
. Pluto TV offers both its own live channels and on-demand content, all completely free, but with a few ads (for something, it's totally free). +
Pluto TV channels are theirs, you can't find TNT classics in Europe
Pluto TV's offering includes just over 40 channels, with the promise of expanding over time. Pluto TV channels are ours so we will not find the same channels as on TV, although some of its content is. For example, we have the MTV channels on Pluto TV, so we can watch the originals from MTV, MTV Catfish, etc.
How the Pluto TV app works on Android TV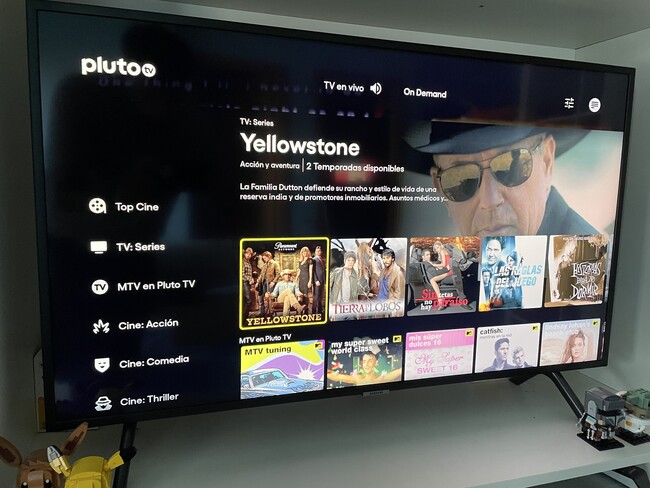 The Pluto TV app for Android TV is well suited, although it is virtually identical to the web version (w ith better animations, yes). As soon as we open it we have the Live TV section, Pluto TV's "live" broadcast
, being right next to the on-demand content section. Live streaming is still like TV:
there will always be content being broadcast
, with different channels. Pluto TV content is streamed, so an internet connection is required. They can't be downloaded, yes.
In terms of navigation, it's good, but not as tidy as on other platforms. Pluto TV does not have a channel search engine, but it has different categories which work as a guide and a channel list. Here we can see a little synopsis of the content and either see them if they're on-demand or know when they're airing if we're in the live section.
Pluto TV on-demand content cannot be downloaded, although we can pause it at any time and resume later.
When we play content on demand, we can pause it, resume it, go forward and backward and share the link through social media. Pluto TV does not tell us the quality at which the content is played, although we didn't have too many problems in this regard.
We have no subtitles of any kind, although the content is dubbed into Spanish (without finding any original versions). If we want to pause the reading and leave it for another day, Pluto TV will record it as long as we access it from the same device, because there is no account.
In conclusion, Pluto TV is a good alternative for watching streaming content, because we liked the quality of its broadcasts, as well as the on-demand content. The catalog is not very complete, but it seems sufficient to keep us entertained in a timely manner, the main task of any platform of this type