Google Chrome is the most used browser by Android users in Europe. It's a browser that has introduced a host of new features in recent months. When we are browsing with it on our phone, it is common to get notifications on some websites which many users find annoying.
The good news is that Google Chrome allows us to block the mute web page notifications. This way, we will be able to navigate more calmly from our Android phone, without suffering any discomfort.
Disable notifications in Google Chrome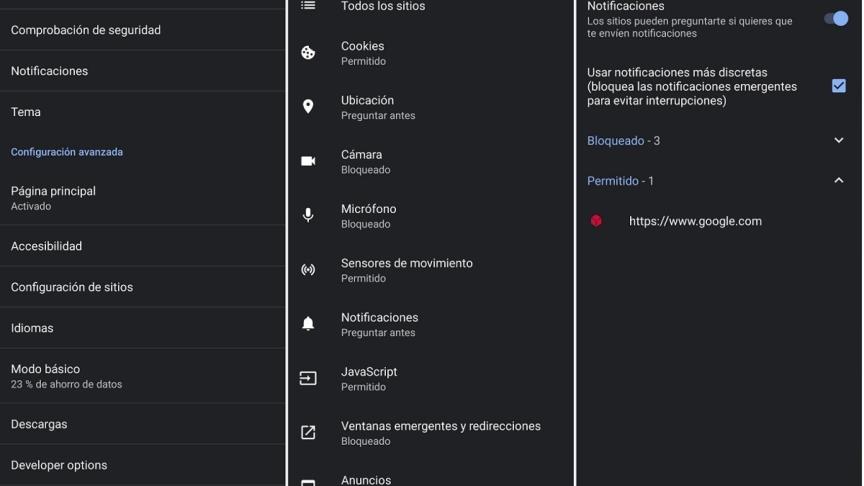 Web pages that we enter using the Google browser may request if we give them permission to send notifications. While this is something that can be useful, the reality is that it ends up being boring. Especially since many websites use it, which results in an excess of notifications on your mobile.
Fortunately, in the browser we have the option to set which notifications we do not want to receive. We may also request a less intrusive type of notification, for example, like silent notifications, available in the browser. The steps to follow in this case are:
Open Google Chrome on Android.
Click on the three vertical dots at the top right of the screen.
Go to Settings.
Access advanced settings.
Go to site settings.
Look for the Notifications option.
If you don't want notifications, turn off the switch that appears at the top.
If you want to use silent notifications, enable this option.
These steps allow us to have better control of notifications in Google Chrome for Android. For those who do not wish to have notifications in the browser, the first option is to block them or disable them completely, so that we do not have more web page notifications when we use it.
If we consider that notifications are useful, but we wish to have less, we can resort to the second option, the so-called silent notifications. Thanks to them, Google Chrome will continue to emit notifications on the phone, but they will remain silent in this case, which will make them non-annoying.
.