Samsung phones launched in Europe have a defined screen resolution by default. This is the resolution in which you will see content on your mobile, such as videos, photos or series. Although there may be times when you want to be able to adjust it to your liking.
Depending on the Galaxy phone you have, will offer you various resolutions screen. There are times when we are interested in a higher screen resolution, but there are times when we may want a lower resolution. Fortunately, on Samsung mobiles we can easily change this resolution.
Change the screen resolution on your Samsung mobile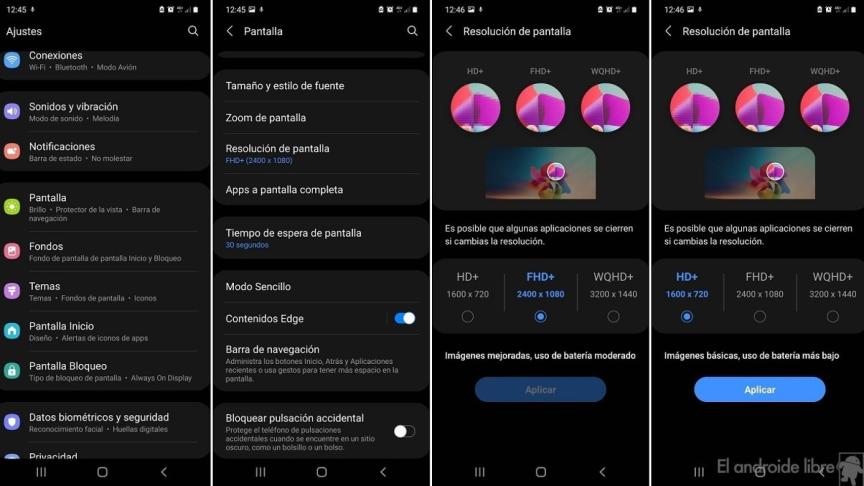 There are times when increase screen resolution This will help us better user experience, for example when watching videos or streaming content. At other times we will be interested in lowering the screen resolution on our Galaxy smartphone, because higher resolution consumes more and at that time we have low battery, for example.
The steps to be able to change this screen resolution on a Samsung mobile with One UI are very simple. If you want to be able to do this, the steps are:
Open your Samsung phone's settings.
Go to the Screen section.
Enter the screen resolution.
Choose the desired resolution.
If you want to change it again after a while, repeat these steps.
Most Galaxy smartphones they give you three options in terms of resolution to choose from. These options will depend on the model you own, as well as its range. In a phone in the high range of the manufacturer, these resolutions will always be higher.
In the pictures you can see the options that a Samsung Galaxy S20 + it delivers in terms of screen resolution. By clicking on each of these options, some of its features are mentioned, such as a better or sharper picture, as well as the effect it will have on the power consumption of the phone. Depending on what you want to do at any given time, choose that screen resolution.
.