Bluetooth connection allows us Connect devices with devices and peripherals. On the iMac, without further ado, the mouse or track track, as well as the keyboard, is connected via Bluetooth. Usually it is a fully functional technology, but when it shows any failure it becomes difficult to know why it fails and how to fix it.
Diagnostic menu help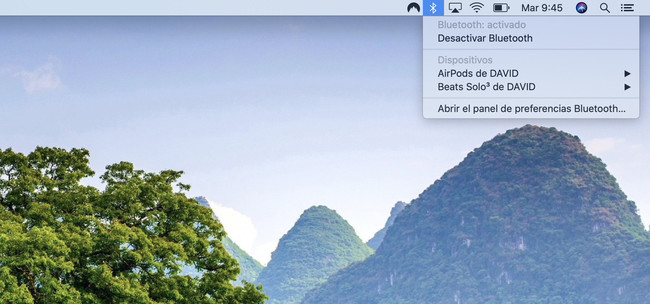 Options we often test when a Bluetooth device has a connection failure, to turn it off and then on again, restart the computer or disconnect and reconnect the phone. When all this fails we will use a less powerful system: the Bluetooth diagnostic menu.
The first thing we must do is make sure that menu bar
we see one that is compatible with Bluetooth. We will do these steps:
In the Apple menu () we select it System Preferences.
We're in Bluetooth.
Enable option Show Bluetooth in the menu bar.
Just looking at this menu allows us to connect a variety of connected devices, disconnect, operate or operate the Bluetooth antenna itself or access the preferences panel. If we want to see other options we have to catch up alt / option (⌥) key while clicking on the menu. When we do so, we will see more details appear, such as the MAC address of the section and when the virtual mode is activated. We will go one step further and access the diagnostic menu.
Hold Shift (⇧) + alt / option (⌥)
We click on the Bluetooth menu.
In doing so we will see that in the menu an option appears Debugging which offers us three options: Reset Bluetooth module
,
Reset to factory settings on all Apple connected devices
y
Remove all devices
. Before we go any further, the most important note for all of us using a computer is the keyboard and mouse / trackpad connecting via Bluetooth: it is important that we
a mouse with a cord or keyboard
manually control the computer when something goes wrong with Bluetooth.
How we use the menu Diagnosis
The options are self-explanatory, trying to solve a specific communication error, we'll first try uninstall all devices and reconnect it. If the error is still in progress, we'll check restore factory settings for all Apple connected devices, in this case it must be a device that provides connection errors currently connected to a Mac
so the computer can send you a command to reset the settings.
Finally, the option of reset the Bluetooth module, which we will use as a last resort, allows us to completely restore the blue connection of our Mac. After doing so, you must restart the Mac and reconnect the parametersIt is important here to have a mouse or cord to keep in touch with the computer.
In 98% of cases I've seen in buildings, these steps solve any Bluetooth connection. It should be said that if the error persists, it is better to contact Apple (900 150 503) for some equipment repairs. Like all things on our computer, we don't even remember that it's there until it does something unusual and, although Bluetooth communication is rare, if we need to fix a connection we will have the necessary tools.