Kodi ice cream one of the tools that gives more play when accessing multimedia content, either locally or in streaming. An application that, as we saw in its day, can be installed without going through Google Play and which also benefits from a high degree of customization.
We will now focus on one of the strengths of Kodi as its add-ons (add-ons). These additions allow that we can further extend the potential of Kodi, with apps of all kinds and this time we are going to see how these add-ons can be added and going through some of the more interesting ones available legally in Kodi repositories.
How to install add-ons on Kodi
This is to expand the capacity offered by Kodi. To do this, with Kodi on our TV, what we do is enter the left column (using the interface that comes by default) and click on the "Add-ons" option.
Once in the "Addons" menu we should look for an open box icon
, located at the top left.
On entering we will see the Kodi add-ons installation menu with various add-on related options. We will mark the option "Install from repository" and we will search the Kodi repositories for the add-on we want to use.
There are different categories of accessories, from those related to music to images, programs, themes or information applications … For the test, we will use the YouTube add-on that we can find in "Video Add-ons".
We go into video add-ons and see how they are sorted alphabetically. We search for YouTube and click on it.
We will then see a tab in which the data of the addon such as its version, creator, in some cases capture and a description appear. Look for the option "Install" to proceed with the installation of the add-on, in this case YouTube.
When the installation is complete (it may take a few seconds), a pop-up window at the top right informs us that the add-on was installed correctly. From that moment, we will have it accessible in the "Add-ons" menu.
Add-ons external to Kodi
While we have focused on add-ons accessible directly from Kodi, we can also install them from external sources using .zip files that we have already downloaded. The only precaution is enable installation of files from unknown sources
in the
"Setting"
from Kodi.
Inside you have to look "System" to activate the "Unknown origins" in the Add-ons option in the add-ons settings
At this point, we return to the main Kodi menu and in the left column click on the Addons option. Again we have to look for the open box icon (top left) and in the Kodi addons installation menu we click on the option "Install from a .zip file".
At the moment just search for the USB stick or hard drive in which we have the .zip file and select it to install it on Kodi.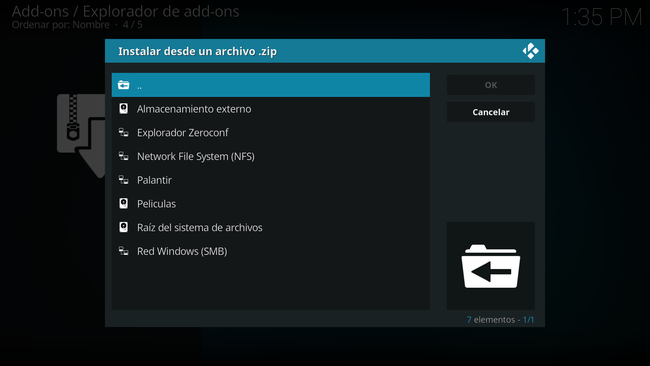 Featured plugins
Youtube: YouTube is the add-on that will allow us to play videos from the popular streaming platform without leaving Kodi.

Exodus: a multimedia center, compatible with Android, desktops or Raspberry devices. It allows local access to our files but also access to external sources for streaming.

Play on: an add-on similar to the previous one that also allows you to record content from paid streaming platforms such as Netflix, Hulu, Amazon Prime Video and HBO Now.

SoundCloud: SoundCloud will surely look like you if you see it as an app on Android. With this add-on, you can access a large list of music and content in the form of podcasts.

TideWhat about this addition, which brings all the music content we have stored in our Tidal account to TV.

Plex: this add-on facilitates centralized management of all the multimedia content that we have stored on other devices.

Leaflet: doubts about the episodes already seen? Trakt is the solution, an add-on that allows you to keep track of your favorite series and episodes already seen.

BSPlayer: This add-on allows you to download subtitle packages, which is very useful for series that only come in English.

Sub scene: alternative to the previous one, it allows you not to hurry if you have trouble with languages ​​while watching television series.

Dbmc: is an add-on that allows access to all the content we have stored in Dropbox.

Rom collection browser: ideal for accessing the retro games that conquered us as children of television.

Image slideshow screensaver: this add-on acts like a photo album to be able to access all the images that we have stored on a device.

Yahoo! Weather situation– Makes Kodi a place to stay informed about weather forecasts.