Instagram is one of the most popular social networks in Europe, with millions of Android users accessing the app from their phones. Many people upload posts to their social media account and sometimes delete one or more posts from their account.
It is possible that after having deleted a post from your Instagram account you regret it. Fortunately, the social network has long had a recycle bin where you can view and recover the photos you deleted from your profile. The access mode is very simple.
Recover Deleted Instagram Posts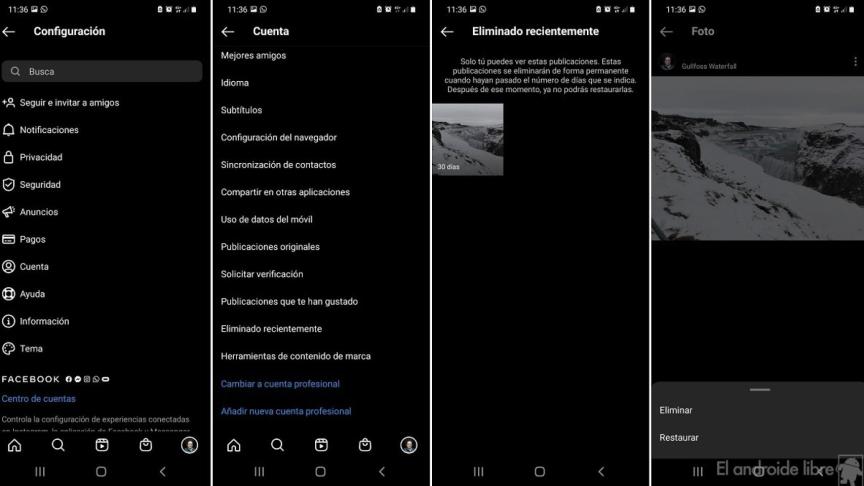 Instagram introduced not long ago trash can, where the posts or stories from your account that you deleted are stored for a total of 30 days. This allows you to see those deleted messages, as well as recover some in case you deleted it by mistake or regretted it. The steps to access this recycle bin in your account are:
Open Instagram on your Android phone.
Click on the profile icon at the bottom right of the screen.
Click on the three horizontal bands.
Go to Settings.
Go to Account.
Go to Recently Deleted.
Click on the publication in question.
Click on the three vertical dots.
Choose the desired option: restore or delete.
Confirm again if you want to restore it.
Write the code they sent to your email.
Wait for the app to restore it.
With these steps you can recover a message you deleted in your account on the social network. This is a good way to restore a photo that you deleted by mistake and want to remain visible on your profile. If you wanted to eliminate it permanently, this section allows that as well.
It is important to note that Instagram will store these messages for 30 days only, as usual with this type of container. So don't wait too long to restore this message, in case you changed your mind. After this period has elapsed, the post is permanently deleted from the social network and there is no way to get it back.
.