Hunter Legend is now available in Advance on the Play Store Like a game that looks a lot like Archero, this action game that with our bow we have to eliminate many enemies through hundreds of levels.
And it is that they are not few the clones who came to him to become an inspiration for the one we have in these lines. Loongcheer Game is the publisher who released this action game in the Play Store to give us a good time hunting beasts.
Hunt huge beasts in Hunter Legend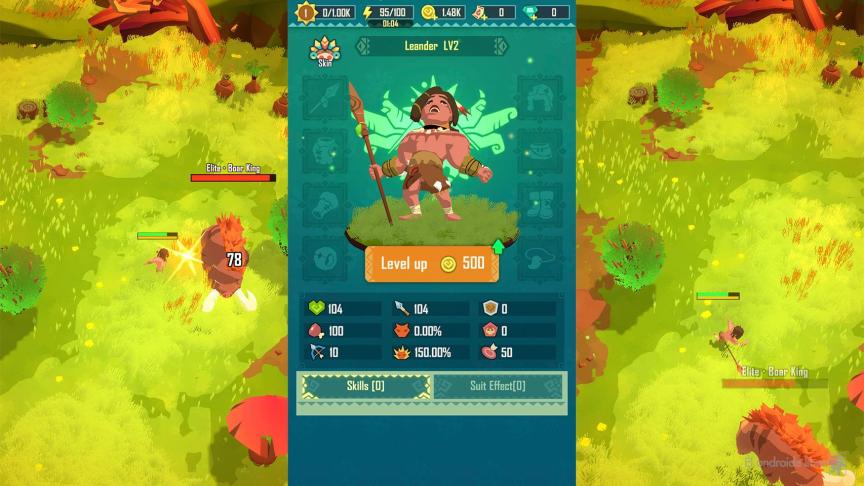 A action game in which we control our hunter with gestures this allowed him to try his luck by going hunting in the jungle. The most powerful warrior of a primitive clan must face all kinds of enormous beasts.
Our mission, besides hunting all kinds of animals, is collect the materials left by the beasts removed with our lance or a sharp razor. These resources will help us to make our protagonist progress faster and even be able to create his own team in a completely artisanal way.
And Hunter Legend we will meet a wide variety of wild beasts as will happen with the great and dreaded dragon that will welcome us in the first levels to make history.
Gestures to attack and move with agility
As happens in Archero, when our warrior is standing and he is at a sufficient distance from a beast, he will start using his spear to reduce hit points of any animal that approaches it.
But where this action game stands out from the above is the gestures we can use to perform all kinds of moves specials. Even these gestures will help us to attack directly with the knife every bug in front of us.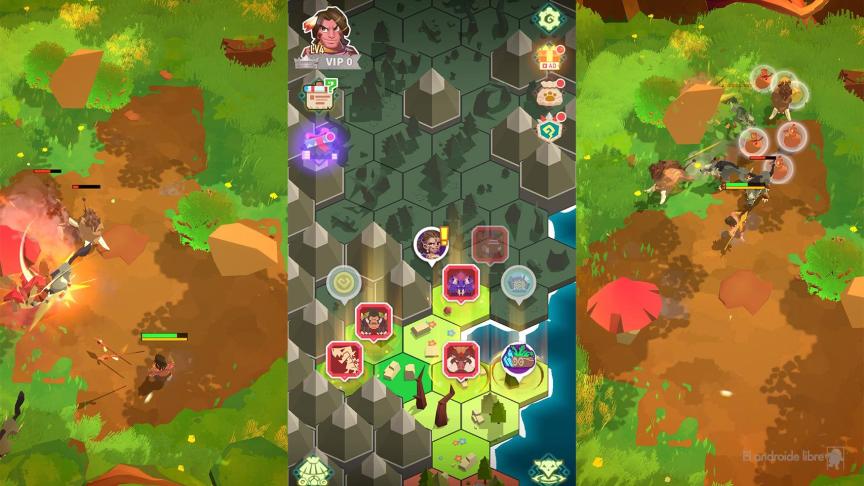 There is another series of special abilities to move nimbly among the great multitude of beasts that will come our way. One of them is a jump combo to land a good hit on a wolf and use its body to immediately jump to another position.
In the beginning it is not easy to control this type of movement, but after a few minutes, you shouldn't have a problem with your warrior who will be able to eliminate a good number of beasts in a few gestures.
Short but intense levels
Hunter Legend is a game with a physical object very present in combat so that at times we almost feel like we have become a pinball machine receiving hits from wolves, boars and more.
It's not an easy game if you don't stand up well and we place our hunter in positions where it is easier for him to face these beasts. In fact, if we're not careful, these furious animals will end the life of our friendly warrior in a jiffy, so pay attention to these positions and the every move of any animal around us.
So what neither did we comment on these huge final bosses that will challenge us time and time again. We take this opportunity to clarify that visually and technically, although sometimes it gives more than another, Hunter Legend behaves very well and generates an excellent game experience. Let's not forget that it is at the beginning of the beta version.
Hunter Legends is available for free on the Google Play Store so that you can live a combat experience with gestures that leave no one indifferent. And by the way, don't miss the new Rovio.
Legend of the hunter – Download
.