Few mobile apps raise as much passion as messaging apps: There are those from WhatsApp, those who like Telegram and those who use a completely different system.
No good messaging app can get everyone to agree, but we'll take a closer look at the advanced options today to shed some light on this issue. ¿Which is the best messaging app for Android?
What we ask for is the messaging app
Before we start with our selection of candidates, we need to have a list of expectations for the mobile messaging app, so we can have a guide for comparing them. Not everyone will give the same importance in the following sections, but this is it that we will consider:
Number of users. In the right world, you can chat with anyone using your favorite messaging app, but you actually rely on contacts who agree to use the same app. It goes a long way in your circles, but often the more users if an app is available, the easier it will be for you to find your friends.

Multiple device support. It is becoming more and more common to have multiple devices, and you should be able to switch from one to another to continue your conversation. If it's also possible to follow the conversation on PC, then it's better than not.

What to send. Obviously, all messaging apps allow you to send texts and emojis, but others add other elements to the mix, able to send files, share real-time location or video clips.

Group discussions. For those with a large group of friends and contacts, there is a huge difference between the maximum number of groups in different messaging applications.

Calls and video calls. Although most of the applications that support voice calls, not all feature video calls and there is still a huge difference when it comes to video calls.
Encryption and privacy. Some applications block all messages, others are only sent to private chats. In addition, there are some privacy issues to consider, such as whether it is necessary to provide a phone number to start talking to you or if possible to secure a conversation with a PIN or password.

Backup. In text messaging conversations, the key messages conclude that you certainly don't want to lose. Some apps back up and easily restore when you switch your phone.

News. Whether we like it or not, the ephemeral format of news has become a way of communicating what other users will discard from the program that doesn't.
Our choice of choice
Considering all of the above, we made our list once seven popular messaging apps today. The list includes heavyweights such as WhatsApp, Telegram and Messenger and Instagram, which, although technology is not a messaging application, is increasing in the field of communication.
WhatsApp
We start our list with a good messaging app, at least up to the number of users. The latest estimate puts it around 2,000 million users
, the highest and fastest number on Facebook Messenger only, from the same creators.
WhatsApp stands out for its simplicity and functionality, despite its limitations
As a request for messaging, for years WhatsApp has been dominated by "less is more", emphasizing a turn on a request for a point, without too many interruptions. This has changed a little over time, to the point where the app integrates video calls and stickers, something that seemed to be unpopular five years ago.
And there have been changes for the better regarding privacy and security, with arrival fingerprint protection and many other privacy options, or we still carry a certain technological responsibility appropriate for such an experienced app. It is not cloud-based, so the account can only be used on one device at a time and its PC versions are limited (you need to unlock your phone online, for example).
AchilApp's second Achilles heel is that you need to provide your phone number someone so they can contact you. This helped a lot to draw users in, but it's not working these days.
Phone
Since its launch in 2013, Telegal has been the eternal desire on the throne of messaging, at least in some states. It hasn't been able to harvest as many users as animals like WhatsApp (the latest figures are 200 million users), but it's described as another way to get this because they work in parallel, especially at its inception.
The Telegraph works especially well in conversations, but it leaves out other features such as low-cost video
Over time, the Telegraph has been building its own identity, focusing more on communication communication, more developed than WhatsApp, with quick articles, surveys, centers and resources for answering, talking or searching for a message. It is noteworthy that groups can be very large, with up to 200,000 members.
In private organizations, Telegram encryption is in its system, and end-to-end encryption is in private conversations, adding some additional features. The good thing about Telegram is that it is agile as WhatsApp, but cloud-based, so you can switch devices and follow the conversation in seconds, in addition to having all the history at all times.
The Telegraph has the advantage of being updated frequently, adding new features every couple of weeks. The critical shortage is that you have no video calls, while the rest have already added group video calls.
Messenger
For many years Messenger has been more than just a Facebook chat service, but the app has ended up being its own spin-off program, though recently the law has been changed and requires a Facebook account to use Messenger. Its monthly number of users is rotating 1.3 billion users, becomes the second most widely distributed application, after WhatsApp.
Messenger does not shine like WhatsApp or Telegraph, or has the advantage of being able to continue chatting while using other apps
As a messaging app, Facebook Messenger has survived an extremely heavy app for years, despite promises that it will change. Yes, technically it has changed, but right now it's only in the iOS version.
Facebook Messenger is not the fastest, easiest or easiest messaging app, but it has the great benefit of being discussion threads, to be able to reply to messages even if you're doing something else. This benefit, of course, will be less important because chat bubbles are one of the newest features of Android 10 and Android 11, so other apps can easily install them.
Though worse about lifelong conversations, in the field of multimedia Messenger stands out above the rest. Includes calls too group video calls of up to 50 people, and all of this based on the cloud, so you can move from one device to another without losing anything.
Instagram
Instagram is a minor miner in our comparisons, and technically it's not a messaging application, even though most people use it correctly as a means of communication. The number of users is more than three, 1,000 million users, although not everyone will use it as a chat app, but to share photos.
Instagram is technically not a standard messaging app, but strong in visual communication, photos and news
As a messaging system, Instagram has some flaws. Direct feels a bit like Messenger before he parted with Facebook, and somehow it's so claustrophobic that access is a minor icon in the program. It is a request that it limits you a lot on what you can send to your friends, including basics: photos, videos, texts and voice signals.
If you use Instagram less to chat and post more multimedia content, such as camera pictures, this is where it stands out. Instagram has excelled in multimedia communication, whether from direct content or from Instagram stories.
Technically, Instagram is cloud-based, or using it on many devices is not as easy or comfortable as other apps like the Telegraph. For example, until recently, Instagram has not allowed you to chat from your PC, even today no more discussion on the web type from Instagram.
Android Messages
Google trash Allo is completely focused on its standard RCS operation, something like hypervitamin SMS messages. This operation is done using the app's official messaging, Android Messages. Unfortunately, we do not have the number of users, so the only reference number is the app downloads on Google Play: 500 million.
To this day, Android Messages is still what I want and I don't know until RCS is everywhere
As a messaging app, the fact that Android Messages has more limitations than Allo has, it has the basics and a little more, It is based on phone numbers such as WhatsApp and is supported by other (Duo) video call programs, so it forces you to have another app.
It's another acceptable option, even if you lose it completely Your mobile phone and operator are compatible with RCS, something unfortunately does not exist worldwide. Without RCS – or chat features, as it's officially called – you may have to pay for each message and lose features like knowing when someone is typing.
Another detail to consider is messages in Android Messages are not encrypted
, and it's not so easy to take them with you when you switch on a mobile phone, or at least have a web version, and similar functionality to WhatsApp.
ACTIVITIES
LINE does not have as much drop-off in the West as in previous applications, though around the world the Telegram number is, 187 million users every month. It's probably the most popular messaging app, with a unique aesthetic and its unique design based on the characters in its attachments.
LINE is powerful, although it's hard to find traction in the West
As a messaging system, LINE feels slower than WhatsApp or Telegraph, though it has improved slightly in recent times. The point of its star, although not everyone will give the same importance to this feature.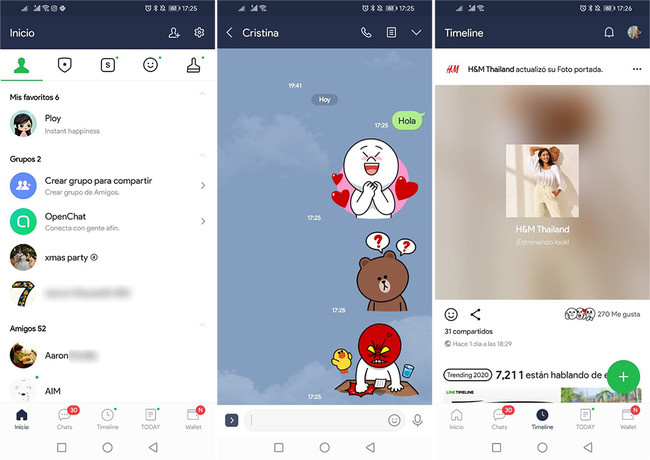 LINE includes end-to-end encryption (as long as it's not disabled) and has for many years included video calls, which can be grouped and include nothing less. A total of 200 people. The LINE is cloud-based, though thankfully it can only be used on one mobile device at a time. However it does have a traditional PC version, which does not require the phone to be unlocked.
LINE has slowly evolved to create its own ecosystem. Have you been your own mini-facebook, and featured issues, in addition to having its own payment system. The app is also proven to be highly customizable, not only for sticks, but also for themes.
A comparison table
Next we leave you a comparison table with the main features of all the messaging apps we tested. This way, you can look at a glance which suits your needs.
| | WhatsApp | Phone | Messenger | Instagram | Android Messages | ACTIVITIES |
| --- | --- | --- | --- | --- | --- | --- |
| Number of users | 2,000 million | 200 million | 1.3 billion | One billion | 500 million * | 187 million |
| Multiple device | No. | Yes | Yes | Yes | No. | No. |
| End encryption | Yes | In private conversations | In private conversations | No. | No. | Yes |
| What can be sent | Text, stickers, animated GIFs, photos, videos, audio, voice memoirs, location, real-time location, contacts, documents | Text, stickers, animated GIFs, photos, videos, audio, voice memos, video clips, location, real-time location, contacts, files, and other content from bots | Text, stickers, animated GIFs, photos, videos, voice memos, location, location in real time. | Text, stickers, animated GIFs, photos, videos, voice invitations. | Text, stickers, animated GIFs, photos, videos, voice memos, location, contacts, files | Text, stickers, animated GIFs, photos, videos, voice memory, location, contacts, files, events, surveys |
| Group discussions | Up to 256 people | Up to 200,000 people | Up to 250 people | Up to 32 people | Up to 100 people | Up to 499 people |
| Boots | Up to 256 people | Yes | Yes | No. | No. | Yes |
| Voice calls | No. | Yes | Yes | Yes | Yes | Yes |
| Video calls | Yes | No. | Yes | Yes | Yes | Yes |
| Group video calls | Yes, up to four people | No. | Yes, up to 50 people | Yes, up to six | Yes, up to 8 people (with a Duo) | Yes, up to 200 people |
| Based on phone number | Yes | No. | No. | No. | Yes | No. |
| Search for contacts | By number | By number, location and nickname, QR code | By number, name, nickname, QR code | By number, nickname, QR code | By number | By number, nickname, submission, QR code |
| Secure conversations | No. | Yes | Yes | No. | No. | Yes |
| Access protection | Yes | Yes | No. | No. | No. | Yes |
| Backup | Yes, in Google Drive | Yes, in the cloud | Yes, in the cloud | Yes, in the cloud | Yes, a Google copy | Yes, in Google Drive |
| News | Yes | No. | Yes | Yes | No. | Yes |
| Desktop version | Yes | Yes | Yes | Yes | Yes | Yes |
| Widgets | Yes | No. | No. | No. | No. | Yes |
* Users, but downloads
The million dollar question is which messaging system is best, and the truth is there is no answer. Different users love the features of these programs differently, whether they only use them for chat, when they need to and make video calls or if they use one already and don't want to change. However.
If you are excited about WhatsApp And you don't need any more, so it wouldn't be worth trying your luck with another request and trying to convince your lost friends to do the same. WhatsApp works well for communication from your mobile phone.

The more you use chatSo Telegram can be a better option. The Telegraph is better for or above WhatsApp, but it is also much better for chat communication. It has channels, groups and you can go from mobile to PC to PC in seconds without losing messages and all history with a single click.

If it's more than just sending photos and videos, Messenger or Instagram will best suit your needs. Camera work and Instagram stories are more advanced than Messenger's, though it's free to write and has the potential to continue the conversation if you're in other apps, with chat bubbles.