Can a mobile phone without Google apps and services give the same satisfaction as a phone certified to use Google Apps? Although it sounds complicated, the truth is that you can live just fine with a phone like the Huawei Mate 40 Pro and without missing the native software of the owner of Android. We can corroborate it.
The US veto on Huawei's technology has been a blow to the company and to anyone who has trusted its products. Testing a brand phone supposes coming face to face with a reality that cannot always be overcome; Unsurprisingly, Google's hand dominates the Android experience to a large extent. Official app store, a framework of services that guarantees security and ease of use, authentic references such as YouTube, Gmail or Google Maps. In short: remove the bare Google patina to some extent from the phone. However, tackling the problem constructively allows you to overcome it.
Not having Google apps is a problem. And a motivation
I have professionally analyzed phones for over a decade and there are many more who are testing the technology for myself. I would be unable to say how many mobiles have passed through my hands, surely hundreds. This journey made me demanding: for me to recommend a device it must offer a minimum of functionalities. And of course, taking on an Android mobile without the basic services I've been using since I bought my HTC Magic with Android Donut almost twelve years ago has been a hard shock to take.
Huawei has been one of my favorite brands since the awesome Huawei Mate 9 fell into my hands, and it turns out that I haven't been able to test the brand's cellphones since the infamous veto. So when the Huawei Mate 40 Pro first came to me, I unboxed the phone with a mixture of illusion and intrigue that lasted. until I fall into the wall that assumes the absence of Google services. My goal, however, was to resolve this shortcoming by installing the Play Store and the rest of the software in parallel.
Huawei turned off the tap on the main way to install Google Apps on non-certified mobiles: LZplay. It also does not unlock the bootloader; For what it can't shine a recovery custom and from there install the Gapps. There is only one universal way to use Google applications on mobiles that do not preinstall their services: through applications that simulate a second user space, such as Dual Space.
While apps like Dual Space allow you to use Google apps in a kind of simulated space, the higher battery consumption, lack of privacy, and having ads even to check Gmail eventually lead to a bad experience.
During my first encounter with the Huawei Mate 40 Pro I made it a point of honor to do my best to use the Google applications. And this is a mistake that not only undermines the experience, but also loses possibilities for a phone in the Mate category. So, after a break where I had to do without the phone (the comparison of the cameras required it), I faced the absence of Google by changing my strategy: to force the installation of their applications to force me to live without them. No point of comparison.
The key to enjoying a Huawei: finding genuine Google substitutes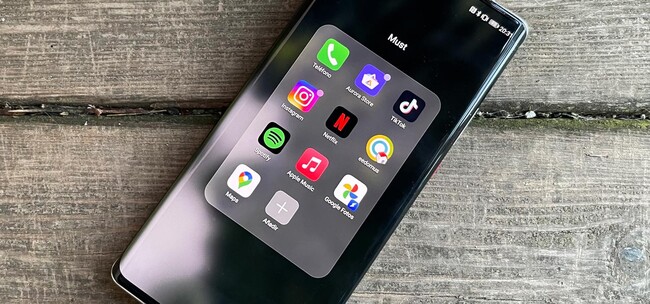 In my experience after a month since taking on the Huawei Mate 40 Pro for the second time, the best strategy to fill the Google gap is not to try to access its services at all costs, But find alternatives that substitute its advantages in a parallel way. Sometimes we become obsessed with homework the same way we always do; therefore an obstacle, however small, is enough to find itself frustrated by the device without it being really at fault.
It was clear to me that I would stop looking for a way to have the Play Store and other Google software on the phone. Considering my usual use, I have a series of applications that are essential to me. It was my main goal.
Aurora Store, the master key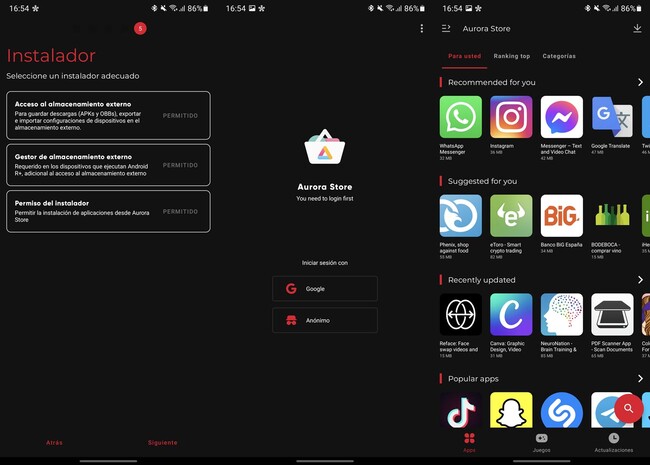 I didn't have Google Play and I wouldn't insist on installing it. Of course, nothing prevented me from accessing their free applications by taking advantage of the passage that opens the Aurora Store. It seems to me a real wonder.
With Aurora Store, you can access Google Play apps without Google Play (only free apps). You don't need a Google account, but you can sign in with your personal account (or create an alternative). Thanks to this, knowing which applications I installed on other mobiles allowed me download them directly to the Huawei Mate 40 Pro.
I must specify that Aurora Store offers downloading applications, but this does not mean that they can be used on a mobile without Google services. However, my recommendation is that before deleting an app because it uses gaming services (the Aurora Store itself informs about this requirement in the loading tab of each app), is tested before ruling out its malfunction
.
Huawei App Gallery, more and more complete
The brand goes to great lengths to overcome the problems caused by software veto, the AppGallery is an example of this commitment. It is not that the Huawei store can replace Google Play since a good part of the applications are not in its catalog (neither will they, the veto is to blame), but it is true that little by little the list of possibilities is being completed.
Some apps I use may have installed it from AppGallery, like the one from my bank and the ones I use from Microsoft. In free games you have a good range of options. And it offers direct access to progressive web apps in the event that the software in question is not in the store. Huawei App Gallery global search engine is as comprehensive as it is functional.
Find alternatives to my must-have apps
We all have a bunch of apps without which a smartphone ceases to make sense. In my case, many of these apps are the ones that make my job easier; Therefore, if I don't have access to it, I lose my options when it comes to removing the office from my home. Or when it comes to solving a problem that arises outside of working hours.
Below is my list of essential apps that depend on Google Play services, and how I managed to replace their use.
Gmail. This app is very difficult to replace because, if Gmail accounts are used, any other customer loses instant or "push" notifications. After trying a slew of apps, I stuck with the BlackBerry Hub package including its email client. It works much better than it looks, even for business and personal accounts. It can be downloaded from the Aurora Store.
Twitter. It's my favorite social network and the only one that never fails in the Dock of my phones. It works without major issues from the Aurora Store.
Google chrome. I don't like the browser that comes standard in Huawei and Chrome doesn't work too well installed as APK. After trying several, I stick with Microsoft Edge: not only does it work great, but it also allows you to sync data using a Microsoft account; and it has an infinite number of functions with which to customize the navigation. Very recommendable.
Telegram. No problem: the platform has an APK app that updates faster than the store app.
Gboard. But does Gboard work without Google Play services? While it might seem like the opposite, the truth is, it's great on Huawei phones. Something's wrong with the timing, but nothing derails the experience. It is downloaded directly from Aurora.
WhatsApp. It's not an app I use every day as most of the contacts I speak with use Telegram. Even so, it can be easily downloaded from its own website. It works great on Huawei except for backup: since it is only suitable for Drive, it cannot be used without Google services. If backup is required, modifications such as GBWhatsApp allow you to use Dropbox; in exchange for endangering the WhatsApp account, of course. A lot of attention.
Soft. It's the platform we use to communicate in Engadget and one of the apps I set up first on any phone I scan. It can be used without problem by downloading it from the Aurora Store.
Spotify and Apple Music. My two favorite music streaming platforms work without too much trouble when installed from the Aurora Store. Of course, they don't let you send audio to the smart speakers, which is a big downside.
Instagram and TikTok. The first can be installed without problem from Aurora; the second is in the application gallery. Both work the same as if Huawei had reading services.
Netflix. Directly from Aurora and without major problems only playback at a maximum of 720p.
Google photos. I always sync my entire reel with Photos (I use an unlimited business account), so not having this app on my mobile is a bummer. It can be downloaded from Aurora Store, but it only works as an image gallery, not as a backup system (due to lack of playback services). So, to open my photos or synchronize those of the Huawei mate 40 Pro, I use the PWA. It's not the same, but it does the trick.
Google maps. Like Photos, the "normal" app doesn't work, but Maps Go, the scaled-down version for Android Go, does. It's still a PWA that's built into an app, but it works great for most uses. And if it's not always there, Petal Maps (things get better and better) or Here Maps (from Aurora Store).
Lots of other apps that apparently don't go without Google services later it turns out to work: my recommendation is that your download is tested before giving up its use. Don't be afraid to experiment: as I have seen from my own experience, there is not only life beyond Google, this life can be, on top of that, much better.