Porto Q is an interesting mix between powerbank and wireless charger. As soon as we can use it plugged in to charge our iPhone or AirPods, for example, such as taking it on a trip or using it outside of its usual location. A charger with Moshi's own design and quality and this is postulated as an interesting option to charge our devices.
Design: robust, resistant and with good finishes
Design issues are the most personal when it comes to products. The design of the Porto Q is a blend of Japanese and Nordic inspiration. The charger is available in one color: nordic gray. With a metallized plastic base (to better dissipate heat) and a textile upper finish with a non-slip rubber profile.
Design-wise, I have to say it's a device that, even offering only one color, will fit into most tables, desks and shelves wherever you are. Regarding the size, as can be seen in all the photos that illustrate the article, it is a rather small device
something to be grateful for on bedside tables or in workspaces with many devices.
As for the indicator lights, which may become too frequent in this type of accessory, the Otto Q has an LED near the bottom and four more to indicate the load on the side. A system that informs us of the state of charge, battery level and other variables without resorting to too many lights and in a discreet and elegant way.
Characteristics: The hybrid between powerbank and charger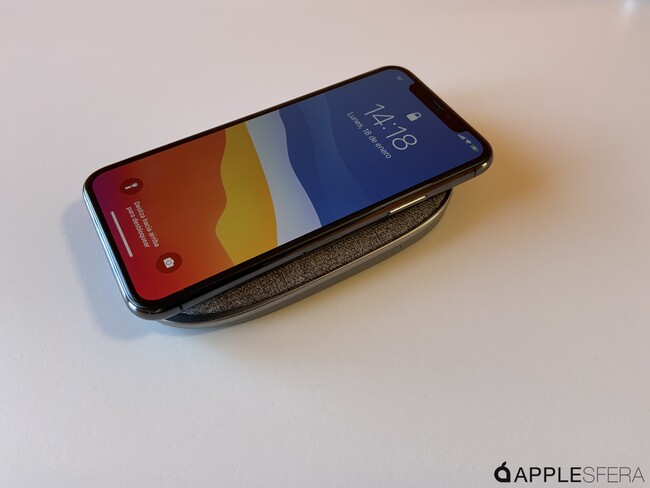 The Porto Q charger, from the Moshi company, is a Qi certified charger with which we can charge our iPhone without depending on cables. The grace of this device lies in the combination of a wireless charger and a 5000mAh battery with which to power it when we are away from any outlet.
Here it is necessary to contextualize the product. If we want a wireless charger, there are a lot of alternatives and if we want an external battery, too. The Porto Q is located between the two worlds. A wireless charger that we can use plugged in most of the time and that we can take elsewhere without having to rely on cables. So, if we don't have a socket in our bedside table, for example, we can charge our iPhone
using the battery in the easiest way.
And beyond wireless charging? In case we want to use cables to charge our device, the Porto Q has a USB-A port where we can plug our iPhone or iPad. Here I must say that the USB-C type port, which it is only used to charge the battery of the Porto Q itself
, it could be bidirectional, so we could use more kinds of cables than the increasingly rare USB-A.
Moshi Porto Q 5K – Portable battery with integrated wireless charger
Finally, an important detail to consider is how much or how little heat these chargers have on the device they are charging. Keep in mind that a excessive heat sustained in the device degrades the battery, which allows to offer much less time of use over time. In the case of the Porto Q, after several tests, I was satisfied, my iPhone recharges without overheating.
More and more wireless chargers are becoming the norm. The ease of use and convenience, along with the ability to charge more than one device without having to switch between types of cables, make them very attractive options. If we also add a battery to charge our iPhone without depending on a plug, we have a winning combination.
This product has been tested by Moshi. Can inquire about our business relations policy.