There are those who install antivirus everywhere and those who haven't touched one in years. If you are in the first group, we have selected the best 9 free antiviruses available on Android today. All, renowned antivirus.
First, we will think about whether or not to install antivirus on the mobile phone, and then we will show you a list of the best ones, including some options that they don't need you to install anything add-on, such as Google Play Protect or a web antivirus, to scan specific files.
Do you really need an antivirus?
This is the question of the decade. Now that the root is in the doldrums, Android apps have much more restricted what they can and cannot do, including typical malware behavior like data theft, spreading to other devices, or all kinds of damage. It is common to draw the parallelism of Windows antivirus to mobile, although they are two completely different systems.
However, Android is far from a perfect system or invulnerable to threats. More often than we would like, we receive information about malware found inside and outside the Google Store, showing that in Google's ongoing war on malware, some battles are being won. and others lost. Is it recommended, therefore, to install an antivirus on the mobile?
Using an antivirus is recommended, although that doesn't mean you need to install a suite of 300 tools. Google Play Protect is sufficient for most users
The short answer is yes, but with an important nuance: Android phones already have a built-in antivirus, Google Play Protect
. Play Protect serves as a line of defense against known malware and performs basic antivirus protection tasks: scanning apps and telling you if any of them are malware. If so, it will show you a warning before installing it, or prompt you to uninstall it, if it is already on the system.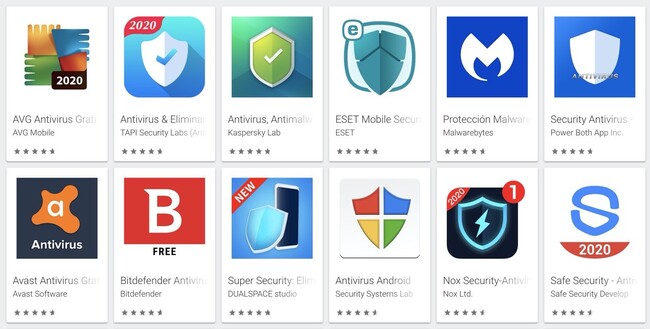 While Google Play Protect is a lightweight option, a third-party antivirus offer a more complete suite of tools, adding phishing links, identity protection tools, or the ability to speak to someone if something goes wrong, something that isn't in Google Play Protect. To use the words of the antivirus creators themselves, they are a security advantage over Play Protect.
Some users will prefer a full suite of security tools, while others will be fed up with the lighter Google Play Protect or selective scanning of suspicious files, such as APKs, with specialist websites such as VirusTotal. Is an antivirus needed on Android? Yes, although that doesn't necessarily mean installing one, just activate Play Protect.
The best antivirus for Android
Taking into account the above, we have created a list with the best free antivirus for android available today. We will take into account the free versions of each, and it is that most of them have professional versions or subscriptions that add more features.
Google Play Protect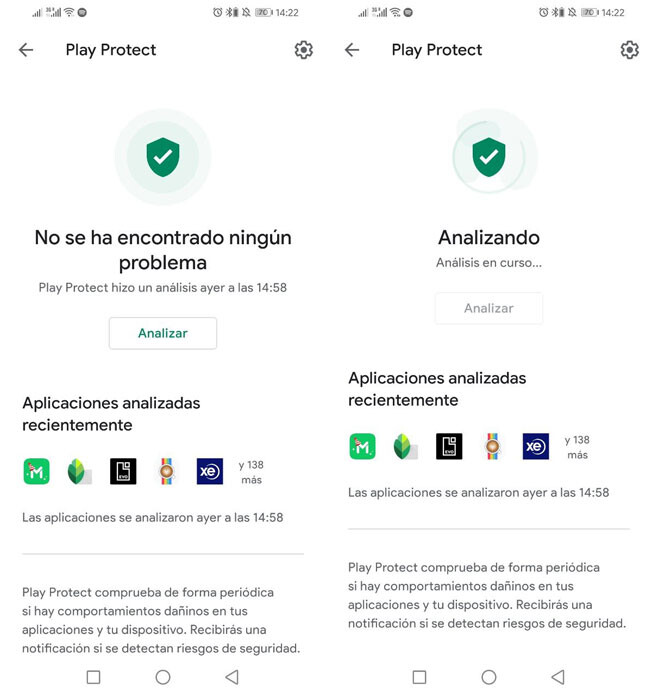 Google Play Protect is the default antivirus for Android. It is found pre-installed on all mobiles that include Google Play, which has become the default security tool for millions of mobiles.
The best thing about Google Play Protect is that does its job without disturbing you. You will not see pop-ups, warnings stating that "your mobile is in danger" or threats that are not really, like in other more complex antiviruses. Basically, Google Play Protect is only known when it detects a threat on mobile. To access it, you must go to the ☰ menu of Google Play and enter Play Protect.
Avast
Avast is one of the best-known names in the antivirus landscape, with over 25 years of experience. For Android mobiles, it is called Avast Mobile Security, a suite of tools ranging from the classic scanner phishing protection, anti-theft protection, or VPN connection for added security, although many of these additional tools are premium features.
Avast notifies you of dangerous applications (installed or as an APK), as well as active options on the mobile that could be exploited
, like USB debugging. The free version is ad-supported and includes basic versions of the Anti-Theft Tools, Photo Vault, or Wi-Fi Security Scanner.
Avast Antivirus Free – Virus Cleaner
AVG Antivirus
Avast bought AVG in 2016, so it's no surprise that the mobile versions of both antiviruses are virtually identical, aside from the icon and name. However, AVG has the same advantages as Avast, the only difference being the color of the interface.
So you have a classic file scanner and applications installed on mobile, spam cleaner, Wi-Fi network scan, and limited versions of other features available in the premium version.
AVG AntiVirus Free 2021 – Security for Android
Kaspersky
Kaspersky is another antivirus heavyweight that made the leap many years ago from PC to mobile. The mobile version of Kaspersky analyze your mobile, as in its version for Windows, as well as a series of additional tools, some of which are available free of charge.
A positive point of the Kaspersky application is that its interface can be both very simple, showing the percentage of scan and showing the details of everything it does. It also includes a call filter and anti-theft protection for mobile.
Kaspersky Antivirus Android Free – Security
Avira
Another well-known name in the antivirus scene is Avira, being a company founded 35 years ago. Android version allows you to check mobile security in two ways: with a button and now (the intelligent analysis) or with different types of analysis focused on security, privacy or performance.
In addition to the classic analysis of the applications you have installed, Avira includes a good set of additional tools in the free version, like identity protection, call blocking, anti-theft protection or network scanner.
Avira Security 2020 – Antivirus and VPN
Developer: AVIRA
Download it on: google play
Price: Free
Category: Tools
BitDefender
The free version of BitDefender for Android allows you scan all files on your mobile and the applications you have installed to check for unwanted malware. This scan takes some time, depending on the power of your mobile and the number of apps you have installed.
The main difference between BitDefender and most antivirus for Android is that it is an old-fashioned antivirus and that's it, with no tools, RAM cleaners, or other distractions. It is therefore a good option for who wants to scan for viruses and nothing else.
Bitdefender Free Antivirus
Malwarebytes
Malwarebytes is another Windows malware search engine that has made the leap to mobile. Its malware search tool is available on Android, deeply scan all the apps you have installedand have a good time doing it.
In addition to scanning for malicious apps, it alerts you to system settings that could be exploited (like USB debugging) and can perform a confidentiality audit, which shows you a summary of what apps you have installed have access to.
Protección Malwarebytes: Antivirus and Anti-Malware
Mcafee
The mobile version of McAfee scan all files on your mobile and apps installed to search for malware and applications that may not be of interest to you. As in the previous cases, the free version only includes some of the available tools.
As a free user, you also have the anti-theft protection, analysis of the security – or not – of the Wi-Fi network to which you are connected and of some typical performance tools such as a storage cleaner or a memory cleaner.
Mobile security: Secure Wi-Fi with VPN and anti-theft
Web antivirus like Virustotal
If none of the above convinces you, or if you just prefer a more passive solution, you can always use a web antivirus to scan APK files before installing them. Most web antiviruses are suitable for you to use from your mobile. Here are a few: