Huawei sold the Honor brand to a Chinese conglomerate last year, and while the new management has already debuted with the Honor View 40, it's the upcoming launch that has garnered the most interest, Honor 50. It has been confirmed that it will bring Google services and the Qualcomm processor, and we now know when it will be officially presented.
We already know when we will have the first Honor terminal with Google Play for a long time: the Honor 50 will be presented on June 16 in China
, at 7:30 p.m. local time or 1:30 p.m. in Europe and under the motto "living up to expectations".
There are two weeks left for the return of Honor
It is undeniable that the American veto has made things very difficult for Huawei and Honor by extension, even if the latter sub-brand is preparing its return to the ring after making deals with two main North American suppliers: Qualcomm and Google. From Google, the Honor 50 will win the Google services, along with Google Play and the rest of the applications; from Qualcomm, it has been confirmed that it will integrate the new Snapdragon 778G.
The company has now announced on its Weibo profile the unveiling date of the Honor 50 series. The number of models remains to be seen, although rumors indicate that we may have one. Honor 50, Honor 50 Pro and Honor 50 Pro +. In the presentation video, we can slightly see the design of the camera module, which seems to have a special role.
The design seems consistent with some sketches of what the Honor 50 would look like obtained by GSMArena last month. In them you could see the terminal with a camera module not much different from the Honor V40 Lite and presumably with three or four lenses in total
, with the possibility of including a ToF sensor among them.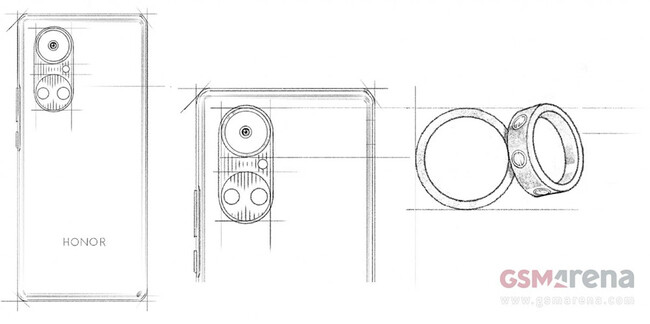 With about two weeks left for the presentation, Honor hasn't let us see much so far, although the leaks have given us a few unconfirmed details. For example, it is expected that Honor 50 has Snapdragon 778G, but Honor 50 Pro + has Snapdragon 888.
The Pro + model is precisely the one that has leaked the most. It is expected with 6.79 " 120Hz AMOLED display Snapdragon 888, 8 + 128 GB, 32 + 8 MP dual front camera and 50 + 13 (wide angle) + 8 megapixel (telephoto) + ToF rear camera, with 4,400 mAh battery, 66 W fast charge and 50 W wireless. We will leave doubts next Wednesday, June 16.
Via | GSMArena