The Patent filtered Galaxy Z Fold Tab It leaves no one indifferent with its two hinges and this experience that allows us to switch from a smartphone format to another type of tablet.
Is the patent is quite ingeniousBecause once folded, the back of the device leaves enough space to place the S Pen.
Two hinges for the Galaxy Z Fold Tab
Nail patent registered with the World Intellectual Property Organization
(WIPO) shows that the South Korean company has been working on a design called "Method and apparatus for providing an interface to an electronic device with a folding screen."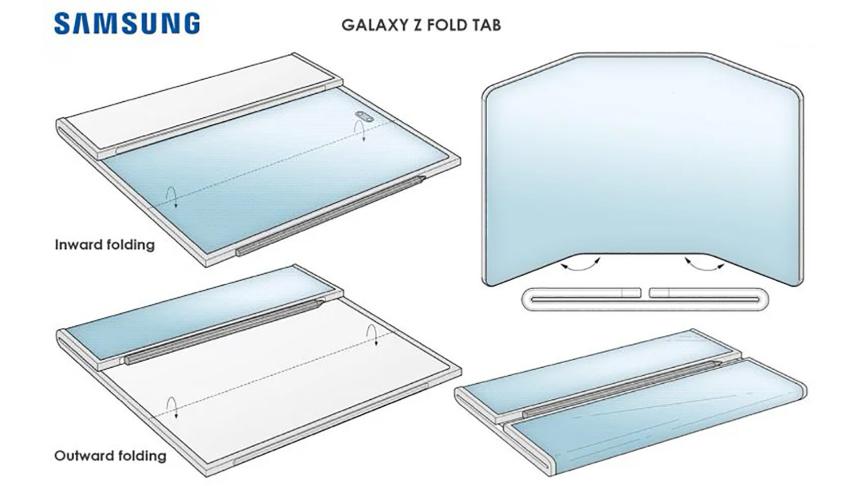 This patent was Posted on May 21, 2021 and it perfectly shows the different experiences you can have with the design of your foldable device. Two hinges that leave room for the opening of the flap to transform it into a tablet or mobile.

A little earlier, the same design went through the United States Patent and Trademark Office

. Indeed, the information has now been updated with a series of high quality images that hide nothing and perfectly show how this folding will be.
Images used by LetsGoDigital to make them and thus give color and a better appearance to what is supposed to be the Galaxy Z Fold Tab, since it is still not clear that this is its real name.

One of the most interesting aspects of the concept of this device itself is that it doesn't need a screen covering the back

. In that same closure there is room to place the S Pen, so in this case, the design kills two birds with one stone.

Some folds that will arrive from the hand of three other manufacturers throughout this year and that with the certainty that with the new Xiaomi charging technology it could be given rise to thinner mobiles that when folded they weren't that thick.

We will see if Samsung gives clues About this new device in August when it presents its two new folding.
.