Vivaldi is a browser that is progressing well among Android phones. Over the past few months, it has introduced a slew of new features, such as its dark mode. The browser is now releasing version 4.0 for Android phones which introduces an important novelty.
Vivaldi version 4.0 for Android introduces translation of native web pages. A function that we are already familiar with from browsers like Google Chrome that allows us to translate a website that is in another language. This page will therefore be displayed directly in our language.
Vivaldi launches website translation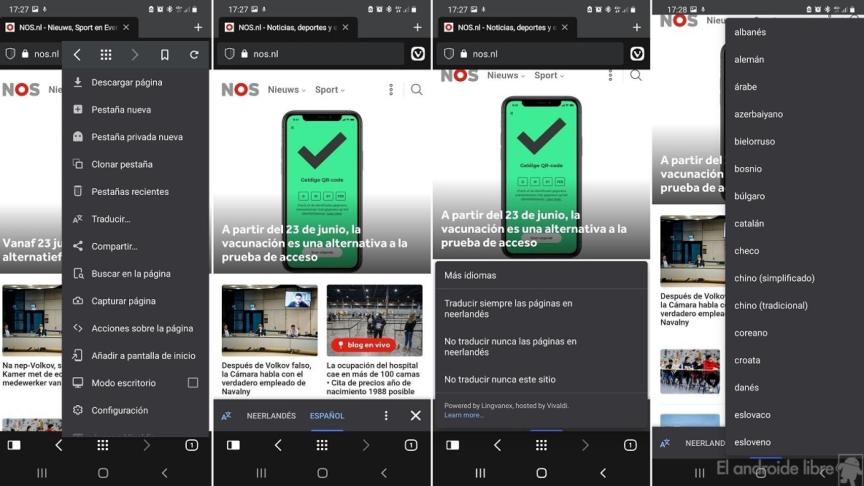 This new function is introduced in the browser under the name Vivaldi Translate, a translation service integrated into this new version of it. The service is powered by Lingvanex, which is a company specializing in translation services. With this function, a website can be translated with a few clicks, just by clicking on the V icon and then on the translate option.
The browser has support for a large number of languages in this new role. Thus, you will be able to translate any web page that you visit at that time, so that its content is displayed in Spanish.
The browser also offers users the ability to activate automatic translation, so that if you enter a website in another language, it will be translated directly into Spanish. This is optional, but can be useful for many users.
This function is formalized in Vivaldi 4.0 for Android, available now in the Play Store for users. Translation in the browser is private. According to the firm, the translation data is exchanged with its servers in Iceland, without the companies accessing it. In fact, even they cannot access this data themselves.
.