Finally Opera, one of the alternative improvements that we have as a browser for Android, has received the possibility of be able to stream content via Chromecast
.
This button with the broadcast icon can be found from the browser, although with its nuances, since it is not all the gold that shines in this new update of Opera for Android.
Send content to your TV with Opera, but with nuance
In the new Opera update, a new feature has been included which is safe users of this browser will know how to rate. Videos can now be streamed through this Android app to any Chromecast device.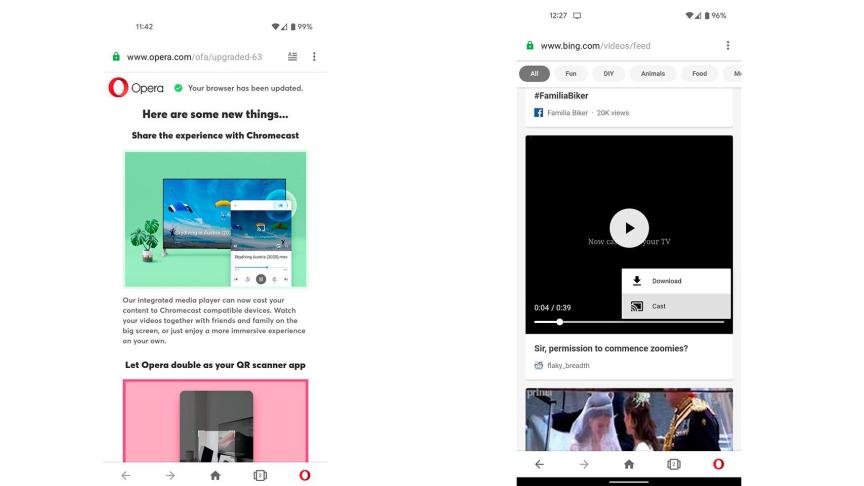 So, in addition to being able to enjoy Apple TV on your Chromecast, you can now use your mobile with Opera to stream videos. Although as we said it has its nuances and its limits
. Being implemented in the browser's native player, it only works with certain types of content.
For example, whether we use YouTube or Instagram in their desktop versions it will simply be impossible for us to send content to our television. This is mainly due to the fact that the player of these two platforms does not support streaming videos from the browser.
If we can count on the desktop version of Facebook to distribute the content we reproduce on our television, but what has been said, there are certain limitations that prevent the experience from being complete.
Opera has also integrated in this new version Chromium 89 and some fixes to improve autofill when we checkout from online stores.
New Update to Opera for Android with content streaming via Chromecast It should be available on the Google Play Store. You can extract apkmirror for the APK with the link we share below.
Opera – Google Play Store / apkmirror
.