It is often said that Disneyland is the happiest place on earth. And it will probably remain so until on February 4, 2021: the day that Super Nintendo World will officially open its doors in the Universal Studios of Japan.
Nintendo and the amusement park chain have joined forces to recreate the Mushroom Kingdom at Universal's parks. Japan, United States and Singapore. Involving Shigeru Miyamoto himself in the initiative and, in the process, fulfilling the dream of every fan of Super Mario Bros.
A claim that is the finishing touch for Mario's 35th anniversary and the launch of the NES classic and that, like any great Nintendo project, has been duly presented through its own digital event. A very special Nintendo Direct presented by Miyamoto and that has completely fascinated us.
Nintendo and Universal have taken care of even the smallest details to create an original, fun and 100% nintentional experience with themed attractions and establishments, charming places and lots of secrets to discover.
Because there are countless reasons to travel to Japan, but as of February, going to Universal Studios is no longer optional. Above all, after tour that Mario's father has offered us throughout the Direct.
In iGamesNews what has been shown has fascinated us, and precisely for this reason we have brought you together in one place the best and the most fun of Super Nintendo World. Knowing that Miyamoto's pillin has many surprises in store for visitors.
Without further ado, below you will find 17 things from Super Nintendo World that make it a true pilgrimage place for fans of Super Mario Bros. and their friends.
The entrance and hall are pure fanservice
We all know that the Mushroom Kingdom is accessed from a pipe, and Super Nintendo World will not be the exception: the entrance to the nintendera zone of the Universal Park is a huge green pipe like the ones used in the games, giving us the opportunity to see what they are like inside.
Of course, the best awaits us at the end: Nintendo has built a replica of the Peach Castle hall of Super Mario 64 With every little detail. Even the pictures on the walls change as we approach them.
How could it be otherwise, the outer facade of the castle also has been recreated in great detail. It is even possible to see the rose window of the princess above the door. A tribute to a cult classic.
The colossal scale level of Super Mario Bros.
The first thing we will see as soon as we leave Peach Castle will be a colossal diorama with animated characters that recreates a level from Super Mario Bros. The characters will act like in video games and is full of winks from the classic installments and the most recent adventures in 2D of the platform hero.
The labyrinth inspired by the underground phase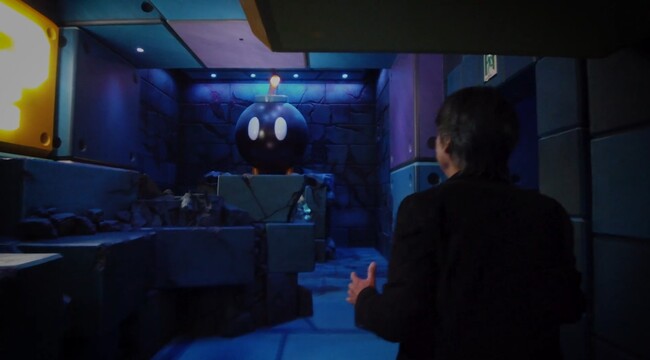 Just as interesting and much more interactive is the recreation of an underground level of Super Mario Bros. which, by the way, will be open to the public offering activities and interactive elements.
In fact, it is a true phase of Super Mario Bros. with his enemies and secrets. A fun maze in which we can hit giant interrogation blocks.
The 1-UP Factory, the gift shop
Every amusement park and leisure area has its own souvenir shop, and Super Nintendo World is no exception: 1-UP Factory offers loads of official themed merchandise.
From Mario hats to Bowser t-shirts, through all kinds of toys, stuffed animals and items that can only be purchased in this store
El Tokotoko Mario
Precisely, one of the exclusive articles of 1-UP Factory is the figure El Tokotoko Mario, a toy that moves without motors or batteries with a sensational finish that makes it the perfect gift for young and old, and collectors.
The main square and its huge piranha plant
The main square Super Nintendo World is the nerve center of the experience and the best thing is that it offers its own activities, rest and recreation areas and spectacular views.
In fact, in it we will find a gigantic Piranha Plant with which we can interact, which will guarantee us one of the keys distributed by Super Mario World. An addition that we will talk about a little below.
Bowser's Castle
If Peach's castle looked sensational, Bowser's castle looks even better: its spectacular facade houses a wonder with an interior decoration that pays homage to the classics and which, in addition, is presided over by a gigantic statue of the villain.
As an added curiosity, in Bowser's Castle we will find a trophy room with all kinds of awards related to the saga Mario Kart,
as well as a challenge letter signed by the king of koopas in which he challenges us to a kart race.
Kinopio's Cafe
Near the recreation area, in front of the main square, we will find the Super Nintendo World themed restaurant: Kinopio's Café.
Inspired by the houses of the Toads and run by these tiny characters, Kinopio's Cafe It is a large space to have lunch and regain strength with all kinds of motifs inspired by the Super Mario Bros. saga.
In addition to internal activities, the Kinopio Coffee It includes windows in which we will see the process of preparing the meals and Chef Toad himself will take note of our orders. A double hoot.
Chef Toad's dishes
Now, the best thing about Café de Kinopio is its dishes. As it should be. These are inspired by the saga of Super Mario Bros., so the hamburgers have mushrooms and little red hats. In fact, the idea is that all the recipes evoke the platform saga.
And, for a sample, here you can see some of the dishes on the menu.
Some of these dishes are a real genius. In addition, and as an extra detail, the plates also include Super Mario motifs.
Caramel Peach Flavored Popcorn
Of course, if we want a bite to eat while walking around Super Nintendo World, we will be given various types of snacks as an alternative. One of the most striking are the star-shaped popcorn packages, which we can take as a colgante XXXL.
In the park we can order popcorn of at least two flavors: Caramel Peach and Mushroom, what will the second taste like? We will have to go to Japan to find out.
Little activities and secrets
Throughout the park and within the attractions we will see games, secrets and hotspots in which we can put our skills to the test.
Some of them will be observation tests and others of skill, rewarding the latter with a special key that, along with others, will allow us to face Bowsy.
Mario Kart: Koopa's Challenge
As we discussed, Super Nintendo World takes as a reference the entire legacy of Mario in video games, and although there are details to be revealed, the maximum attraction is the experience Mario Kart: Koopa's Challenge Inspired by the Mario Kart saga.
It is an experience of go karts on rails in which, through Augmented Reality technology, we will face all kinds of enemies throwing shells right and left on the go.
Each kart can carry up to four passengers and the trip takes approximately five minutes. Of course, you will have to measure at least one meter to be able to mount.
The Power-Up Band, much more than a bracelet
In order to participate in the activities distributed by Super Nintendo World we will need to have a Power-Up Band, a kind of bracelet in the shape of a watch and design inspired by the heroes of the Mushroom kingdom that will record our milestones and keep them in a mobile app.
We can activate secrets with them, add coins by hitting interrogation blocks and even compete with other players. In addition, if we manage to overcome certain activities we will obtain different keys, which we can use to challenge Bowsy.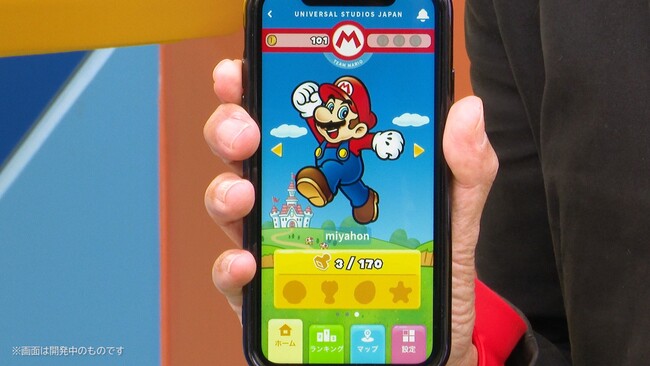 And the thing does not end there: we can use these bracelets as Amiibo and scan them to unlock or obtain advantages in video games.
Mario, Luigi and the voice of Charles Martinet
Like any themed amusement park, roaming around Super Mario World we will see Mario and Luigi in person, who will be willing to take photos with us.
As a curiosity, in the Direct it was possible to hear that both characters have the voice of the legendary Charles Martinet, which won the Guinness record to the voice actor who has played the same character the most times in a video game. And, seen what is seen, also beyond the screens.
Of course, seeing Miyamoto see himself having fun like a child is always a pleasure
We close our list with something that we may not see in the park but that is almost an attraction in itself: witnessing the genius of Shigeru Miyamoto in an amusement park totally inspired by its characters.
Seeing the Japanese genius treating Mario and Luigi like his children is priceless. And the same can be said by watching you enjoy getting lost in the underground level or just hitting blocks and earning coins. Wasting humor and sympathy at all times.
Extra ball: And what has not been shown to us!
Although 15 minutes go a long way, Miyamoto has managed to keep many surprises facing visitors. From boss battles like a gigantic Bob-Omb to Bowsy himself.
What's more, some of the attractions made up have not appeared in the presentation, such as Yoshi's Adventure, a kind of treasure hunt in which we must find the Captain Toad, giving us privileged views of the park in the process.