Entering a world as complicated as that of League of Legends Wild Rift It is not easy, but if you have encouraged now that we know how to play and Download Wild Rift on android and it is the first time that you face this saga, below we have a series of tips and tricks for Wild Rift that could come with pearls in your first games like beginner.
Of course, the first key recommendation is that you play the tutorial and a handful of games against the machine. It's the best way to get a feel for the game and learn the basics about how to play LoL Wild Rift. If, in addition to that, you need any more advice, we hope that these can be of great help to you.
The best tips and tricks for learning to play Wild Rift
You are not alone, play as a team
The key to League of Legends, and therefore also Wild Rift, is that this is a team game that requires being attentive to your surroundings and helping wherever necessary. No matter how good a player is, he has nothing to do if he plays as if he were alone in the game. Learn by looking at what your classmates do.
All champions are equally valid
There is no better character than another, only champions who do better in one situation than another. Have patience Because learning to master them is not easy, but you do feel comfortable with a style of play, stay focused on it to improve.
Know the map
Knowing how you move around the map and what is on it is key to dominate the game. It is not all about taking down the towers to try to reach the enemy's Nexus, and learning what actions you can take during the course of the game is essential to be able to stay ahead.
The Baron's Lane
It is the one marked with a purple serpent and the one that indicates where the Baron Nashor, a terrible neutral enemy that will give us improvements such as greater attack and power for our champions for a limited time. Here you should play as a tank or assassin-type champion and progress slowly as you gain experience.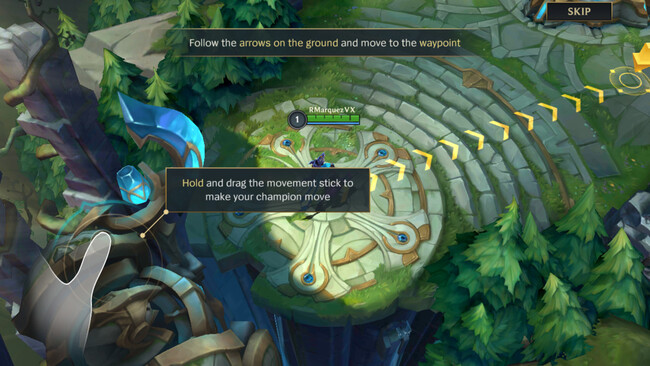 Jungle
It is the stage that is between some lanes and others. The key here is to serve as support for other colleagues. You have to be attentive to the situation of your team and that of the enemy to be able to anticipate possible problems and support where they need you. Look for a character with control of troops and ease to escape from problems with which to help and kill the monsters that you come across there.
Middle lane
Assassins and magicians will gather here to harm everything that comes near and keep the lane under control. You should also keep an eye on what happens in the other lanes in case you have to get on or off lend a hand in possible clashes
. It is one of the most difficult positions.
Dragon Lane
It is the lane marked with a blue dragon, normally reserved for a marksman and a support character to dominate that lane in two-on-two fights. If you are looking for unbridled action, this is your position, because it is where you usually mess up the most and the place where games are often decided. Yes, the teamwork and control of the situation is key.
Let the minions take the damage
Going back to your work on each lane, keep in mind that the towers will damage the first thing that enters their attack zone, so you must wait for your minions to enter before attacking. Do not risk showing yourself more than necessary at the crossroads with enemies because you can fall in a matter of seconds without knowing where the blows are coming from.
A withdrawal in time can be a victory
Going back over these steps, unlike other games, you should bear in mind that running away here is not cowards, but smart. To know when should you retire
of a battle is crucial not to be dying every two by three, with what that means for your team. Play more calm and head than aggressive. At least until you start to master the situations.
Remember to go back to the base to buy
Upgrade your champion It is key and, beyond improving the different skills of your character, remember to return to the base from time to time to access the store and continue expanding your possibilities. Of course, make sure that you are not leaving anyone sold before you pirate.
Try various characters
Try to play with those who have a lower difficulty to see what type of character is the best suited to your play style. There may be a role that doesn't particularly attract your attention from the start, but you don't know if it will be really good for you until you try it. The same goes for champions, so look at their possibilities beyond aesthetics.
Get used to the skills of your favorites
Wild Rift It has numerous control aids to be able to fix enemies and launch skills accurately. It's not the most streamlined way to play, but I recommend that you get used to how your favorite character's powers respond to them before going it alone.
Pay attention to statistics after a game
Ending a game winning or losing is not the end. Get used to looking at how your statistics To know where you should improve, look at what your team has stood out and assess how important your work has been in each of these actions.