There are games that start well, but screw it up in the final stretch. I am one of those who think that the important thing is the road, but it is also true that if the trip is not used and nuances are lost, that feeling of disappointment ends up weighing more.
It's just what happened to me with Twin Mirror. I loved its opening section, with that unmistakable stamp of DONTNOD (Life is Strange, Tell Me Why), until he stopped delving into the weight of the characters, concluding in a rather forced outcome that left me a bitter feeling. Because it seems that there were many things left in the pipeline and it was launched in a hurry so as not to delay it further.
When you are not welcome in your town, it shows
Twin Mirror had everything to enchant me, since its starting point puts us in the shoes of Samuel Higgs, a journalist gifted with extraordinary abilities for investigation (upon entering his mental palace) who returns to his hometown, which he left years ago due to heartbreak and a problem With the local miners (an article of his caused the closure of the mine, Basswood's main livelihood), to attend the funeral of his best friend. And of course, it is not welcome.
Soon he discovers that certain things have changed, especially after a drunkenness of which he does not remember anything and is surprised to see something in his body … There begins an investigation about his best friend, because something does not fit well.
As we saw in our preview last month, Samuel Higgs's mind palace lets you reconstruct a scene to discover exactly what happened there, or analyze all possible options when faced with a crucial challenge. It is a state where time seems to freeze so that Sam can move calmly around the place where the events take place, blurring the crucial elements for a better analysis. An interesting tool … At least, at first.
Why Twin Mirror's problem is that it doesn't take advantage of its strengths, remains half at all times, being quite significant how it excites us at the beginning seeing that everyone we talk to will have their own file in their notes, to learn more about their life and try to discover some relevant memory, until the bulk of all those people are totally in the background, with most never reappearing on the scene. This inevitably makes it practically impossible to empathize with its inhabitants.
He also doesn't try too hard to get us to connect with the most important ones, not even the ones who should surprise us in the end, with the big reveal. It seems more like an internal struggle of Sam himself, with that other personality with whom he evades many conversations with his old love, Anna.
It's a bit what happened with Tell Me Why, a beautiful adventure, but before which the weight of the plot fell, above all, on Tyler and Alison, diluting enough the rest of the secondary. And part of the blame was that it was simply three chapters. The feeling that leaves Twin Mirror
, is that of a non-episodic adventure (although initially it was going to be episodic) shorter and less profound.
Twin Mirror, a sign of wear in DONTNOD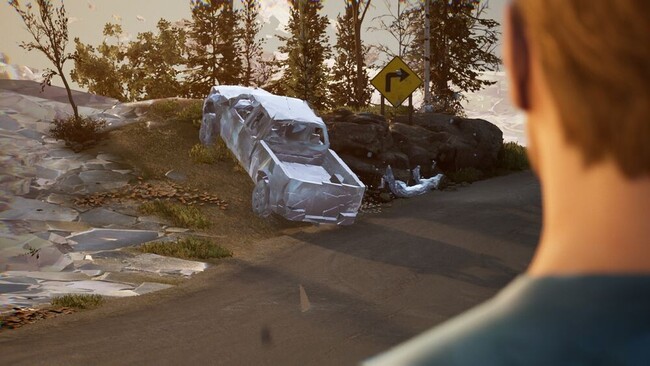 It is curious, because it is an adventure in which, despite noticing the DONTNOD seal, it tries to be different from the previous ones of the French study, such as the use of the mental palace, which has nothing to do with any skill that we have seen in their works, despite having parallels with Remember Me.
This virtual state, as if it were an augmented reality that we can manipulate to solve a puzzle, serves to show us how Sam's complex mind works, just like when his other self appears on the scene, becoming completely absent from the other interlocutor , unless we decide when to stop. In fact, this resource uses it a lot, even in normal talks, with the option to cut a conversation to jump to another topic or let them expand or vent. It is a resource that is well managed.
The penalty is the above, that many of those conversations with secondary characters, in the end are irrelevant, although the game tries to solve it in two critical moments of the last section. But it lacks punch.
It is not, on the other hand, a graphic adventure in which you have to manage an inventory with its objects, but it is quite direct and linear, with very defined objectives that we can consult at all times, being difficult for us to get stuck, except for when it comes to finding the correct order in mental palace tests or in some puzzles, such as a certain caterpillar …
To give it a little more life, in some areas we can find a series of collectibles, although without the relevance of the aforementioned Tell Me Why (quite surprising what was achieved there, of course), except for the nice detail of casting a nod to the arcade of Pac-man to beat Nick's record, playing the Namco classic. And it's not exactly a easter egg hard to see, too.
Finally, highlight those freedoms that Sam's mind takes, at times it seems that we are facing the video game Control from Remedy, with some places of pure fantasy, like the final stretch. Although it is also wrong to use certain resources with experimental mechanics that break the rhythm quite a bit.
iGamesNews's opinion
Definitely, Twin Mirror deflates too fast. It seemed that it was going to surprise us, but in the end it was a disappointment, being the worst adventure of DONTNOD, by far. It is most ironic, because he was delayed a whole year, but it would have been good for him to go out later to tell his story better.
Twin Mirror
| | |
| --- | --- |
| Platforms | PS4, Xbox One and Epic Games Store (analyzed version) |
| Multiplayer | No |
| Developer | DONTNOD |
| Company | Bandai Namco |
| Launching | December 1, 2020 |
| Price | 29,99 dollars |
The best
The narrative resource of the mental palace
Good atmosphere
Pac-man playable wink
Worst
Has many filler characters
The run over that is its end
Longer duration is missing