The characters of the Mushroom Kingdom are finalizing the details to return to the golf courses with Mario Golf: Super Rush, the next great Nintendo Switch video game that will hit stores next month and about which Nintendo has wanted show it more in depth with a new trailer.
The new preview lets us take a look at its playability, with very simple controls that will use the buttons of the Joy-Con, although you can also choose the controls by movement so that the experience is somewhat more realistic.
In either case it is necessary to always take into account the speed of the wind and the terrain before hitting the ball in order to adjust the shots to perfection. In this sense, examine in detail what we have around us, since in some special fields there will even be obstacles that it will be necessary to dodge.
At the time of playing we can opt for any of these 16 characters from the saga: Mario, Luigi, Peach, Toad, Bowser, Yoshi, Wario, Waluigi, Daisy, Donkey Kong, Estela, Boo, Bowsy, Pauline, Chargin 'Chuck and King Bob-omb. Each one will be differentiated from the rest by its statistics, strengths and also by its own special ability.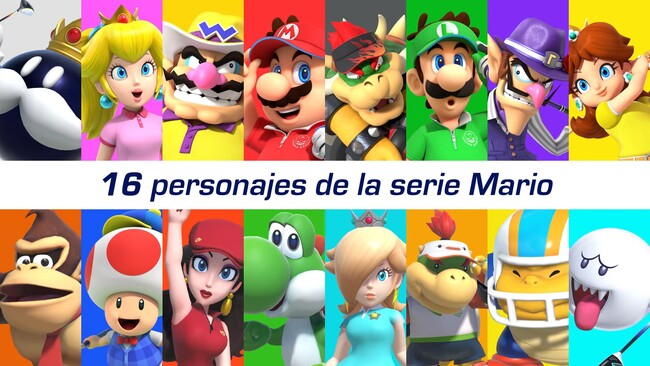 All of this will be important in local and online multiplayer modes like Quick Golf, in which up to four players will play at the same time, so that the one who is the fastest to get the ball into the hole will win. Each time they hit it, they will come out by legs, although objects can be used to regain resistance or also to annoy our rivals.
From the different fields there will be up to a more special one still set in a stadium with nine holes
, so that in this case the player who is fastest to get the ball into three of them will win. Of course all this will be accompanied by the traditional ways so that each one chooses the way they like the most to have a fun time.
For their part, those who prefer to play alone will have at their disposal a story mode called Golf Adventure. In it, they will incarnate their own Mii with which they will gradually improve their skills and statistics while facing challenges and challenging other characters until they become the best of all.
Mario Golf: Super Rush is coming to Nintendo Switch on June 25th and it aims to be one of the games that will make us spend a summer of the most fun.