Just a week left for him Black Friday and the main stores are already blowing the house out of the window with pre-Black Friday deals. We have compiled the best ones and we list them below with juicy discounts for PS4, Xbox, Nintendo and the best TVs and peripherals to enjoy them.
PS4
PlayStation 4 with two controls Dual Shock y Sackboy: A Big Adventure by 389,89 dollars. A good pack for those who want to debut on the Sony console with one of their latest games. 500 GB of storage and two controllers to enjoy the Sackboy game in cooperative.
Playstation 4 (PS4) – 500 Gb Console + 2 Dual Shock 4 Controllers (Amazon Exclusive Edition) + Sackboy: A Big Adventure (PS4)
PlayStation 4 Pro with prepaid card of 20 dollars and Bloodborne by 363,79 dollars. Turn for another console and game pack, this time the 1 TB Pro version with a prepaid card and one of the most mythical and recommended games of the Sony console.
Grand Theft Auto V – Premium Edition por 18,90 dollars. One of those games that need no introduction. Rockstar's great open world gem in its Premium Edition with the Criminal Enterprise Pack for GTA Online.
Wolfenstein Youngblood – Deluxe Edition PS4 by 12,95 dollars. Action with capital letters for this fantastic FPS in an edition that normally moves between 30 and 40 dollars. Its great asset is that it includes a code so that you can pass it on to a friend and you can play together without going through the box again.

Ghost Recon Breakpoint by 17,99 dollars. One of the last great Ubisoft games in its Gold edition, which drops from the 30 dollars of just over a month ago, including a pack of weapons and equipment to which is added the season pass of the game.
Red Dead Redemption 2 by 25,49 dollars. We close with another great Rockstar bombshell, in this case the magnificent Wild West adventure that swelled to receive awards upon launch.
Xbox One
Xbox One S

with Star Wars Jedi: Fallen Order by 239 dollars. We jump to the Microsoft console with this edition of the Xbox One S from 1 TB with the action adventure game Star Wars the creators of Titanfall. A magnificent pack at a great price that also comes with pearls to get the best out of Game Pass.
Microsoft – 1TB Console, Wireless Controller + Star Wars Jedi: Fallen Order (Xbox One S)
Doom Eternal Deluxe Edition by 57,20 dollars. Coming down from 94 dollars we have the Deluxe edition of one of the most powerful games of 2020, the shot salad from Hell on Earth.
Sea of Thieves by 16,43 dollars. Without a doubt one of the most impressive games in the Microsoft catalog. A pirate adventure that is much more enjoyed in company, but for that price it is a feast for the eyes even if you don't have anyone to play it with.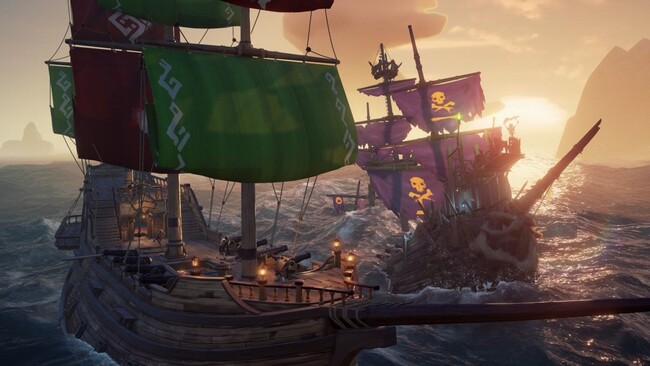 The Outer Worlds by 19,90 dollars. The award-winning RPG is starting to fall in price thanks to offers like this, so if you haven't yet entered this mix of FPS and anti-capitalist epic, this is your chance to do so.
Red Dead Redemption 2 by 26,90 dollars. Rockstar broke the mold by creating one of its finest and most successful stories, that of a gang of outlaws who is forced to overcome the evolution that proposes the abandonment of the Wild West.
Nintendo Switch
Nintendo Switch by 299,99 dollars. Those looking for a traditional Switch have the classic version in gray here for 30 dollars less than normal. It comes with pearls if you have a gift in mind for the next few months (wink, wink).
Consola Nintendo Switch V2 (32 GB)
Octopath Traveler more Pro controller by 107,89 dollars. A good combo that includes one of the most celebrated games on the Nintendo console along with its Pro controller. One of those peripherals that you must have yes or yes.
The Legend of Zelda Link's Awakening by 46,51 dollars. Let's go with the latest installment of Zelda, a formidable remake that any fan of the saga and user of Switch should have a safe place on their shelf.
Lego Marvel Super Heroes 2 by 35,23 dollars. We go with an ideal option as a gift for the little ones. The Lego sagas are always a winning horse when we talk about gameplay, but if we also add the charisma and charm of Marvel heroes, success is more than assured.
Televisions, peripherals and more
Sony 49 "4K TV KD49XF7004BAEP by 535,79 dollars

. In the last category of this pre-Black Friday week we start with the offer that this 49-inch LED TV leaves us. It has fallen from the 721 eros that it cost just a few days ago, so if you were looking for something like that, it's time to jump in the pool.
Sony KD49XF7004BAEP – 49 "4K Ultra HD Smart TV with Angle Stand, Matte Black
Television 70 "4K Philips Ambilight by 749 dollars. Turn for the 70 inches of this mastodon for the living room. It falls from 900 dollars to flood any room with light thanks to its Ambilight system with ambient lighting that is regulated based on the colors of the TV.
65 "4K Sony TV by 887 dollars. With a 32% discount that significantly reduces your usual 1,300 dollars, this Sony 65-inch TV could well be the generational leap you've been waiting for. With Motionflow XR 400 HZ motion enhancement technology.