There are little big jewels what must be playedAnd the best part is that you won't need a console or a PC to enjoy them: over the last few years, the Apple AppStore and Google Play Store have been treasuring the best and the highlights of the indie scene, including true essentials.
Versions fully adapted to mobile devices that maintain the experience of other systems, accommodating its presentation and, logically, the way it is played. What's more, it is more and more common for there to be pleasant surprises when it comes to gameplay.
Which does not mean that we can add an extra touch of precision to our games -and enjoy the experience a little more- by connecting a controller via Bluetooth or any other similar accessory. Because seeing the spectacular catalog of indies games currently on iOS and Android, there are more and more reasons to play on mobile.
In iGamesNews we are passionate about the most experimental and risky proposals but also those that know how to retain the best of the classics. Precisely for this reason, we know that our new selection of games will fascinate you: we have brought you together the best indies that you can play from your mobile. Including various wonders Made in Europe.
A very generous list of contents, nothing less than 31 games, but it also serves as a sample of everything that can be found today in the AppStore and Google Play. Precisely for this reason, we invite you to further expand the list with us from the comment section.
Here are more than three dozen absolutely essential indie games that you can carry in your pocket and They will put your mobile battery on the ropes.
Bastion
Supergiant Games has an impeccable track record, and if Hades is in its own right one of the best games of 2020, its debut feature has already blown our minds: Bastion It is a jewel in playability and a gift for the eyes and the ears. One of the first and maximum references among the indies.
Bad North
Plausible Concept simplifies with Bad North real-time strategy through an exquisite and minimalist presentation that does not hide its genius. Addictive playable and tremendously simple to understand thanks to a superb difficulty curve that can dazzle any player.
Bloodstained: Ritual of the Night
We are not clear what the future of the saga will be Caslevania, but it is always a pleasure to return to the experience of classic metroidvanias from the hands of the IGA master. A spiritual successor who knows how to preserve the best of the Konami saga and radiate his own character.
Dead Cells
Motion Twin manages to merge at the atomic level -based on alchemy and talent- experience rogue-lite and the gameplay of the best metroidvanias in Dead Cells, one of the most addictive platform action games of the last decade. A safe bet.
Downwell
DownwelHe surprised with his brilliant platform proposal in scroll vertical, And the truth is that its challenge of pixelated action in continuous descent makes a wonderful house with the screens of mobile devices. A gem for an almost symbolic price.
Evoland 2
Evoland 2 continues to be that love letter to the saga of The Legend of Zelda that captivated us through its first installment, which does not mean that its gaming experience dares to take us – rightly – beyond the legacy of the Hero of Hyrule.
Gods Will Be Watching
Four years before blowing our heads off with The Red Strings Club, the Valencians of Deconstructeam surprised us very pleasantly with Gods Will Be Watching, a challenging pixelated adventure with a very daring narrative approach that does not leave the player indifferent.
GREY
Developed by the Barcelona team Nomada Studio, GREY it is pure art in motion. Inspired by the work Gris by Guim Tió, this journey of sensations that starts from sadness captivates the time we see the emotional flowering of its protagonist.
Hotline Miami 2: Wrong Number
The scoundrels of Dennaton Games knew how to put the finishing touch on the saga Hotline Miami in the most successful and brutal way, offering the player crazy action under the skin of a pixelated classic in top-down. Of course, the use of a remote is not optional.
Hyper Light Drifter Special Edition
The Barcelonans of Abylight Studios have not stopped giving joy to those passionate about the indies, and one of the most celebrated is their conversion of the essential Hyper Light Drifter by Heart Machine for iOS devices. A must-have for all those who are passionate about adventure and pixelart.
INSIDE
PlayDead combines in INSIDE the simplicity of the gameplay of the platforms, the best of the classic puzzles and the experimental narrative in an unforgettable experience. A jewel both on an artistic and visual level.
Limbo
Despite its visual simplicity and ease of control, Limbo is one of the unquestionable triggers of boom of the indie video game. A success in reviews and sales, as well as a wonder that the years do not pass.
Machinarium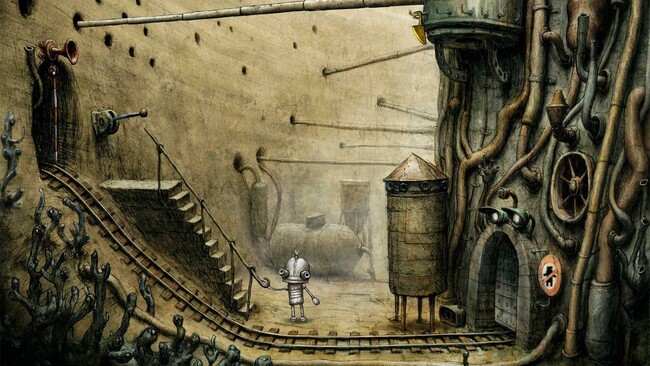 An exquisite graphic adventure that bears the signature of the creators of Samorost and Botanicula. En Machinarium We will discover a dystopian world through the eyes of a brave robot capable of adapting to any situation and puzzle that is put before it.
Mini Metro
Mini Metro challenges us to design metro stations in a growing city. And although on paper it might seem like a routine procedure, this genius developed by Dinosaur Polo Club is terribly entertaining and even more addictive.
Minutes
Devolver Digital dares to combine the charm of Zeldas classics with the premise of Caught in time, inviting us to brilliantly rediscover a minimalistly pixelated world through 60-second games.
Moonlighter
We will say it as many times as necessary: ​​the pixelart of Moonlighter falls in love. The Valencians of Digital Sun invite us to be heroes by vocation and merchants by profession, matching the special charm that classic RPGs radiate.
Oceanhorn
What Oceanhorn It is inspired by the first Zeldas and is seen a mile away. Which, on the other hand, does not take away the status of a great game: Cornfox & Bros. invites us to explore exotic islands full of adventure, danger and treasure.
OlliOlli2: Welcome to Olliwood
If you want to play the sequel to OlliOlli on your mobile you will need a remote control. In return, we will enjoy an arcade of impeccable playability skill that transfers the superb sensations of Tony Hawk's Pro Skater at 2D. Big words.
Oxenfree
Oxenfree It is much more than a thriller that flirts with the formula of graphic adventures: it is a sensational experience of mysteries and investigation, whose system of conversations affects the plot and the way we relate to the rest of the characters.
Papers, Please
Papers, Please It was the consecration of Lucas Pope: as immigration inspectors, we will have to decide who enters and who stays at the gates of Arstotzka. A delicate task since in addition to petty counterfeiters we will have to detect spies and terrorists.
Slay the Spire
Mega Crit Games achieves the impossible: Slay the Spire fuses card games and roguelikes in the same game proposal, bringing together the best and most addictive of both genres in the process.
Super Meat Boy
Super Meat Boy could not be missing in our selection. Demanding, addictive and challenging in disproportionate proportions, this classic court platformer will endanger your mobile battery.
Stardew Valley
Stardew Valley It is a bottomless well of hours, especially when we are given the option to import our games from Steam. Building the farm of our dreams has become the obsession of millions of gamers. For something it will be.
SteamWorld Heist
SteamWorld Heist takes the SteamWorld series to outer space through an experience of turn-based duels in side scrolling levels procedurally generated. Ahead, dozens of hours of play that are rounded off with an always grateful New Game + mode.
Terraria
The essence of classic action games and the freedom and creativity of a sandbox go hand in hand in Terraria. A 2D survival experience that puts us in front of more than 1800 creation recipes, more than 250 enemies and no less than 29 bosses. Serious thing.
The Swords of Ditto
The Sword of Ditto borrows elements from Zelda: Four Swords and the colorful surreal fantasy aesthetic of Adventure Time to tell us the story of a formidable sword through its bearers.
The Talos Principle
The creators of Serious Sam they go off on a tangent with a sensational first-person puzzle game that by solving their 120 addictive logic and skill puzzles he is releasing his own philosophical plot.
Thimbleweed Park
The legendary Ron Gilbert come back with Thimbleweed Park taking up the best of his own legacy in a graphic adventure that recovers the best of the extinct LucasArts. A must for fans of Monkey Island and Maniac Mansion.
This Is the Police 2
The sequel to This is the Police puts us in the shoes of the sheriff of a town where everyone hides something, including ourselves. What's more, we will have to incriminate more than one innocent, make deals with all kinds of thugs and torture to save our skin.
This War of Mine
War stories we have seen a lot in video games, but experiences based on the other side of war and its consequences not so many. This War of Mine It puts us in the shoes of a survivor who must face uncomfortable decisions and strong moral significance.
Transistor
Supergiant opened our selection and also put the clasp on it: the creators of Bastion and Hades They experiment with the RPG genre through a double game experience that adapts to both technical strategy and direct action.