Being before the last day of March (fateful for Mario), it's time to continue with our release guide to see at a stroke what games will come out in april, now being the turn of the sector of the PC after seeing those of PlayStation and Nintendo.
This month there are certain similarities between those that come out for PC, repeating the most important multiplatform, except for a couple of remasters, of which one of them is totally exclusive. However, highlights to see the debut of the first NieR on PC, since the original had only been released on PS3 and Xbox 360.
Outriders
Outriders arrives on April 1, the new from People Can Fly (Bulletstorm). A shooter cooperative for up to three people in an open world with a strong science fiction touch. We'll see if the end ends up giving the surprise.
Apart from the Epic Games Store, it will also be released on PS5 and PS4, Xbox Series and Xbox One (on Microsoft consoles, with Game Pass) and Google Stadia
Oddworld: Soulstorm
On April 6 comes Oddworld: Soulstorm, the long-awaited new adventure of good old Abe and looking better than ever. If you liked the previous Oddworld of scroll
side, nothing indicates that this chapter is not going to love you like the others.
Apart from the Epic Games Store, it will also be released on PS5 and PS4
The Legend of Heroes: Trails of Cold Steel IV
El 9 de abril llega The Legend of Heroes: Trails of Cold Steel IV, the expected end of the epic that devastated a continent. This Nihon Falcom saga has been gaining followers with each installment, to the point of becoming a high-quality cult RPG. If you bring them up to date, it's time to close their last chapter.
Aside from Steam, it will be out the same day on Switch and out on PS4
SaGa Frontier Remastered
SaGa Frontier Remastered arrives on April 15, the update of a classic of the first PlayStation that had never before been released in Europe, hence the importance of this remastering. In addition, it is accompanied by a series of extras.
Apart from Steam, it will also be released on PS4, Nintendo Switch, Android and iOS
Shadow Man Remastered
Shadow Man Remastered arrives April 15, the remastering of that 1999 cult game based on the comic Shadowman from Valiant Comics. Apart from polishing its graphic section, it will have additional content discarded from the original version of the last century, which can still be found in GOG for 5,09 dollars.
It comes out on Steam and the Epic Games Store. To consoles will come later
NieR Replicant ver.1.22474487139
On April 23, NieR Replicant ver. 1.22474487139 arrives. It is the longed for remake
of the revalued
Deny
2010 released on PS3 and Xbox 360. It comes with many graphical and playable improvements, apart from slight changes for the base game, being before the best golden opportunity to enjoy it again or discover it for the first time, especially in relation to the PC, since
the original never came out on Windows
.
Apart from Steam, it will also be released on PS4 and Xbox One
Total War: Rome Remastered
Total War: Rome Remastered arrives on April 29, the update of the 2004 classic. A remastering that slightly improves the graphics, among other types of retouching to adapt it to 4K resolution and the advantages offered by Steam. If you still have the original Rome: Total War Collection, it comes out at half price.
This edition comes out on Steam
R-Type Final 2
R-Type Final 2 arrives on April 30. The Granzella study collects the witness of the iconic Irem to offer the long-awaited and promising sequel to that delivery released exclusively for PlayStation 2 that debuted here in the distant 2004.
Apart from Steam, it will also be released on PS4, Xbox One and Nintendo Switch
Other games that might interest you this month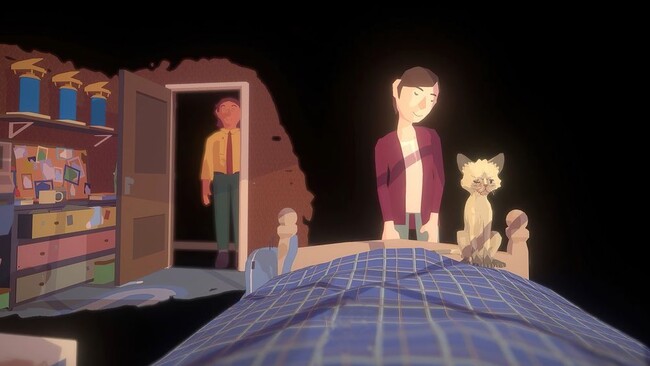 Either because of the relevance of certain sagas or because of other games that have not made many headlines, here we leave you with a quick look for another series of releases that you should take into account little that you like each genre. Eye.
Lost Words: Beyond the Page
Before Your Eyes
Say No! More
The Darkside Detective: A Fumble in the Dark
All games coming out for PC in April
Here is a list with all the games that will come out on PC throughout the month of April, clarifying if they appear on Steam, Epic Games Store or other types of stores.
If a game is already to be reserved, we will put its price next to it.
Day 1, Thursday
Day 6, Tuesday
Day 8, Thursday
Before Your Eyes (Steam)
Classified Stories: The Tome of Myrkah (Steam)
Potion Party (Steam)
Scarlet Hood and the Wicked Wood (Steam Early Access)
Traffic Jams [VR] (Steam y Oculus)
Day 9, Friday
Day 12, Monday
Nigate Tale (Steam Early Access)
Day 13, Tuesday
Day 14, Wednesday
Forgotten Fields (Steam)
Knight Squad 2 (Steam y Epic Games Store)
Day 15, Thursday
Day 20, Tuesday
Day 22, Thursday
Atelier Mysterious Trilogy Deluxe Pack (Steam)
Hoplegs (Steam Early Access)
MotoGP 21 | 49,99 dollars (Steam y Epic Games Store)
Smelter (Steam)
Day 23, Friday
Day 28, Wednesday
Day 29, Thursday
Day 30, Friday
As new dates are confirmed every week (and as many are modified), we recommend that you be aware of our Google Calendar, where we update all the games instantly every day, specifying whether they come out physically or digitally. If you miss any, leave it in the comments.