almost a year ago it was launched the fifth and final act of Kentucky Route Zero, the Cardboard Computer title that first saw the light in 2013 after a successful Kickstarter, and that I treasure in my memories from the first time I played it.
For many of us, this ending was made to be expected (Act 4 came out in 2016), but we knew how to wait patiently. As if it were a truck that travels the night road until it reaches its destination, and we are hitchhikers aimlessly whom it has picked up. A long and confusing journey in which, without knowing how or why, we ended up find ing what we wanted
, and we would repeat it as many times as necessary.
And is that Kentucky Route Zero it is not precisely Life is StrangeNor is it a Telltale game, despite its episodic nature. It does not base its structure on cliffhangers that leave us in suspense until the next chapter, as if it were a television series created expressly to hook us and occupy our time. Each of his acts is a great little piece that deserves to be meditated over low heat, which comes to life regardless of those that come after.
It is a title that is enjoyed in the moment, without thinking all the time about where everything will go. It was strange to reach the end of the trip, but if some of you had not been able to play it or did not know it until now, I assure you that you will embark on the Zero it will be as exciting as the first day. In fact, the fact that it was finished is not the only reason to introduce more people to the game. Along with Act 5, the long-awaited Castilian translation (and other languages), so there are no more excuses.
Lost road
But I have four paragraphs and I still have not said what it is about Kentucky Route Zero, so let's go there. It is a graphic adventure with point & click mechanics in which we accompany Conway, a truck driver who delivers an antique store, during his last assignment. You must take the merchandise to 5 Dogwood Drive, a mysterious address you have never heard of. To get there, everyone recommends you take Zero highway that gives the game its name, and that it is anything but what it seems.
Although he has said that it can be framed within the genre of adventure games, it is actually a rare bird that does not follow the classic roadmap imposed by the LucasArts classics and their heirs. No convoluted puzzles, no inventory, nothing of the sort. He doesn't want us to connect with him through constant challenge, and there are also no crucial decisions that change the plot entirely or determine whether a character lives or dies.
However, we do decide things in Kentucky Route Zero, all the time in fact, but its purpose is rather different. For example, at the beginning of Act 1, Conway starts talking to the dog that accompanies him, a poor animal that is too old for that much trot (and that is wearing a hat, an important detail). In that first dialogue, or rather the protagonist's monologue, we are given the possibility of choosing the name of the dog. It could be Homer, Blue, or even not have a name. What we choose will not affect the plot at all, but will accompany us throughout the trip
.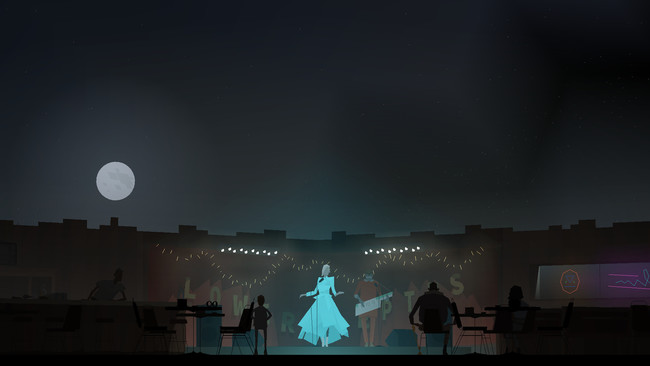 Along the way we will meet
Conway talks to the dog continuously, it is his way of bringing order to his thoughts. At the end of some scenes, recapitulate the events that have taken place, but we choose what to talk about. In doing so, we prioritize some thoughts and discard others, we explore how the character feels. Each option is a different edge that brings its own perspective.
We do not decide what is going to happen or define a character as if it were a role-playing game (in fact, throughout the game we control several, and at no time are we interpreting them, they are not our avatar in the plot). We simply choose what meaning we give to the different layers of your universe, how we project ourselves in this work al margen del point & click.
Said like that it may not seem too stimulating, especially if you are used to other types of titles, but I assure you that every moment is worth remembering
. The game does not stop posing absolutely surprising situations, which play with its theatrical nature and with the interactive possibilities of the video game to combine them in overwhelming moments that I am not going to reveal because I prefer that you discover them for yourself.
In Kentucky Route Zero we read all the time, but it is such a well written game that it is a pleasure to explore even the smallest details. His characters are all charming and mysterious in their proper measure, always navigating between the subtle and the magical, capable of going from surrealism to the harshest reality with total mastery.
Cardboard Computer's work doesn't bother to deliver a shocking, twisty script. Instead, he wants us to live those characters and moments for what they are, to let ourselves go with the flow and let us delight in the here and now, free from the bonds of completism and challenge. Those elements are quite good in certain games when they are given in their proper measure, but this highway offers us a different experience, and it is one of the most enriching that I have had the opportunity to play in recent years.
Still, that's not to say that the game has no plot or anything to talk about. Kentucky Route Zero It is a story in which characters meet who have always been fighting against something, although sometimes they did not know very well what. It is about the journey of a group of aimless homeless who have met along the way, and how this It has changed them without them noticing. More or less, as the title itself has done with those of us who have played it. Soon I will have to say goodbye to him, but I know that I will continue to return to him for many years.