It's a very exciting time here at Hazelight. We are about to deliver our baby. Next week, March 26, the wild, funny and magical co-op action adventure platformer It Takes Two will blow your mind. I am not joking! You have never seen anything like it.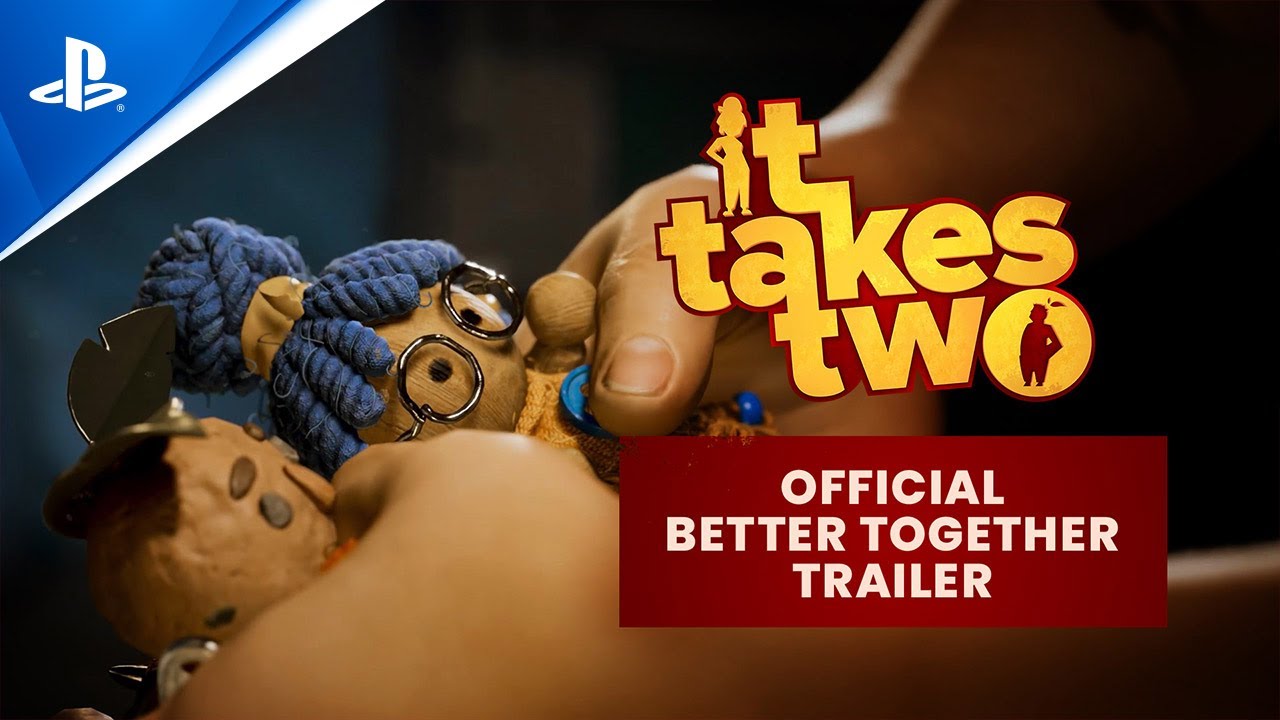 Catch up on the latest trailer, then keep scrolling for new gameplay info.
Don't take my word for it. Just download the Friend's Pass version of It Takes Two from PlayStation Store on PS4 or PS5 on March 26. It's free. Try it out at a local couch co-op – or have a friend download the Friend's Pass to play online as well – and you can try the entire first level. If you like it, only one of you needs to purchase the full game to continue playing together.
One aspect of It Takes Two that I'm really passionate about is how we blend story and gameplay in innovative ways. I've talked about it a lot since we revealed the game. But today I wanted to dive into the stories of our two main characters, Cody and May, to give you a few more examples of how it comes to life.
May wields a sickle at enemies as Cody beats like a tomato.
At the start of the story, we learn that Cody and May are about to go their separate ways. Their daughter, Rose, is devastated. She desperately wants them to stay together. Sensing that she cannot share her concerns with her parents, she turns to a book called "Book of Love" and two dolls she created to represent her parents. When she wants them to become friends again, Rose unwittingly and magically transforms them into dolls, teleporting mum and dad to a magical world.
Here they meet Dr. Hakim, a living version of Rose's "Book of Love". He's a crazy, passionate guy (much like me – I made the mocap for Dr Hakim myself!) And claims he promised Rose to mend their broken marriage.
Cody directs the growth of a flower as May leaps over the leaves.
Before becoming a clay doll, Cody spent his time as a caring dad at home. Since his nursery business went bankrupt, his sense of failure has grown and his once strong passion for gardening has faded. May, on the other hand, is a very sharp engineer, who works overtime to keep the family economy afloat. She also gave up her passion for music and singing due to lack of time.
This eerie world they find themselves in now is a representation of it all – Cody and May's neglect of their passions, each other, and their surroundings, ultimately leading to a broken marriage.
It's something both players have to face throughout the game. At one point, they arrive at Cody's garden. It is overgrown and overrun with weeds, bugs, animals, and other weird things that have turned on them.
Here, Dr. Hakim – who always creates challenges and provides them with new powers and gadgets throughout the adventure – grants Cody the opportunity to "become one" with his gardening again. Literally. Cody is now able to shoot a shoot out of his own head to attack enemies or grab objects in the environment. Or planting in certain areas of the earth to become a cactus that shoots needles. Or a growing vine with leaves serving as platforms for the month of May. Or a big tomato that can roll over and crush enemies!
But May needs to support her partner in her passion, and she is given a garden hose to help Cody make the garden bloom again and a scythe to trim and cut weeds and enemies.
Likewise, they have to deal with their own time management challenges. As they walk through Rose's room, May gets irritated when she realizes Cody has used his chessboard to build a toy castle. Cody notes that she never uses it anyway, which May again attributes to the lack of time. Just like when she gave up her passion for singing.
On a later level, taking place inside the family's cuckoo clock, the couple are challenged by Dr. Hakim to finally deal with this matter. May can now clone herself to be in two places at the same time. Another feature of May's cloning ability is that she can switch places with her clone at will, sometimes being able to go through objects like maybe a crushing wall. And Cody can control objects in the world and make them travel backwards or forwards in time. Not only does this ability work on static items, but also sometimes things like explosions.
Whatever challenges (and there will be MANY) that Cody and May face, the key is always for them – and the players – to work together.