More than 12 years have passed since the first version of Android, and version after version the operating system improves and adds new functions. Over time it becomes more and more difficult to keep up with everything he offers, so some functions may go a little unnoticed for someone who doesn't follow developments closely.
In this article we collect 12 little-known Android features of the last five versions of Android and that are not difficult to find in any current terminal, regardless of its layer of customization.
Record screen
Many Android customization layers have for years included the ability to record screen to video somehow, although that officially only reached Android as Android 11.
Although its use may vary if you have a mobile with a Huawei, Xiaomi or Samsung interface, the concept is generally similar: a quick setting with which you can easily start a recording. This setting is not always set or visible, you may need to configure the settings first to enable it.
Share Wi-Fi password
Your phone remembers the password for all the Wi-Fi networks it has connected to, but finding out what that password wasn't easy until recently. In the early days of Android, root was required, but with recent versions this is no longer required: you can share a Wi-Fi connection with a QR code.
The process can vary between versions and layers of Android, although it is generally similar to the following: open the quick settings of Android, long press on the Wi-Fi setting and tap on the network you are in. currently logged in. You will then have the opportunity to Share as a QR code, which someone else can scan to log in directly, without entering a password.
The latest version of Android, which is not yet official, gives a twist to the matter by adding to the mix sharing Wi-Fi connections via Nearby Sharing. It's basically the same, but with the code sent to the other person's mobile, rather than having to scan it with the camera.
Rotate the mobile from the navigation bar
This is personally one of my favorite things that, being a little pimple that only pops up every now and then, it's easy to go unnoticed. Since Android 9 Pie, the Android navigation bar adds one button to rotate the screen when you have disabled screen rotation, but rotated the mobile.
It looks like a tongue twister, but it makes more sense than it looks. If you are using the mobile lying down and you have deactivated the automatic rotation, you can switch from landscape to portrait mode whenever you want, without having to constantly turn the screen on and off.
Read QR codes
QR codes have been with us since time immemorial, although it is only recently that their use has exploded. There are endless ways to read QR codes with or without apps in between, although all you need is the Google Assistant or, part of it, Google Lens.
With any relatively new Android mobile, you can scan a QR code with a long press on the start button or the gesture or the button to start the Google Assistant. Then press the Google Lens button and finally point to the QR code.
In addition, it is increasingly common for the application of the camera has a mode to scan QR codes, making the exclusive applications to perform this task increasingly obsolete. These methods allow you both to scan QR codes with the camera and to do so in images that you already have on your mobile.
Switch between apps
This quick gesture or shortcut has been in Android since before gestures came along, although it's easy to go unnoticed unless you start pressing buttons. It's a way of switch from one application to the previous one without going through the Recent view.
It's something like Android's Alt + tab, and it's done just as easily as double-tapping the square button (the one that opens the Recent view). This way you switch between the last two apps you used.
Split screen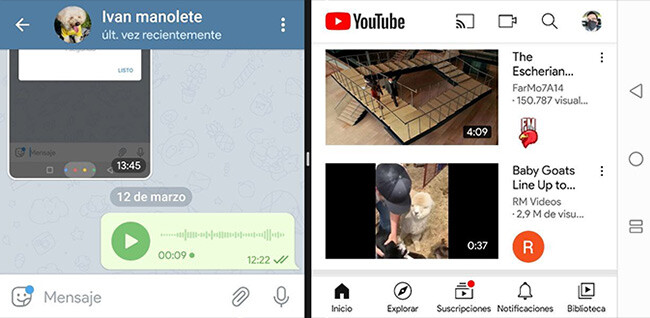 The same version of Android that brought us the method to switch between apps has been officially released split screen mode
: Android Nougat. This mode took a bit longer in some layers of customization, like Samsung.
There are several ways to use split screen on Android: with a long press on the square button or from recent view, by long pressing the app name or by pressing the overlay button. You first choose an app that displays in the middle of the screen, and then you can open the second. The split screen works both vertically and horizontally.
Snooze notifications
If you receive a notification at an inconvenient time and want to eliminate it, but not to have it disappear forever, an alternative is postpone notification. Android has changed the way it works a bit in the last few versions, but the normal thing is that you can postpone any notification that isn't permanent, by moving it a bit to the side until the l button is clicked. clock appears.
In some layers, there is no button, just repeat text that appears when you long press the notification. Usually you can choose for the notification reappears after a whileabout an hour later.
Chat bubbles
We'll see chat bubbles in all their glory in the next version of Android, but Android 11 already comes with chat bubbles and more and more apps are compatible with them. By activating them, you can float any notification, making it easier for you chat without leaving the current app.
To use the chat bubble, the first thing to do is to receive a notification in an app that supports them. If so, you will see an icon in the notification itself which, when you tap, will turn the notification into a chat bubble
.
Digital wellness for websites
Digital Wellbeing has arrived in Android 9 Pie to let you set limits – if you want – on your mobile usage. One of these limits allows you to limit the duration of use of an application, to which in Android 10 another option has been added: limit the time you spend on any website.
Like the rest of the digital wellness options, it is factory disabled. To activate it, you must go to the settings of the mobile> Digital well-being> Dashboard and press Google chrome. You must then activate View websites. From that moment on, you will see how much time you spend on each website and you can limit its usage to certain minutes or hours per day.
Add quick shortcuts to the desktop
For some versions now, Android apps can have some sort of menu with which you can go directly to a specific section, instead of always entering the first screen. This menu is accessible in the applications that support it, with a long touch.
This menu is already relatively unknown, but the most important is that in most Android launchers you can drag menu items to add them as shortcuts on the home screen. Thus, you can create a shortcut for the "My applications" section of Google Play.
Free up space
Forget about deceptive apps like Clean Master, if you are a little tight on mobile storage space then you don't need to install any app. Instead, Android has long been incorporated into its storage settings. a summary of the destination of your space, with the possibility of freeing up space in different ways.
In most modern versions, this task is performed by the Google Files app, the preinstalled file manager. With Google Files, you can free up space by removing duplicate files, images you probably don't want and looking for large files.
Share with nearby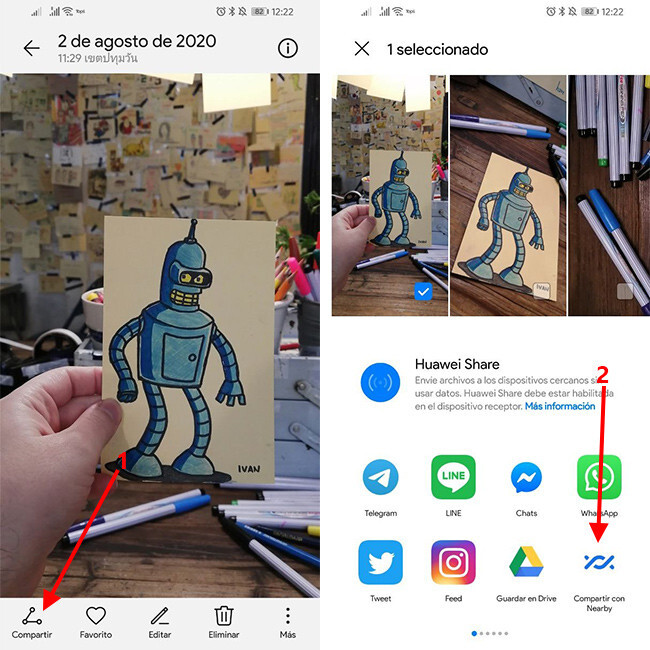 A recent addition to Android that is not tied to a specific version of Android is Share with Nearby. It's a simple way to send files to nearby mobiles using technologies such as NFC, Bluetooth and Wi-Fi Direct.
Share with Nearby is built into the quick settings menu and you'll also find it in the Android share menu. The recipient's mobile must be activated Share with nearby to appear as visible, which can be done from quick settings.