he really has me with the C21 a mobile which initially offers a lot for very little, so that in a few days one realizes that he is even more generous in all his experience.
In this analysis, we had realme C21 with 4 GB of RAM and 64 GB of internal memory that you can buy for 139 dollars.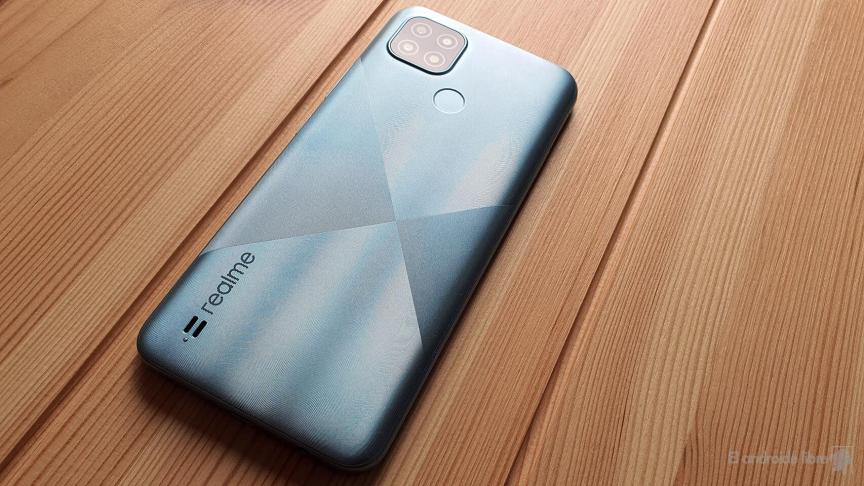 A mobile that stands out with its 5,000 mAh, generous 6.5-inch screen, its 3 cameras on the back, one on the front that makes very good selfies and a chip that allows you to play games like League of Legends: Wild Rift or Brawl Stars.
Features of realme C21
Chip and memory
Processor: Mediatek Helio G35.
Memoria RAM: 3/4 GB.
Internal storage: 32/64 GB.
Micro SD: yes, up to 256 GB.
Screen
Cut: 6.5 inches.
Resolution: HD + 1600 x 720 pixels.
Technology: LCD.
Rear camera
Main: 13 Mpx f / 2.0.
Depth measuring transducer: 2 Mpx.
Sensor macro: 2 Mpx.
Other: LED flash.
Front camera
Resolution: 5 Mpx f / 2.2.
Connectivity
4G / LTE.
Dual SIM.
Bluetooth 5.1.
Wireless.
FM radio.
System
Android version: ten.
Manufacturer interface: realmeUI.
First sensations
Today, mobiles are acquired with a single intention, either to play League of Legends Wild Rift, or to have a front camera that allows us to allows to record quality video for TikTok.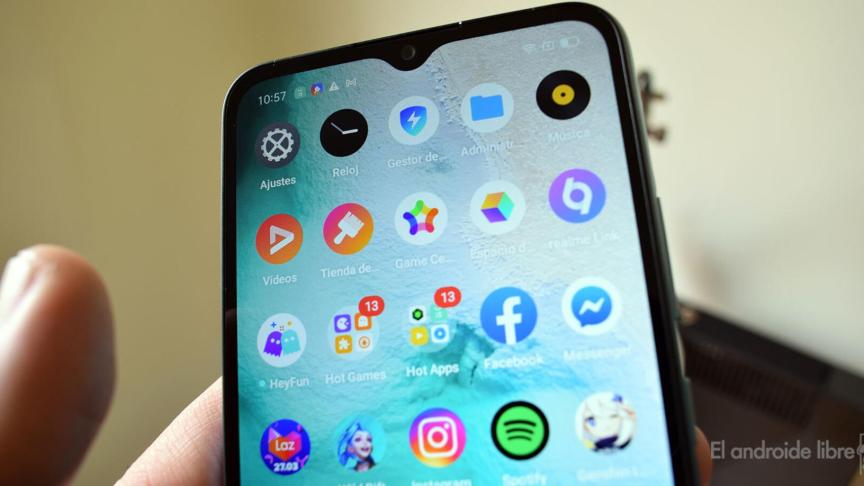 If those were the two reasons you are looking for a low-end mobile at a great price, realme C21 is sufficiently compliant for the examples given.
But there's a lot more, its screen is on par with the other components and it looks pretty good, although it has its weak points like that narrow viewing angle. Of course, he's got enough to enjoy games that will look pretty good.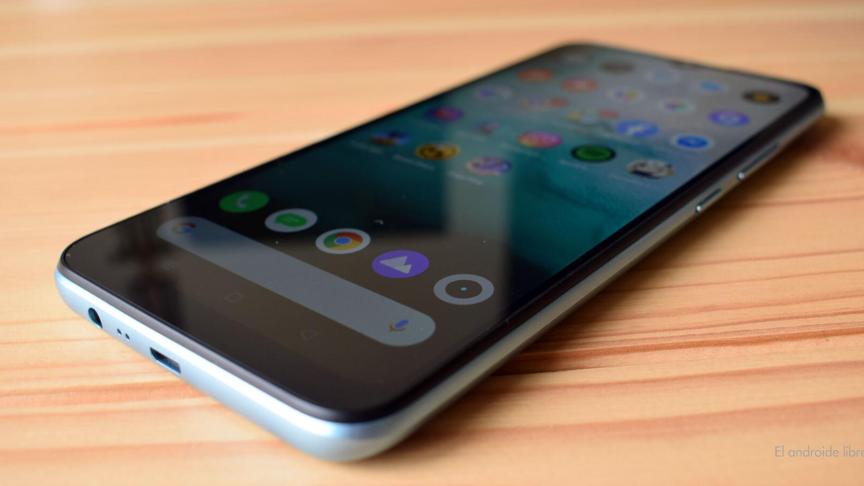 Other one of the strong points is its battery with its 5000 mAh, although it is not a fast charge and it will literally take almost 2 hours to charge it.
What We liked it a lot, that's how it is light in the hand
so that it costs us nothing to manage it.
The design: managed to surprise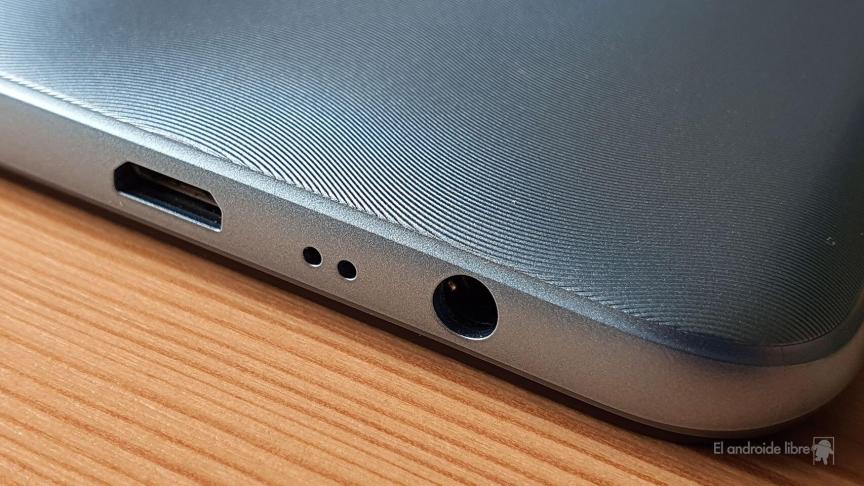 It is true that the finishes of the realme C21 are very good for a mobile that does not exceed 139 dollars in the largest model. Come on, it looks great and the photos we took attest to the level of detail in the finish.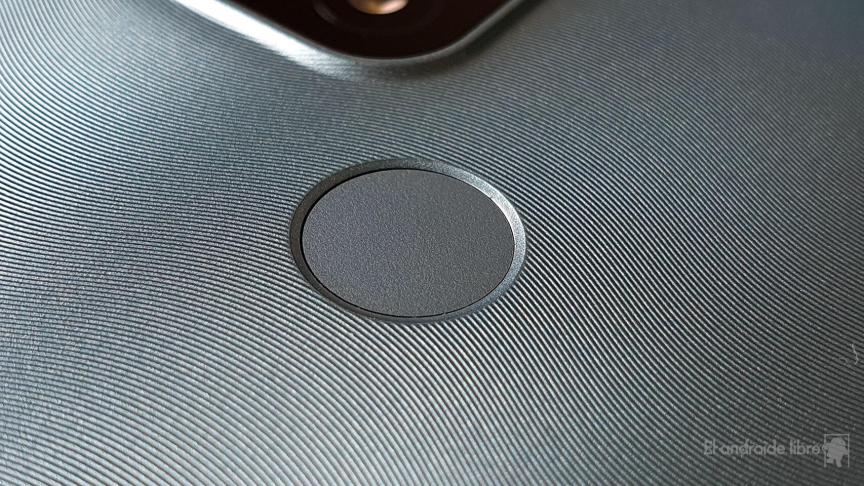 It's a very attractive mobile with a screen with notch on the top and a lower bezel that barely takes up space. The back is also sleek and firm, so overall it's a nice mobile.
The the location of the fingerprint sensor is on the back and takes its leading role. It actually works really fast, so take note of it later.
Performance
the realme c21 consists of a Helio G35 chip in 12nm octa-core which takes us to a fair experience without too much fanfare that if we move through the interface well we won't have major issues.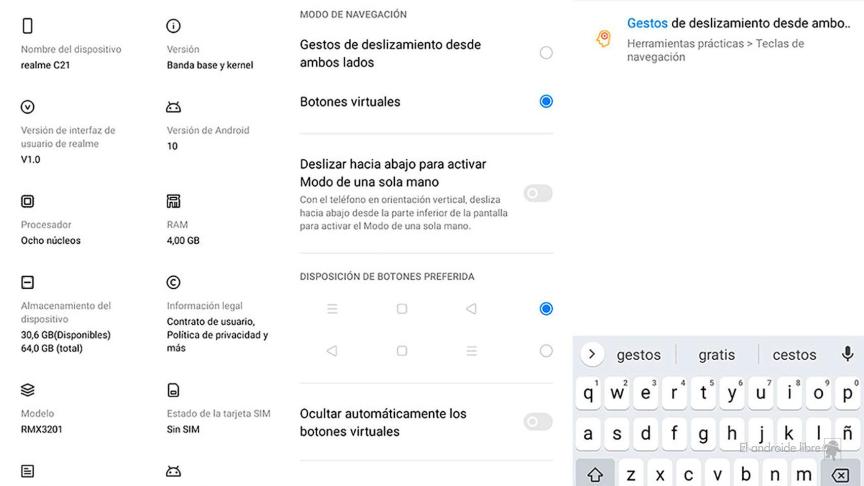 Multitasking works well and These 4 GB of RAM in the old model meet the goal of creating a fairly meaningful user experience. Although we are not on Android 11, since it is currently on Android 10, Realme 1.0 meets all of our needs at first.
As we will show a bit below, in games allows us to enjoy it of those who are trendy, although there are others who would be better off even not trying. Yes we are talking about Genshin Impact costing it its own with a lot of issues (yes we tried to test it).
The Realme C21 screen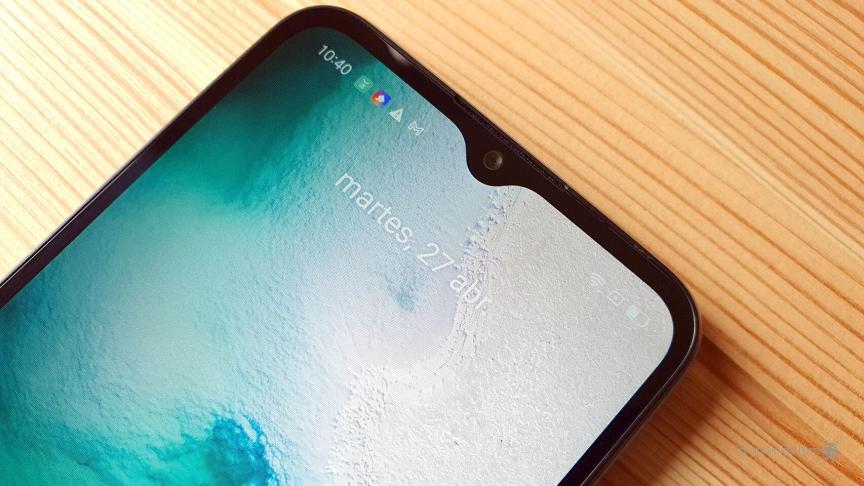 With its 6.5 inches and its resolution of 1600 x 720, which it must be added that it is LCD type, it is perhaps one of the most tuned elements of the entire mobile setup.
Can we say that neither enhances nor tarnishes the experience at a general level, so for its price and focused on other features, it is very much in line with what it is supposed to have.
Its 6.5 inches are more than enough to transform the realme c21 into a mobile that has its dimensions. This is not a small mobile.
Photography does its job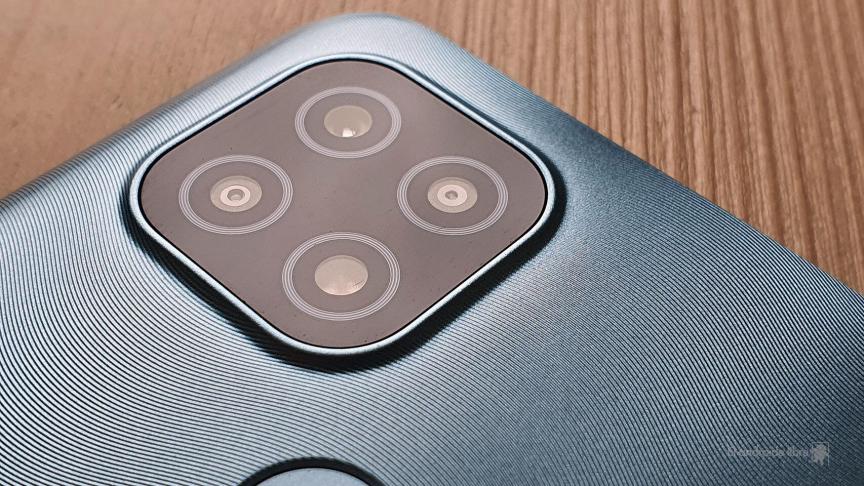 Although we have 3 sensors on the back, the photo is fair under certain circumstances. The camera we really liked is the front one
for selfies that behave very well with these minimum 5 Mpx, but which take very good portrait photos with very clear details.
Of course it offers options to improve our face, in case you want to improve your skin tone, and in portrait and HDR mode.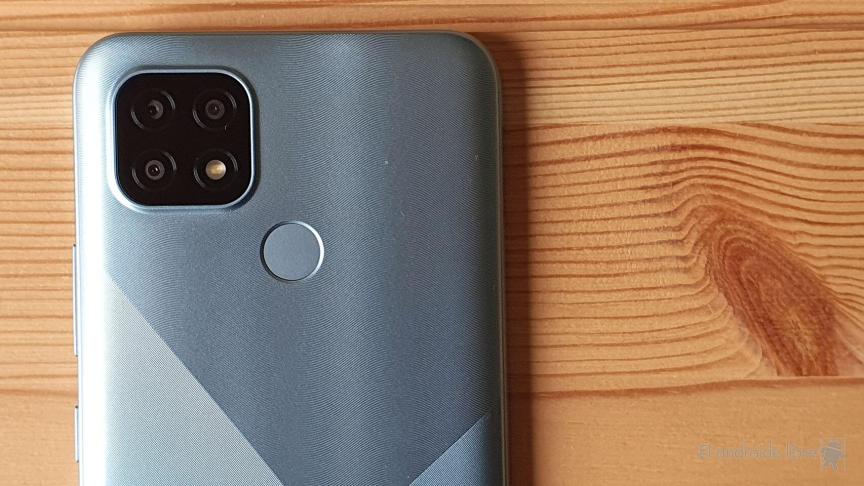 In the back we have a Main 13MP which takes great photos depending on the circumstances, but when there are moving objects or elements, be careful not to have to take another photo.
We recommend that use auto HDR mode to beautify photos that you take and in low light conditions it doesn't go so bad either. While the watercolor effect can appear in a matter of moments, it also takes crisp photos with its logical limitations.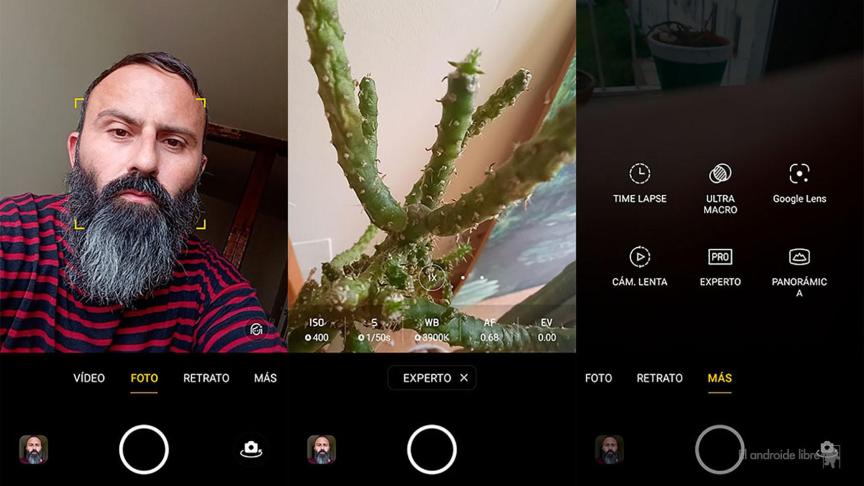 If we take good care of the shot and the plane at the same time as the light entering through its f / 2.2 aperture beautiful photographs are made as you can find in the folder created for the occasion in my Google Photos.
Link to the gallery in Google Photos
In video recording, it's quite limited to deliver 1080P or 720P resolution at 30 FPS. The other lens is for black and white photos for a special effect for portraits.
The the macro lens is perfect for taking details on objects which we have to bring the camera closer to generate very special captures. The truth is, it works quite well.
Autonomy: its strong point
The realme c21 if we do not shoot games, it is capable of offer us hours and hours of autonomy. In standby mode, it works pretty well as you can see from the screenshots we've attached.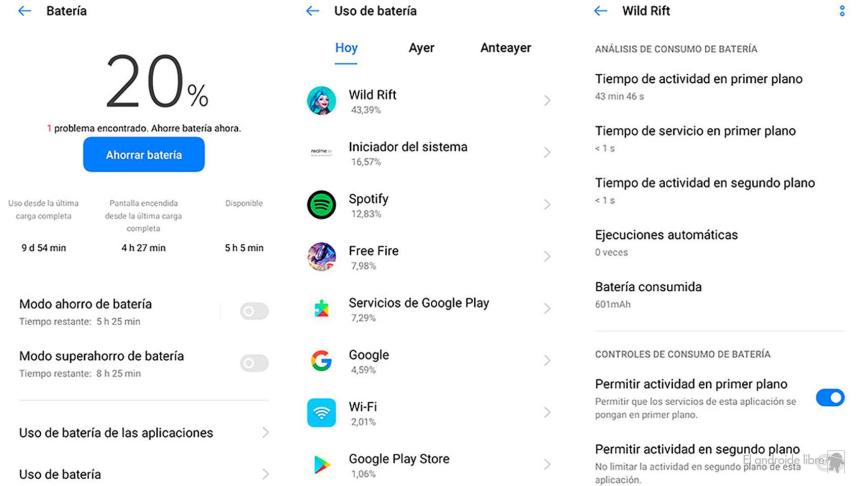 But it is true that by playing League of Legends: Wild Rift, we will have the impression in 43 minutes, it is able to consume 601 mAh. In the attached capture, 43.39% of the consumption is taken, although it must be estimated that with the remaining 20%, it arrived at 4h and 27 minutes.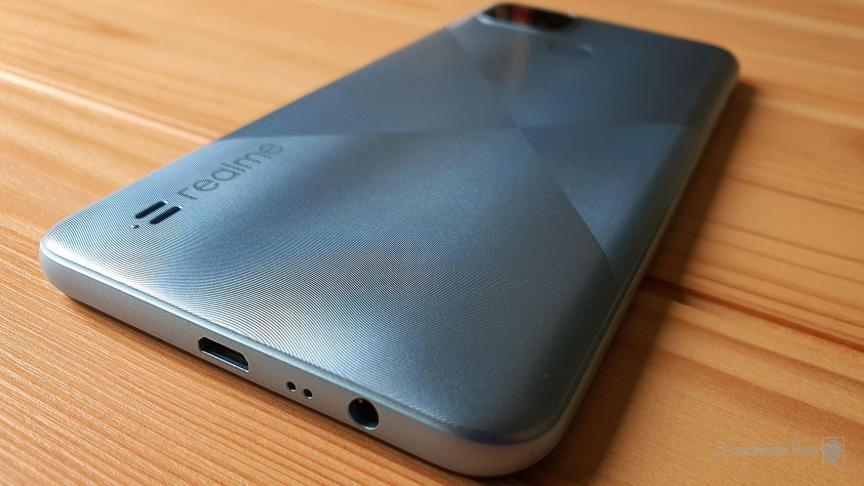 Now, when we are going to charge the c21 we have to do it without haste. In 15 minutes it charges the battery to 10% and to top it up from 15% you will need almost 2 hours.
This is one of the most negative points of this mobile, since it has a 5000 mAh battery, its charge would be fast, but let's remember its price and all the positive things said so far. You can't ask for more.
Performance in games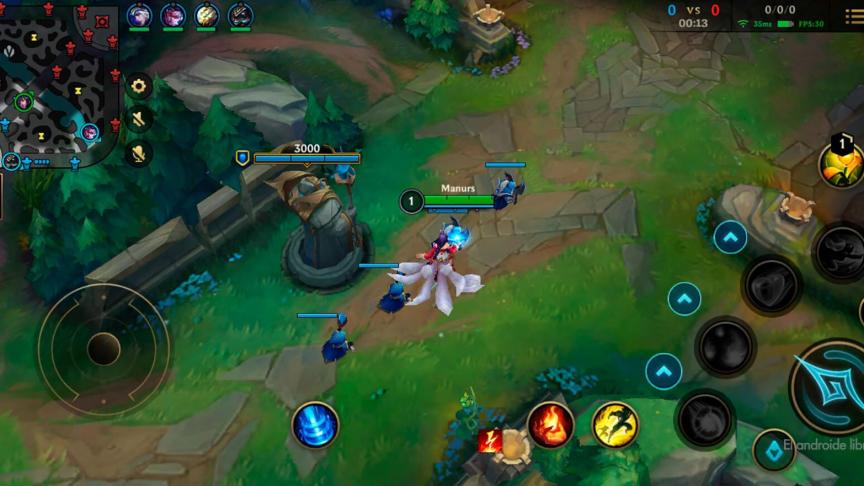 Genshin Impact we were able to install it, and it's over 6 GB, and start it up, but, it gave a lot of jerks. Impossible to play it.
But yes that We had a great time with League of Legends: Wild Rift, Brawl Stars and even Garena Free which is perfect.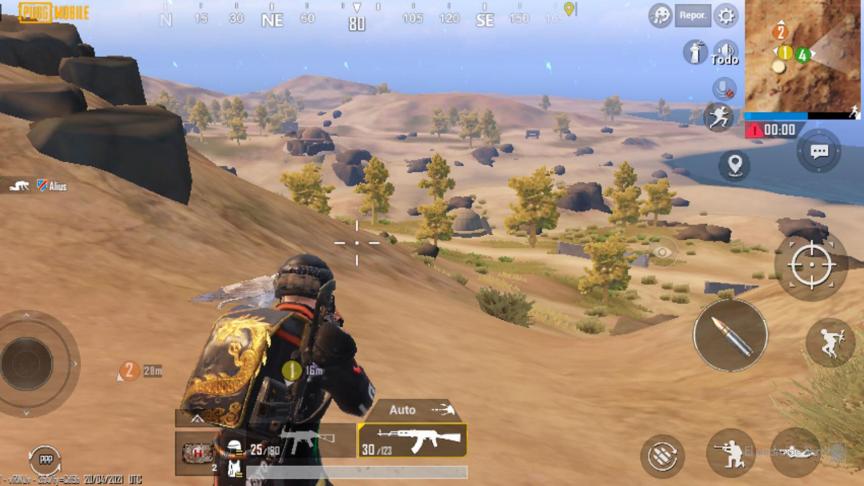 Gerane Free triumphed in being able to move around on low-end mobiles really well, so it's understood that it looks so good, but With PUBG Mobile, it will already depend on the experience you are looking for.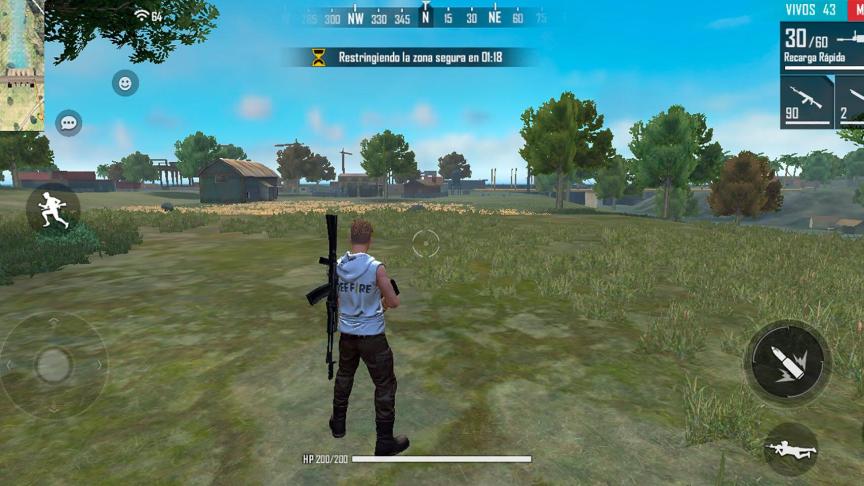 You will not be able to download the HD data package, but yes, in low level graphics there is no lag no jerks so if you get used to it you can play PUBG Mobile with no problem.
And you can even switch from the Lite version, but what has been said, poor quality textures and nothing else. Among those mentioned stay at 30 FPS, therefore very good for a mobile very complete in the rest of the other elements.
Final Notice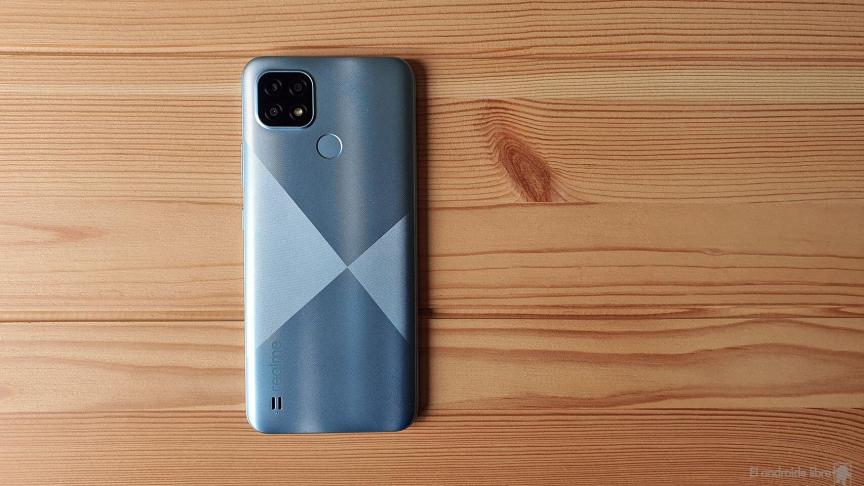 Realme C21 brings us to a perfect experience if we appreciate its low cost, because it gives a lot, but a lot, for a very little.
He has a good sound from the speakers, very light, a generous screen to enjoy games, social networks and more, a personalized layer full of options and even Netflix, HBO and Disney + can be installed (We are talking about a mobile that comes from China).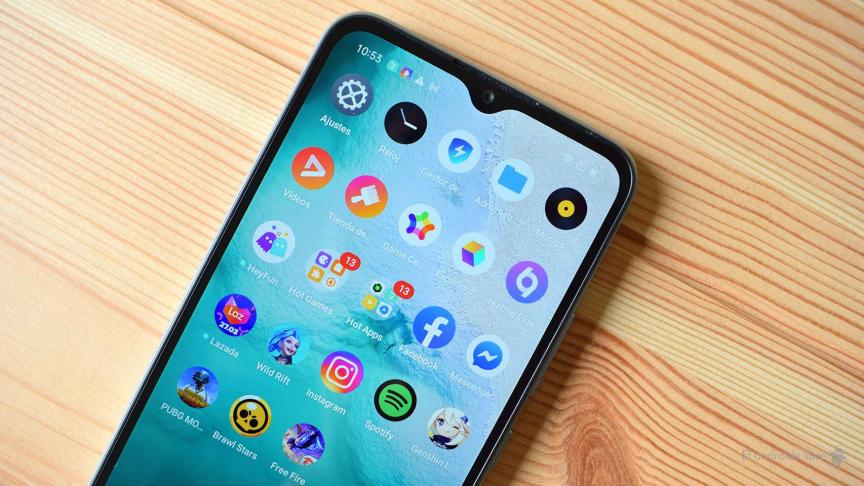 If you are looking for a ten mobile for TikTok, it's perfect. If you are looking for a mobile for certain games like the ones mentioned, it is perfect, albeit with nuances for PUBG Mobile. For the rest of the basic needs like WhatsApp and other social networks, perfect too.
It is ideal because of the battery that matters, although it has the downside of fast charging, but come on, 139 dollars for a mobile with fingerprint sensor, NFC, 3 cameras, a facade that makes very good selfies, Bluetooth 5.1, Dual SIM and minijack for those who do not want to change headphones, can you ask for more?
The other small downside is that not going to market with Android 11Although Realme's custom layer is very dignified and has its own apps with a Game Center to measure FPS, a file manager and much more.
In short, a mobile that offers the user an ideal experience at all levels for what it costs that even in some ways it gives more than one would expect.
Pricing and availability
The realme C21 is available today for a price of 109 dollars for the 3 GB / 32 GB version and for 139 dollars the 4 GB / 64 GB model.
.