Apple announced, as is tradition at every WWDC, the winners of the Apple Design Awards, the awards that recognize the design and quality of the applications in the App Store. This year Apple has divided the awards into six new categories: innovation, images and graphics, interaction, joy and pleasure, inclusion and social impact.
Six unique games and six apps in these six categories
For years, Apple has put several apps in the App Store above the rest, showcasing their design, function or vision. A competition which in addition to give high prestige to award-winning applications and the developers behind them seeks to encourage all applications in the store to aspire to this level of quality.
"This year's Apple Design Award winners have redefined what we expect from a great app experience, and we congratulate them on a well-deserved victory," said Susan Prescott, vice president of global developer relations from Apple. "The work of these developers embodies the vital role apps and games play in our daily lives, and are prime examples of our six new award categories. "
Voice dream reader (Inclusiveness – App): Voice Dream Reader is one of the best text to speech apps. It can read almost any digital source, be it a PDF, a web page, or a publication in over two dozen languages. With a multitude of customizable settings to adapt the tone, timbre, accent and speed to our tastes.
HoloVista (Inclusiveness – Play): A game that supports a wide variety of accessibility features like motion control, text size and contrast, visual sound and intensity, etc. A game which, with all these considerations, can be viewed in many ways.
Pok Pok game room (Joy and pleasure – App): One of the best apps we've seen for early childhood education and entertainment. A fun experience with beautiful graphics that we analyze in Applesfera.
Little Orpheus (Joy and pleasure – Game): An interesting platform game with great storytelling and simple controls. With a wide variety of levels full of surprises, it offers a comical and fun dialogue at every step.
CAROTTE Weather forecast (Interaction – Application): A weather app well known for its humorous forecasts made with unique illustrations. An app designed with simplicity and elegance in mind that provides a pleasant experience of the same app with multiple widgets or complications for the Apple Watch.
Single bird (Interaction – Game): An exploratory game that combines gestures, haptic feedback, parallax and dynamic sound effects that accompany us through the interface as it comes to life. With excellent graphics and sound effects that even adapt to the weather, time of year and time of day.
Be my eyes (Social impact – Application): An app that allows visually impaired people to contact volunteers around the world using their cameras for help with questions like "what color is this shirt?" Or "Is the milk expired?" »With more than 300,000 users and 4.5 million volunteers in 150 countries and 180 languages.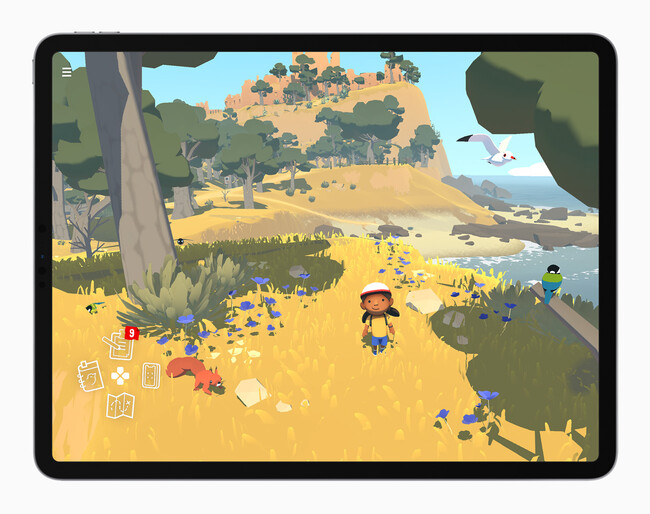 Alba

(Social impact – Game): A Mediterranean adventure led by Ustwo games where we play Alba, a young woman very interested in animals and the environment. With the positivity that comes from respecting the environment, this game tells a story about family, community, activism and kindness.
Loona (Images and graphics – App): An app for sleeping scenery sessions which, with animations, stories, narrations and a large collection of sounds, provides a calm and peaceful experience.
Genshin Impact (Images and graphics – Game): An app that captivates with awesome battle scenes as well as landscapes as we move through this virtual world. Technically speaking, frame rate, shadow quality or motion blur comes out when we summon earthquakes, throw lightning bolts, or defeat monsters we encounter.
NaadSadhana (Innovation – Application): A music app that helps musicians of all genres play and publish their music without limits. Using artificial intelligence and Core ML, the app listens while a singer improvises a vocal line and provides instant feedback on the accuracy of the notes. It also generates a corresponding backing track, all in real time.
League of Legends: Savage Rift (Innovation – Game): An app that manages to port a complex PC game to mobile platforms by reimagining this beloved title from scratch. An application that offers players a total immersion in the universe of League of Legends thanks to various mechanisms such as touch controls, automatic segmentation or camera settings.
In addition to the prestigious physical Apple Design Award, this year's winners will receive an awards package that includes material for each developer to continue creating great apps and games. Without a doubt, the recognition that both applications and the development teams that support them receive will encourage the emergence, in the future, of more projects aimed at being best in class. In the meantime, we can take advantage of these 12 great apps.