Android Wear OS is a miniature version of Android for smart watches. On a watch with Wear OS, you can interact with almost any messaging app, such as WhatsApp, through notifications and keeping the mobile in sync, although with some limitations. Better the case of Telegram, which works as a stand-alone application.
In other words, by installing Telegram on a smartwatch with Wear OS, you have a complete messaging app on your wrist, which is not mobile dependent and where you can do a lot more than with the notification-based integration of other apps. We take you through how Telegram works in Wear OS and everything you can do today.
How to install Telegram on Wear OS
Telegram's version for Wear OS is far from new. This messaging app made the jump to smartwatches in 2014, when Wear OS was still known as Android Wear. As an app for Wear OS, you can install it directly from Google Play
on the clock, as well as the "switch" from mobile to clock, if Telegram is installed on your mobile.
From the clock you just need open google play in the list of applications and use the search engine to search for Telegram. Then tap on Install and wait for it to download. It shouldn't take long, as Telegram's Wear OS version takes up a few megabytes.
First of all, log in
Telegram works independently on Wear OS, so you'll need to sign in. The process is pretty much the same as when you install Telegram on another platform: you enter your phone number and then you need to verify your identity
by entering a code which is sent to you by SMS (or in a Telegram chat, if you have opened it at the same time on another device).
What you can do in Telegram for Wear OS
The version of Telegram for smartwatches does not offer everything that is available on Telegram for mobile or PC, but rather a miniature version that nevertheless has all the basics. To get started, we have three main sections, accessed by swiping up the top of the app: chats, contacts and settings.
The most important section is the cats section, because this is where you can see all Telegram conversations, including groups and channels, as well as launching a new message. In the message list itself, you can see if any of them contain unread messages, as it includes a call sign with the number of pending messages.
Telegram on Wear OS currently has no archived messages, so these messages appear in the list next to the rest. Likewise, Saved messages -the conversation with yourself, appears as a discussion with your user profile.
The advantage of having a full app instead of using the Android notification system is that you are not limited to seeing what is happening as notifications, but in chats you can see other types of content. So in a chat you can see photos, videos – including quick videos – map previews, stickers and even listen to voice memos
. At the moment, the little that remains outside of Telegram for Wear OS are the animated stickers, which are not displayed.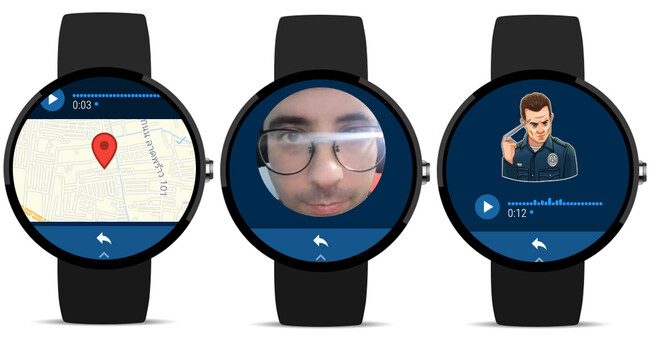 From the chat section you can view your ongoing conversations and respond quickly with the tools characteristic of Wear OS: using the dictated by voice, draw emojis or with the small virtual keyboard on the screen. By swiping up, you have the option to attach items to the chat beyond a text response.
You can send stickers, record a voice memo, send a contact, turn off a chat and even send a location, but not in real time, as is possible in the full version of Telegram. What's not available in Telegram for Wear OS is calling or video calling, at least for now.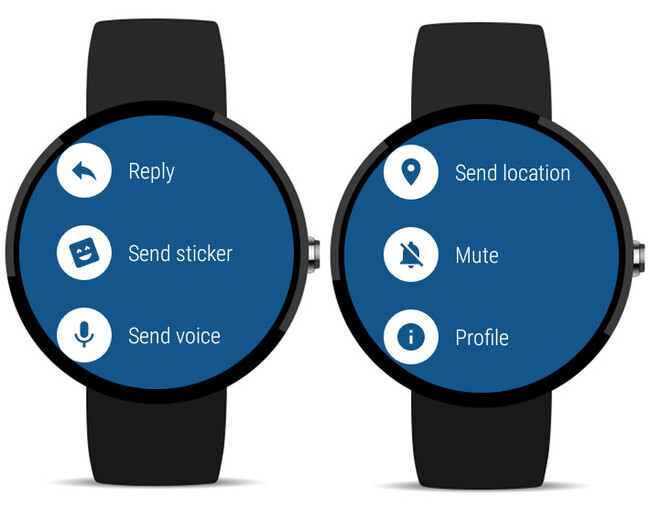 Beyond conversations, the miniature version of Telegram has room for customization and that is in its settings you can choose from 20 color themes, including a pure black background color theme to save battery for watches with AMOLED displays.
There aren't many adjustments in themselves, although there are at least the necessary ones to keep your mobile from vibrating all day long: being able to choose whether you want to receive chat message notifications and new message notifications in groups, each with a separate setting.