Now that you've just unwrapped your new iPad, it's time to install the best apps and games from the moment. Some are essential to get even more out of this device. And others that you just can't let go. So let's go.
iA Writer for writing in Markdown
iA Writer is an essential application if you usually post on your own blog. It's also a great tool to start writing your own book or taking notes. In short, for anything that requires text.
It's one of our favorite apps in Applesfera, which we reviewed a few months ago. It has a version for all Apple operating systems from iPad to iPhone and of course to Mac I personally use it a lot on iPad Pro with keyboard.
Download | iA Writer in the App Store, 32.99 dollars.
Microsoft Office as a productivity tool
With the added mouse and keyboard support, your iPad can become your only productivity tool thanks to the Microsoft Office suite. PowerPoint, Excel, and Word are ready to get the most out of your iPad in any format.
Download | Microsoft Office on the App Store, requires subscription.
Notability for taking notes with your Apple Pencil
If you have an iPad and an Apple Pencil, you need to download Notability. Allows you to take notes by hand, make diagrams, drawings and use colors. You can cut out a fragment and move it around and add audio to your notes. This app avoids the recordings of your palm if you support it on the screen, so you can write however you want with comfort.
Download | Notability in the App Store, 9.99 dollars.
Draw with Procreate and Linea Sketch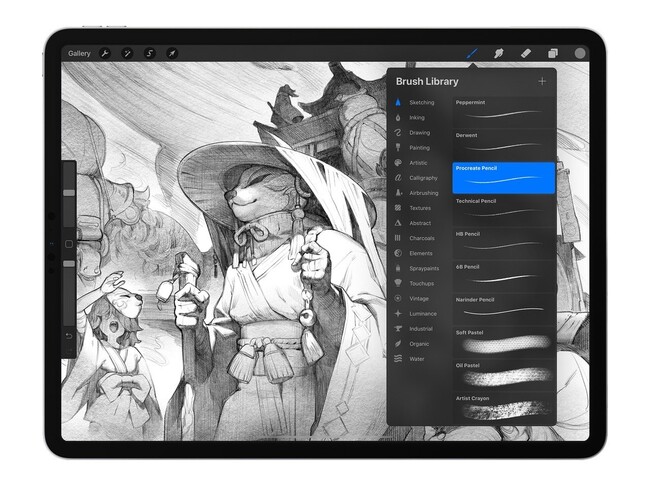 Apple Pencil is also good for serious drawing. Many illustrators use it to do their job, so we offer two applications. The first is Linea Sketch, which is free. It is an application very easy to use and it has quite advanced functions. It has many colors and five tools with different modalities each.
Download | Linea Sketch on the App Store, for free.
The other app is Procreate, one of the most popular among professionals. With this application you will be able to create complete digital canvases, with dozens of drawing tools and a wide range of colors. You can export your works in tons of formats, including those that incorporate layers.
Download | Procreate in the App Store, 10.99 dollars.
Zoom and Skype for video calls
Telecommuting isn't the only reason apps like Zoom or Skype are useful. In addition to having FaceTime to communicate with other Apple users, with both services we can communicate
with those of other platforms. Whether it's group or one-to-one calls, it's time to use them this Christmas to talk with your friends and family.
Download | Skype and Zoom for iPad on the App Store, free.
Dead Cells, die and rise again and again
Dead Cells is one of our favorite games. You are a group of cells that mate with a dead warrior in a dungeon. You will have to escape them and kill the final boss, dying along the way and starting from scratch. You will lose the lead, but you will save all improvements via cells gained during screens. Difficult at first until you get to the mechanics, this is one of our most recommended right now.
Download | Dead Cells for iPad, 9.99 dollars.
The Room: Old Sins and Alto's Odyssey
For puzzle lovers, we have the latest installment from The Room. As in any other game in the series, you find yourself locked in a room or a room
, from which you will have to decipher the puzzles. You will have a few tools at your disposal, but the most important will be your ingenuity. One of these must-have games, is for 2.29 dollars in the App Store. Download.
And for those looking for speed, we can't fail to mention Alto's Odyssey. Glide through the dunes of incredible landscapes, jumping from map to map to reveal the secrets of this wonderful game. With your board you can bounce on balloons, crush and slide to escape your enemies. Download.
Tale of Crows, The Last Campfire y Samurai Jack and Apple Arcade
With your new iPad, you have 3 months free Apple Arcade subscription. This means that you can access their entire catalog without restrictions. Among them, we recommend the following games:
Tale of crows: a spin off from the Game of Thrones series, in which you will play the various Lord Commanders who led Night's Watch over the wall. An unpleasant "walk" in the north. Download.
The last campfire: you are a little embers that gets lost on the way back. You will have to overcome different puzzles, save other companions and defeat monsters before you can return. Download.
Samurai jack– An adventure through time and space where everything you do will resonate with the character. You will have to collaborate with other characters who will help you in the battles, until you face Aku, the bad ending. Download.
There you go, from Applesfera we wish you a very Merry Christmas. And may you enjoy your new iPad and the other Apple devices you unboxed today.