Than Arc System Works claim the majority of places the latest editions of the EVO (the world's largest wrestling multi-tournament) is no coincidence: those from Yokohama have deservedly imposed themselves in a genre where they feel at home. And not only that, they have known how to go beyond the too recurring Arena Fighters when adapting anime to the video game, developing titles that emanate both fanservice and explosiveness.
The secret of its success and the warm reception each title receives is his impeccable way of understanding the fight genre itself, so that their adaptations are neither a Guilty Gear with characters known worldwide, nor deviate from what one expects from the One against one: each game, own or licensed, is an experience focused on a different audience. And it has to dazzle both in content and playable.
Of course, there is a secret weapon which ends up cementing the equation. At first glance it could be said that it is the Unreal Engine and how they have managed to convert three-dimensional models of characters and backgrounds that seem hand-drawn, but that falls short: long before they achieved mastery with the Epic engine, they already left us stunned with its 2D games with characters drawn by hand. In both cases, the result is exquisite for the player.
And if to all of the above we add the seniority, we have all the elements aligned. Because long before Sol Badguy and Ky Kiske Crossing their swords for the first time in electric duels on the Original PlayStation, Arc System Works was already battling manganime heroes on consoles. Or, rather, heroines: none other than sailor Moon of Naoko Takeuchi.
In the name of the moon, I will punish you
In its early stages, and like many large studies, the commission of Arc System Works was developing or helping to create conversions from other games to specific systems. A job that will allow them to gain enough experience and reputation to be able to accept and propose their own projects.
Ultimately, the company's origins stem from the 1988 spin-off of Minoru Kidooka from SEGA after six years working for arcade games at a point where they wanted to focus on console game design. But they were also aware that before they could put their own ideas, they would have to accept orders from third parties.
A succession of events that will derive, over time, in his first fighting game: just as recognized Kidooka, his first game in the action genre was the adaptations in key of Beat'em Up of sailor Moon for 16-bit systems in the early 90s.
A title that, without being pretentious in its essential aspects, they knew how to wrap up with huge sprites that would be the prelude to the next step: Sailor Moon S – Jougai Rantou !? Shuyaku Soudatsusen a fighting game starring Guerrero Luna and the Sailor Scouts for the SNES.
Perhaps they did not invent gunpowder, but their visuals, with pixelated sprites, and their gaming sensations passed their hands over the face of the pre-rendered models of the following fighting title of sailor Moon for the first PlayStation.
Caste Bounces and Power Rangers
Although it is not an anime per seArc System Works also collaborated on several titles in the series. Compati Hero based on large Japanese licenses throughout the 90's. And although they were specific orders, those were bigger words.
After all the series Compati Hero supposed a very powerful license that brought together characters from Gundam, Ultraman and Kamen Rider and exceptional guests like Devilman, Mazinger Z or Godzilla in all kinds of gaming experiences. Including, of course, pure action games.
On the other hand, and from the hand of Angel, they also took the power Rangers to the NES. Or, rather, to the original version and 100% Made in Japan: the Kyōryū Sentai Zyuranger. A platform action title with huge characters for the time.
Omae wa mou shindeiru (you're already dead)
In 1998, and after a decade in the industry, the panorama that was opening for Ark System Works was very different: Guilty Gear It had been a resounding blow on the table and his name and personal brand were beginning to resonate among those passionate about the fight. Enough to earn your own prestige.
After Guilty Gear X, the sequel for arcade games with the SEGA Naomi board and 128-bit systems of the time, Arc System Works received a request that it could not reject: adapt The Fist of the North Star and turn it into a fighting game that retains its style. What he achieved was not as brutal a title as the work of Buronson and Hara, but a tribute to his work that retained the visual style of the manga.
Light. Fire. Destruction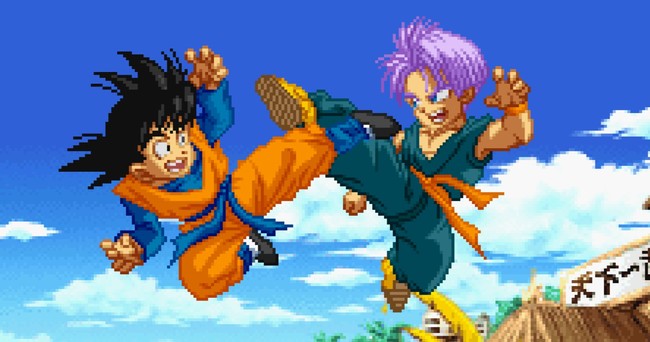 In 2004 Bandai knocked on the door and those in Yokohama could not resist what was proposed to them: a fighting game based on Dragon ball.
While the work of Akira Toriyama It had ended almost a decade ago, popularity did not slow down in the least. Thus, after the turn of the millennium, Dimps' Budokai series would lead the way on desktop and wanted an original experience for notebooks. Hence would be born Dragon Ball Z: Supersonic Warriors
and, soon after, its sequel.
The paths of Goku and Arc System Works would cross again almost ten years later and with a brutal legacy in the field of struggle: the now called Bandai Namco proposed them to continue the series. Super butoden started in SNES on Nintendo 3DS and that was too good to pass up.
In 2015 it would reach the international level DBZ: Extreme Butoden with craft sprites, spectacular moves and the hook to offer exclusive content based on recent animated feature films DBZ: The Battle of the Gods and DBZ: The Resurrection of F. However, their great Dragon Ball-based game is yet to come.
After successfully making the jump to the Unreal Engine and achieving a visual section of anime through three-dimensional characters in Guilty Gear XrdBandai Namco will once again have Arc System Works to shape Dragon Ball FighterZ, a totally arcade fighting game very much in line with the celebrated Marvel vs. Capcom 2, but also full of cinematics, fanservice and explosiveness in the playable.
As a result, Dragon Ball FighterZ It soon became one of the most relevant fighting games in the entire genre. A bet that does not stop adding content and increasing its panel of selectable characters and that, above both milestones, brings together passionate about Dragon ball and fans of fighting games.
The Straw Hats also want to deliver tow
After the launch of DBZ: Extreme Butoden, the next anime cult saga to be adapted by Arc System Works would arrive the following year, and was another heavyweight: One Piece: Great Pirate Colosseum retained much of the 3DS game formula and adapted it to the wild and intense fighting of the characters in Eiichiro Oda.
As a curiosity, that everything stayed at home (reuniting Bandai Namco, Shonen Jump and Arc System Works on the Nintendo laptop) allowed us to do an explosive experiment: for the first time a Dragon Ball game and a One Piece game they would have cross play
, allowing players to
Extreme butoden
and
Great Pirate Colosseum
they swapped twins among themselves.
The Persona 4 transmedia project (and the curious case of RWBY)
While Person 4 is, like its own series, a spin-off of the saga Megami tensei, it is also true that its transmedia deployment through novels, manga, anime and even live performances make it a license that addresses and experiments with all kinds of media and genres. Including, video games fighting games. And who better than Arc System Works to take care of the project?
Ultimately, relations with SEGA have always had great results, and Persona 4 Arena It was not an exception: the fight proposal was enormously successful worldwide and contributed greatly to catapulting the Persona saga in the West. Both, to even have an improved version and be part of Blazblue Cross Tag Battle, the epic crossover of Arc System Works.
Curiously, it would be in this crossing of licenses and games prepared by the Yokohama company where we would see the arrival of a really special extra anime: Ruby, Weiss, Blake and Yang, the girls of RWBYwill be -together with Person 4– the fourth force of Blazblue Cross Tag Battle, giving them a look of artsesanal drawing and an impressive catalog of movements.
Tackling Kill la Kill as Editors
When you gain a certain status in the video game industry you can afford to publish third-party titles, and Ark System Work was no exception: Kill la Kill the Game: IF It was developed by A + Games and, although it opted to offer combat in three-dimensional environments, it also continued the philosophy of the study of blur the line that separates the animation from the video game with a visual section and playable mechanics in which all the differences of both genres end up converging.
Granblue Fantasy Versus: The Trojan Horse of the Asian Colossus
Fighting games, anime, and Arc System Works have always come together wonderfully, and the present and the future are even more promising: as the number of selectable characters in their current titles expands and details are refined around the following Guilty GearYokohama found time to shape one more adaptation: Granblue Fantasy. Another success, by the way.
While the characters and the world of Granblue Fantasy Versus They drink from the RPG that devastates Japan and Asia, the truth is that the popularity of it had already ensured its own anime series. Thus, the Arc System Works project is positioned as an intermediate experience in all aspects for those passionate about both media (anime and game) and, by the way, paves the way for a possible deployment in western territory.
Because the true milestone of Granblue Fantasy Versus it is not his spectacular presentation or his cinematic movements. Not even the charisma that their characters overflow, which is a lot, but the way in which reinvent the foundations of fighting games -those who are so good at them- to welcome everyone who wants to discover the exciting world of one-on-one.
Sweeping home in many playable ways, of course, but being reverentially respectful of the original material. After all, and as we discussed at the beginning, the secret of its success.