This large-scale Zombie experience coming in Season Two is unlike any other in Call of Duty history. From its purpose in the great story of the Dark Aether to the loot for survival, this is your first outbreak guide.
Season Two brings a new way to experience Zombies on a large scale in Black Ops Cold War: Outbreak.
This objective-based game experience will send squads of up to four operators to help Requiem on his biggest project to date: Operation Threshold. Set in various regions of Russia's Ural Mountains, Outbreak encourages exploration and risk-taking to maximize the loot from these zombie-infested territories, with the teamwork and coordination essential to completing missions and living to tell the story.
Along with the release of Outbreak come new types of Aether Crystals – refined and flawless – that will help Requiem operatives permanently upgrade their weapons, field upgrades, proficiencies, and ammo mods to levels of incredible power.
From its purpose in the great history of the Dark Aether to details on the various experiments within the largest Requiem operation to date, this is the information we have on Outbreak. Check out the trailer for Outbreak:
Operation Umbral: the mission of Requiem in Bud
Through "Die Maschine" and "Base Z", Requiem learned how far ahead the Omega Group is in its arms race to harvest ether; a secret war potentially more deadly than the public conflict between East and West.
After several desperate attempts to reach their adversaries, the CIA-backed international investigation group and task force have finally discovered a breakthrough: the largest outbreak area on the planet.
Following this discovery, Requiem launched Operation Threshold; a multi-faceted campaign involving all Requiem research departments. Requiem's ​​Military Science and Research departments have already identified three huge regions in the outbreak area to explore and investigate.
However, even with this advancement, the Omega Group is still one step ahead of Requiem, as they began investigating these regions long before Requiem arrived. Both sides not only believe that the secrets that await the Ural Mountains are the key to fully understanding the power of the Dark Aether, but that they may be the key to winning the Cold War.
Your mission in Brote
As an elite operator, you are here to assist Requiem in its most important operation.
Along with up to three other operators, your goal is to explore the designated regions in the outbreak zone around the Ural Mountains and help the other Requiem divisions complete their objectives as their elite strike team. After each experiment is done, you must either escape the area or, if you decide to accept the risk of facing more death, enter the rifts of Dark Aether into another region to help with more objectives.
Around these regions there is a new element of the Dark Aether to face that we already saw in "Base Z": the phase. This supernatural force renders known zones deadly and can bring previously off-limits zones into play.
A typical Outbreak mission begins with a Requiem strike team entering one of these regions by helicopter, with a custom starting weapon and field upgrade. A destination point in this world, which also appears on the main map and minimap, marks the location of Requiem's ​​main research objective with a star.
Unlike any other Zombie experience, there are no set routes to get to and from the objective. Agents can take the time they need to explore the area, search loot chests for rewards, find various random events, or activate a test computer. For a small cost of 500 Essence, Requiem agents can also use jump pads found throughout the region to launch them into the air, allowing them to safely hit targets and, if skilled enough, use the Parachute to collect essence containers during the descent to recover the essences spent on the journey.
Regardless of how a platoon gets to the main experiment site, its survival depends on successfully completing this main objective. If you miss an objective, your mission is over.
The main investigation may be one of the following: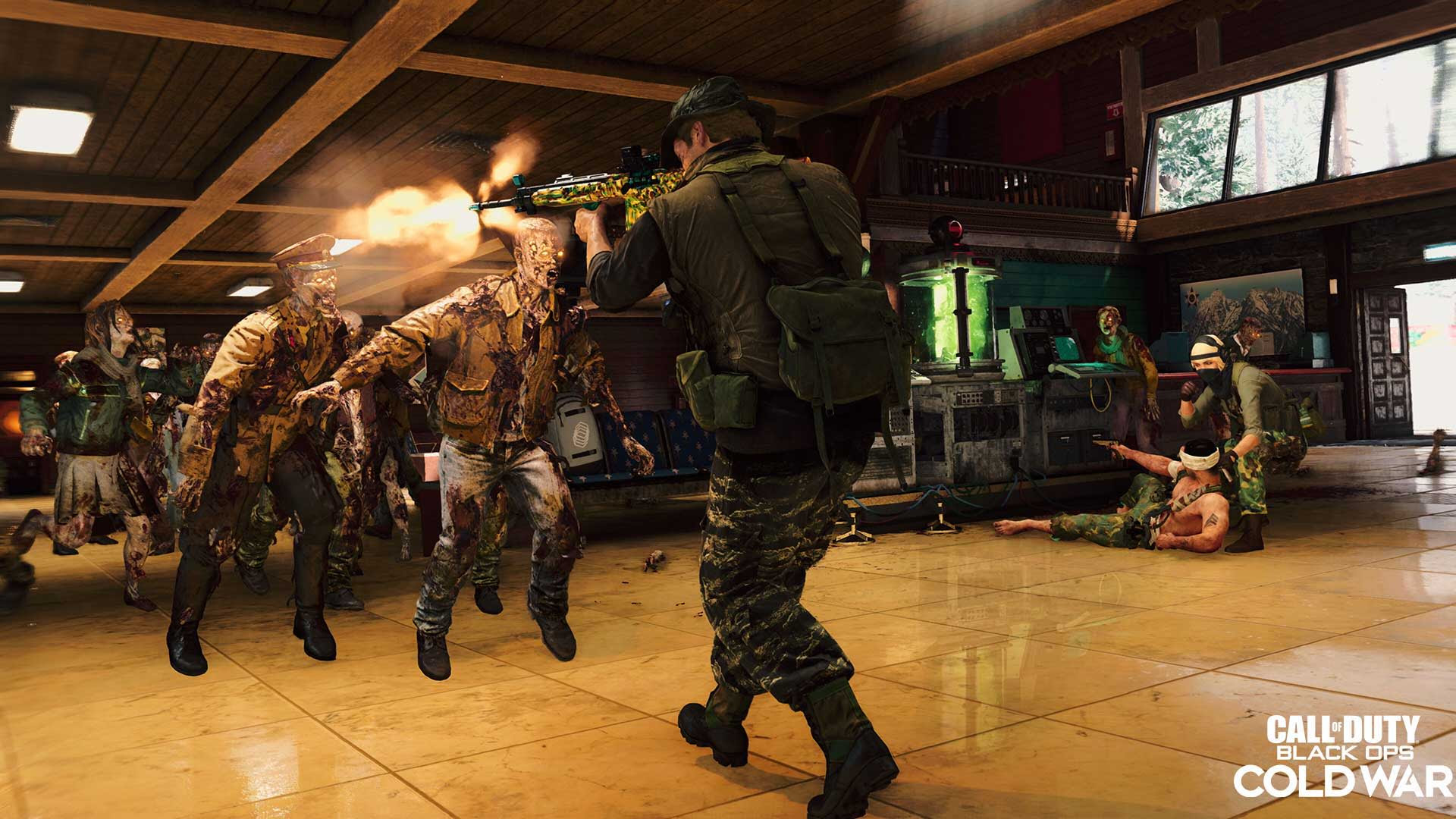 Defender
As part of Requiem's ​​research on the Dark Aether, they are curious about the genetic code of the infected. With numerous tests failing due to teams being killed or incomplete samples submitted, your task is to grab a completely intact sample, place it in a device for study, and defend the machine while it loads the data.
Depending on the location of this device, numerous strategies to keep it operational can be effective, such as the use of outdoor vehicles or medium-range weapons for more crowded locations. Regardless of where the gadget is located, scattered hordes of the undead will be heading towards the research gadget, so melee weapons, deployable gear, or support items are good options to defend it.
To listen
Requiem recently developed a fleet of highly advanced, yet highly vulnerable, rovers to help detect dimensional portals in the Dark Aether.
Your mission is to make sure that this rover (with its captured specimen) finds the dimensional portal somewhere in the outbreak zone and goes through it in one piece. For this experiment, it's good to remember security training: keep the rover in the center, move as a unit, and deal with threats as they appear.
Recover
Somewhere in the outbreak zone, there are two ether harvesting units that have been harvesting it raw from the atmosphere and growing ether crystals inside their containment vessels. You will need to extract these ether canisters to safety quickly. Luckily, a nearby array of rockets can keep them out of harm's way.
For this experiment, agents will have to manually bring the canisters to the rockets for extraction. Due to their size, they won't be able to use any weapons or equipment, and they will be slower than usual. However, when wearing the Aether Vessel, your normal field buff is replaced by a very powerful one that can emit a small burst of aether energy that knocks down nearby zombies, useful in case other agents can't remove them.
Get rid of
Using a GPS satellite tracker, Requiem can pinpoint the exact location of high-value targets in all dimensions. For this experiment, this tracker is used to find elite enemies, which will appear after their position is compromised.
Here, agents will have to make a strategic decision: dodge the high-value target long enough to clear the wave of enemies, or try to deal enough damage to force it to move on to the next wave, eliminating the current one.
Contain
A huge, unstable Aether crystal is emitting alarming amounts of Dark Aether energy, to the point that some researchers have reported hearing voices when approaching it. Due to its chaotic nature, destroying it is the only viable option, although attempting to do so will send the agents into the Dark Aether itself, where they must resist any threat until the explosives are activated.
This experiment will be the most familiar to veteran Requiem agents, as the zombies will reach the confined space that you can temporarily protect by covering the windows. Use your training to survive for as long as the timer indicates and use power-ups and window barriers to maximize your chances of holding.
As the outbreak continues to grow, you will find more types of research to complete throughout the Urals.
The beacon: extraction or not?
After successfully completing an experiment, all agents must head to a mysterious beacon marked somewhere in the region. Similar to getting to the goal, there is no linear path to the beacon, but the roaming zombies can make some routes more viable than others.
Once the beacon is activated, several useful machines will appear. These include a crafting table for crafting gear and support items, an arsenal for armor and weapon upgrades, as well as the Wonderfizz machine, which dispenses a variety of perks, and of course, a power-up machine.
Agents are advised to utilize their resources at these stations before making an essential decision: request an extraction from the outbreak zone or travel through a dimensional portal to a new region elsewhere in the Urals.
The first option, extraction, works as in the rounds of Zombies of Black Ops Cold War– Get to the extraction area, eliminate any hostile so that the helicopter can land and get on board to leave the area. Doing this successfully will offer additional rewards in addition to what was achieved in the outbreak area.
However, if you cross the portal, your platoon will begin a new, more challenging mission, traveling to the next outbreak to survive against even more dangerous threats. Each trip through the portal increases the rewards, but also the lethality of the undead.
Regardless of the decision your squad makes, rewards are saved for each objective completed.
Loot for Survival: A New Goal
Successful completion of the main objectives and extractions offer huge XP rewards along with three types of Aether crystals:
Raw Aether Crystals – Requiem's ​​agents know this resource well. These are used to upgrade weapon class abilities, field upgrades, perks, and ammo mods through the first three power levels.
Refined Etherium Crystals [NOVEDAD] – A better cut crystal structure. An increased source of energy used to upgrade skills to Tier IV.
Perfect Aether Crystals [NOVEDAD] – The highest quality ether crystals can have. This incredibly powerful resource is used to upgrade skills to Tier V.
Getting the new Aether Crystals won't be easy, as collecting better Crystals requires more research during a single Outbreak infiltration. Refined and Perfect Aether Crystals can also appear as rewards in traditional Zombie mode rounds after the start of Season Two.
For more information on each Tier IV and V upgrade in Zombies as part of Season Two, check out our guide later this week.
This guide is only initial information for Requiem agents looking to jump into Outbreak. Of course, there is a lot more research to do in the Urals, so it's up to you and your team to explore the regions and report the findings to Requiem.
Execute the mission.
Related